Hapag-Lloyd Cruises' luxury vessels met in the open sea earlier this month.
Sailing off the coast of Norway, the Europa and the Europa 2 held a ceremony to mark the occasion.
With crew members from both ships meeting in boats, Europa's Captain Dag Dvergastein handed over a bottle of champagne, along with a greeting message.
Sören Anderl, the Captain of the Europa 2, also offered a bottle of champagne, in addition to his own greeting message.
According to Hapag-Lloyd, the ceremony ended with the ships sounding their horns, while passengers and crew waved at each other.
Cruising from Kiel to Hamburg, the Europa was offering a 13-night itinerary to Norway during the encounter.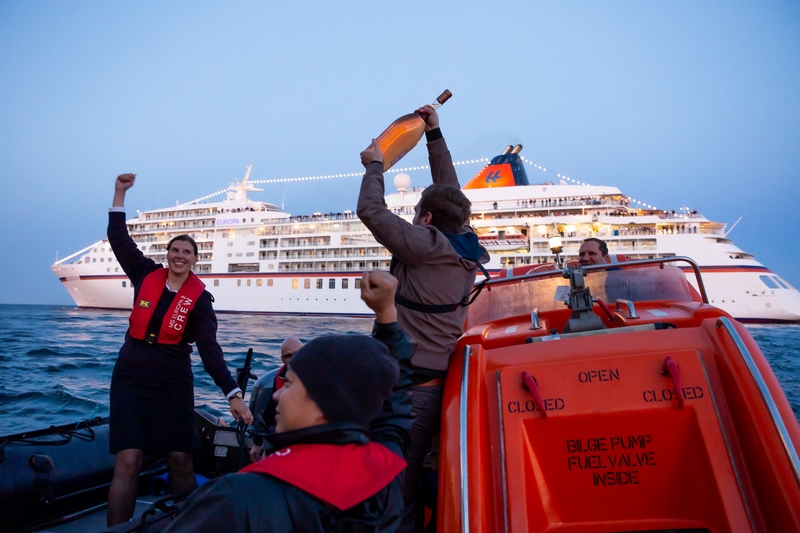 Sailing all the way to the Cape North, the itinerary included visits to several sites in the Scandinavian country, including Eidfjord, Alesund, Skarsvarg, Tromso, Leknes, Skjolden, Stavanger and Oslo.
Also sailing in the region, the Europa 2 was offering an eight-night cruise to the Norwegian Fjords. Sailing between Kiel and Bergen, the itinerary featured Oslo, Arendal, Stavanger, Olden, Molde, Vik and Flam as ports of call.
Built at the Chantiers de l'Atlantique shipyard in France, the Europa 2 entered service in May 2013. With eight restaurants, six bars, a large spa, a fitness complex and multiple facilities, the 516-guest ship is said to offer the greatest space per passenger of the entire industry.
Replacing the 1981-built Europa, the Europa was built at the Kvaerner Masa-Yard in Finland and entered service in 1999.
According to Hapag-Lloyd, the 401-guest ship helped set global standards for luxury cruising and offers an "incomparable amount of freedom," with amenities that include a pool deck, a spa and several bars and restaurants.
Hapag-Lloyd Cruises also operates a fleet of three purpose-built expedition ships, the Hanseatic Nature, the Hanseatic Inspiration and the Hanseatic Spirit.