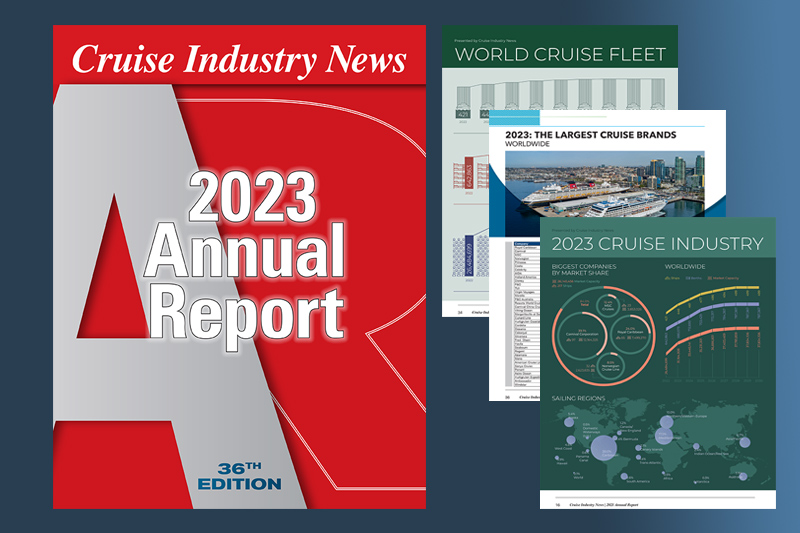 The Cruise Industry News Annual Report is the only information resource of its kind — presenting the entire worldwide cruise industry in 400 pages with cruise industry analytics and statistics, in print and PDF formats.
The 2023 Report is available to order today in both print and PDF formats.
About the Annual Report:
The 400-page report covers everything from new ships on order to supply-and-demand scenarios from the early 1990s through 2033. 
Plus there is a future outlook through 2033, completely independent cruise industry statistics, growth projections for each cruise line, cruise industry market reports, and detailed ship deployment by region and market, covering all the cruise lines.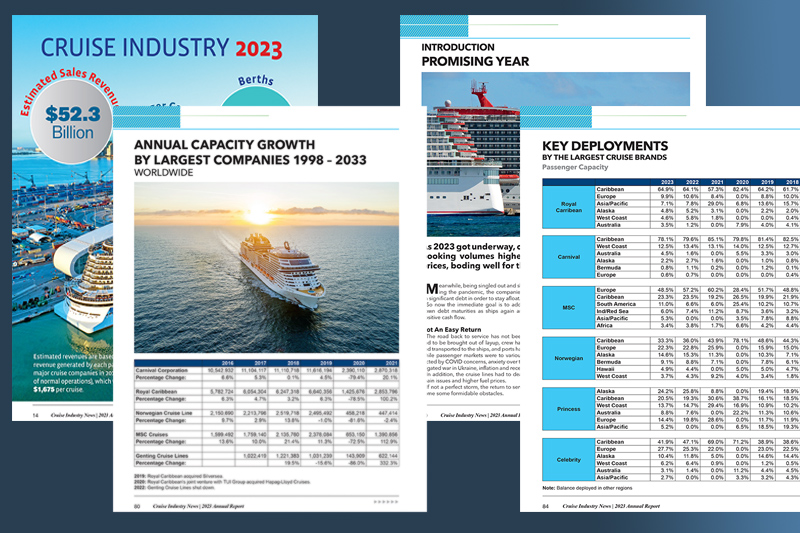 Projections for capacity growth going forward take into account pandemic effects, ship delivery timeline adjustments and more.
Bought by suppliers, ports banks, financial analysts, cruise lines, and more. Useful in planning budgets and for key industry stakeholders for future forecasting.
There is also a comprehensive directory of cruise lines as well as their key executives. There is also historical data exclusive to Cruise Industry News'  40+ years in the business.
If you are looking for a complete past, present and future global briefing on the cruise industry, look no further.
All this and more stating at $1195. 
The Annual Report has been published since 1988.
Preview Pages of the Annual Report | 2023 Table of Contents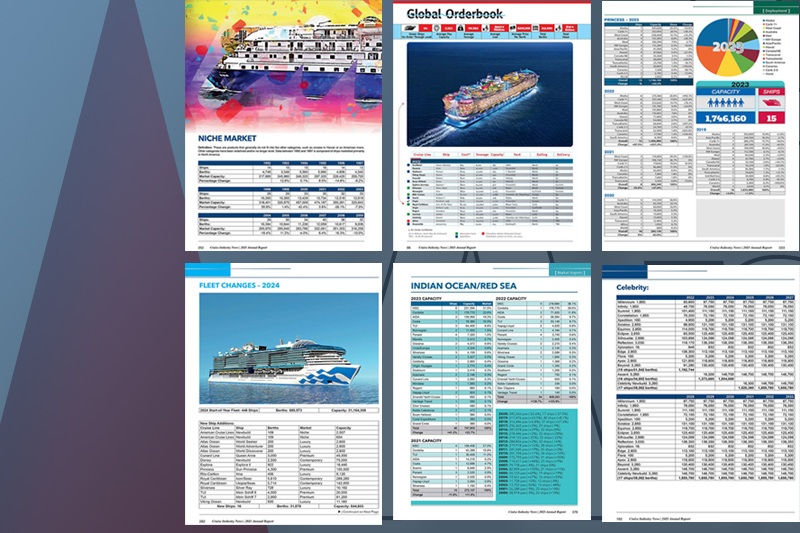 • If you are a cruise line executive: CINA gives you a total and objective overview of the industry, including profiles and growth forecasts for all the cruise lines through at least 2033.
• If you are a financial analyst: CINA gives you independent company and market growth forecasts, including supply/demand scenarios through 2033.
• If you are a port executive: CINA tells you about each line's ship deployments in your region, and tracks the growth of each port and each sailing region.
• If you are a supplier: CINA gives you the information you need to make informed decisions about your involvement in the cruise industry.
• If you are a new supplier: CINA gives you the market intelligence and sales leads you need to target the industry.
Who buys this report? Cruise lines, ports, suppliers, accounting firms, consulting companies, investment banks, think-tanks, universities and many more!
And more:
Macro Level: Big picture data and cruise industry analytics for the major and minor players, showing their footprints in 2021 and projected out through 2027.
Micro Level: Additional data includes just about everything pertaining to deployment, berth breakdown, capacity projections, historical trends and much more. 400 pages of detailed information at your fingertips.
Brand Level Data: CINA goes ship by ship, brand by brand, with data reflecting market capacity, berths, market share and more.
Ship by Ship: Every ship in the global cruise fleet is accounted for in our research, from the latest mega ships to niche expedition vessels.
Region Analysis: Each major cruise region is broken down by brand, with number of ships, projected market capacity and market shares, with past data showing trends.