The new Sun Princess is set to debut in early 2024 with a new family activity zone named Park19.
According to Princess Cruises, the new venue was designed for active guests and multi-generational families and includes nine engaging activities.
Cruise Industry News looks into the experiences offered by the new venue.
Sea Breeze
According to Princess, Sea Breeze will become the first Rollglider onboard a cruise ship. Taking guests above the ocean to enjoy panoramic views, the attraction was inspired by the dream of hang gliding but in a safe environment, the company said.
Using an overhead track, guests are seated and harnessed to this electric ride which reaches speeds of up to 11 mph during the 60- to 90-second experience that is also ADA accessible.
Coastal Climb
On Coastal Climb, passengers can ascend from deck 19 to deck 20 using a climbing structure that features a series of obstacles.
Once at the top, guests can take in the "gorgeous views" before sliding back down to the bottom, Princess explained.
The Lookout
Designed as an open-air observation deck, The Lookout is located at the top of the Coastal Climb climbing structure.
According to Princess, the space allows guests to take in 360º views from the highest point onboard the Sun Princess.
The Net
Sun Princess' Park19 will also offer an all-new trekking experience with The Net. Located above Deck 19, the attraction comprises unstable bridges, a z-shaped balance beam and climb cargo nets.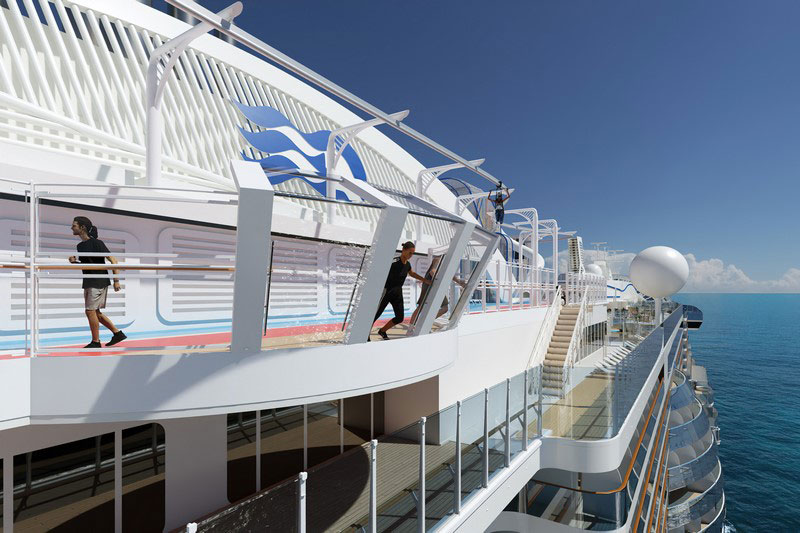 Infinite Horizon
According to Princess, Infinite Horizon was designed for guests who love heights. The space includes leaning tilt walls cantilevered over the side of the ship and allow the passengers to peer out from deck 19 and look down to deck nine and beyond.
Hammock Area
Another first for Princess, the Park19 will be equipped with a series of relaxing hammocks. The feature allows guests to "take a break from exploring" to hang out with family and friends, the company said.
Splash Zone
The new Sun Princess will also offer Princess' first water park. The space will feature a splash area with pop jets, in addition to a water sculpture that, according to the company, composes "a refreshing and relaxing area to chill."
Recreational Court
The Recreational Court offers different activities including ping pong, shuffleboard and Xponential Fitness classes. The multifunction sports court is also the setting for morning meditation, in addition to a rotation of sports and wellness options.
Jogging Track
Completing Park19's features is the open-air Jogging Track. According to Princess, the facility allows guests to walk, jog or run at their own leisure and pace, with 6.7 times around the track equaling one mile.