Explora Journeys today celebrated two maritime milestones at builder Fincantieri's Sestri Ponente shipyard near Genoa in Italy with the float out of the Explora II and the steel cutting of Explora III
The new Explora II will enter service in summer 2024 and spend her first season operating in the Mediterranean Sea, the company said in a press release, as construction of the ship began in October 2021 at Fincantieri's Castellammare di Stabia yard in Naples, Italy where the ship's keel was laid in May 2022.
The Explora III will launch in summer 2026 and be the first of Explora Journeys' four luxury vessels to be powered by liquefied natural gas (LNG), the world's cleanest maritime fuel available at scale that plays a key role towards the decarbonization of international shipping.
Construction of the Explora IV, also powered by LNG, will start next year with a completion date of early 2027.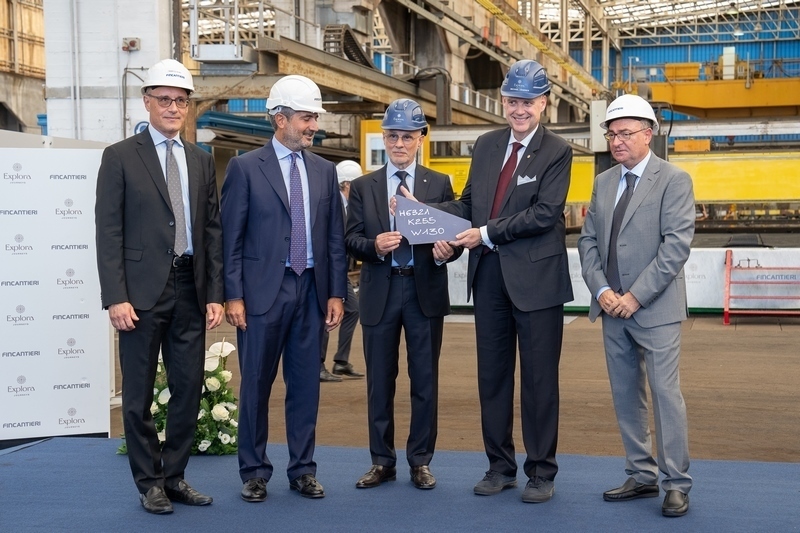 The double ceremony today was witnessed by Michael Ungerer, Chief Executive Officer, Explora Journeys, Pierroberto Folgiero, Fincantieri's CEO and General Manager and the Mayor of Genoa, Marco Bucci.
Michael Ungerer, Chief Executive Officer, Explora Journeys, said, "The double event today marks another major step forward on our mission to redefine ocean travel for today's discerning luxury travellers.  Following the successful launch of Explora I and the incredibly positive feedback from the first guests, travel advisors and media, who had a chance to experience the Ocean State of Mind, the story continues, and we are now beyond thrilled to witness the next important construction milestones for both Explora II and our first LNG powered ship Explora III. We are proud that our four ships are built by Fincantieri, further underlining our commitment to Italy."