Disney Cruise Line's new ship, the Disney Treasure, will embark on its maiden voyage, a seven-night Eastern Caribbean cruise from Port Canaveral, Florida, on Dec. 21, 2024, followed by an inaugural season of seven-night itineraries to the Eastern and Western Caribbean from Port Canaveral.
The cruise line announced a number of new features for the LNG-powered ship, currently under construction at Meyer Werft in Germany.
In addition to the return of two beloved Disney Cruise Line restaurant concepts found on the Disney Wish, the Disney Treasure will introduce a brand-new family entertainment restaurant.
Disney said that Plaza de Coco will be the world's first theatrical dining experience themed to the Disney and Pixar film, "Coco." The story of Miguel and his familia will continue where it left off on screen as they gather in Mariachi Plaza to take guests on two nights of colorful, music-filled journeys that celebrate family memories and togetherness with festive dinner menus of modern twists on traditional Mexican fare and a lineup of live entertainment.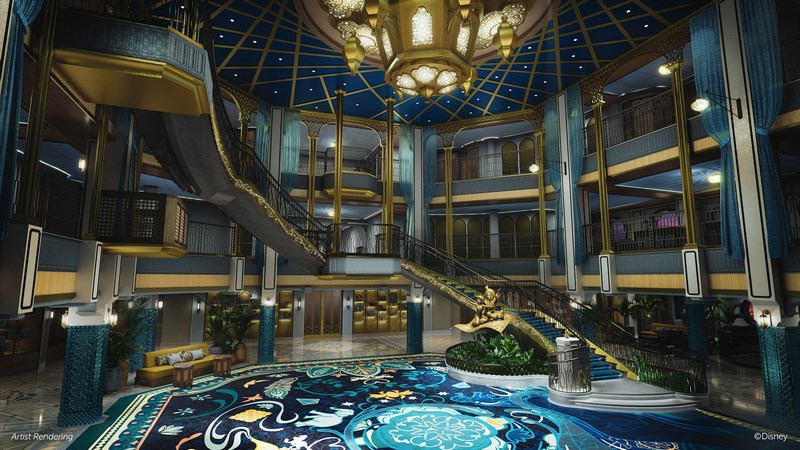 The ship's atrium, known as the Grand Hall, will include dedicated shows, character encounters and musical performances. As the story unfolds for guests on the Disney Treasure, the "Aladdin"-themed Grand Hall will serve as the ship's most prominent gathering space, inspiring wonder and exploration during each voyage.
Named for the lioness matriarch from Disney's "The Lion King," Sarabi will be a central hub for a multitude of daytime activities and adult-exclusive evening entertainment. The uniquely designed two- story space will evoke the natural beauty and openness of the savanna and will feature cruise line classics such as "Match Your Mate" and "Family Time Game Show," and new favorites that debuted on the Disney Wish like "Villains Game Night."
Also new is the AquaMouse: Curse of the Golden Egg. which will plunge guests into the world of Mickey Mouse animated shorts. Suspended high above the upper decks, powerful jets will propel two-person ride vehicles through 760 feet of winding tubes, offering breathtaking views of the ocean and the ship below.
Onboard the Disney Treasure, AquaMouse will introduce an all-new storyline that follows Mickey Mouse and Minnie Mouse on a zany misadventure into an ancient temple. Guests will journey with the pair as they embark on a tour of mysterious ruins for a glimpse of the legendary treasure within and encounter a series of hilarious mishaps and booby traps that take the trek in unexpected directions.