The Norwegian Joy is scheduled for a major refit in early 2024. Following the three-week drydock, the 2017-built vessel is set to offer new features and venues, including an expanded spa, redesigned suites and more.
Cruise Industry News selected some of the most relevant aspects of the vessel's refurbishment.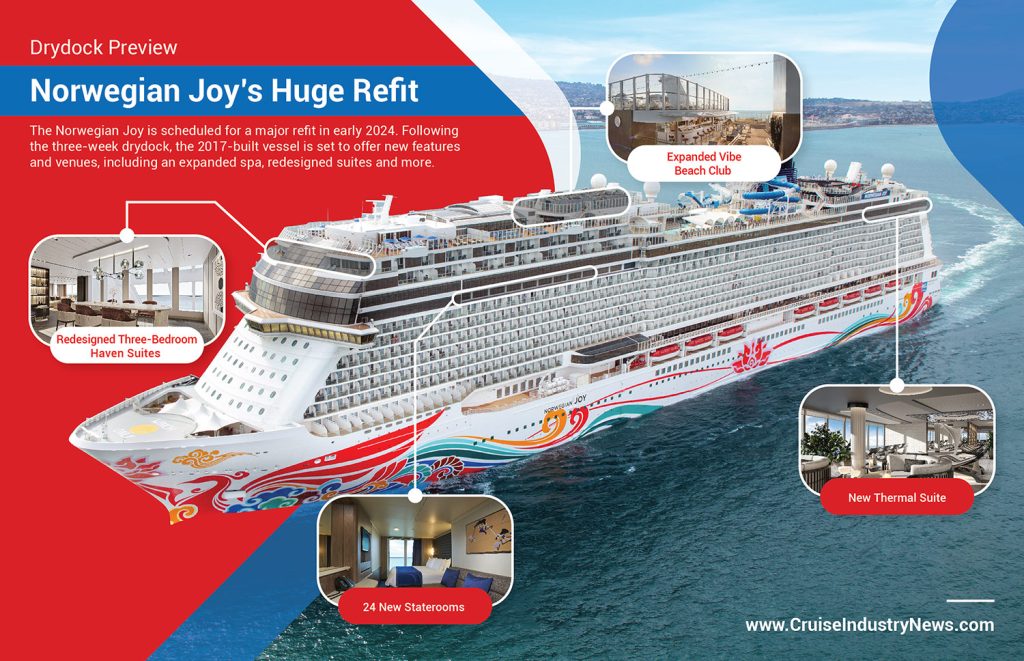 Redesigned Three-Bedroom Haven Suites
Citing unprecedent demand, Norwegian is expanding the Premier Owner's Suites, which will now feature three bedrooms.
The two suites, which are part of the ship's Haven enclave, will include three bedrooms, in addition to three and a half bathrooms, and a fully renovated living room and master bedroom. The revamped staterooms will also offer a new separate dining room overlooking the forward-facing Haven Horizon Lounge, as well as new outdoor balcony furniture.
24 New Staterooms
A portion of the ship's Observation Lounge is being repurposed with the creation of 24 new balcony staterooms. According to Norwegian, the addition of the new cabins is part of its effort to continue to offer guests more choice of accommodations.
The initiative also includes the recategorizing of other 40 staterooms, which will be now marketed as spa balcony cabins. The category will grant guests direct access to the Mandara Spa and the new Thermal Suite.
Expanded Vibe Beach Club
On Deck 20, the Vibe Beach Club is set to be expanded, taking over the existing Laser Tag arena. The enlarged space will boast a similar layout to the Vibe Beach Club found on the Norwegian Encore and Norwegian Bliss, with new private deluxe cabanas.
New Thermal Suite
The Norwegian Joy will also emerge from its three-week drydock with a new Thermal Suite. According to Norwegian, the brand-new area will be the largest of the Breakaway-Plus ships, taking over the area previously occupied by the Galaxy Pavilion, a virtual-reality complex.
The new Thermal Suite was designed with the guests in mind, the company added, and will boast a more centralized layout with elegant sculptures and an entrance corridor encompassed with waterfalls. A separate lounge area will feature hot tile loungers, in addition to a sauna, an ice room and an aromatic steam room, among other features.