This year, Metalcolour, with a main focus of providing coated and laminated metal for the interior of cruise ships, is celebrating 50 years since building its first coil coating line in 1973.
The company's CEO, Ingemar Forsberg, shared a bit about the journey, recent projects and the secret to success.
"We produce and sell film-laminated metal. This is used to produce wall, door and ceiling panels in all cabins, wet units and corridors. So, the film we have laminated onto the metal will actively become the wallpaper of the whole ship," said Forsberg.
"I would estimate that roughly 80 percent of everything you see inside a cruise ship, is our type of material."
The company has operation units in Sweden, Denmark and Singapore.
Forsberg explained that the Swedish unit specializes in producing film-laminated metal while the Danish site specializes in producing technical coatings, primarily for the automotive industry but also some pre-painted metal for the marine industry. He added that the Singaporean site is still quite small in comparison but also produces film-laminated metal for the marine industry.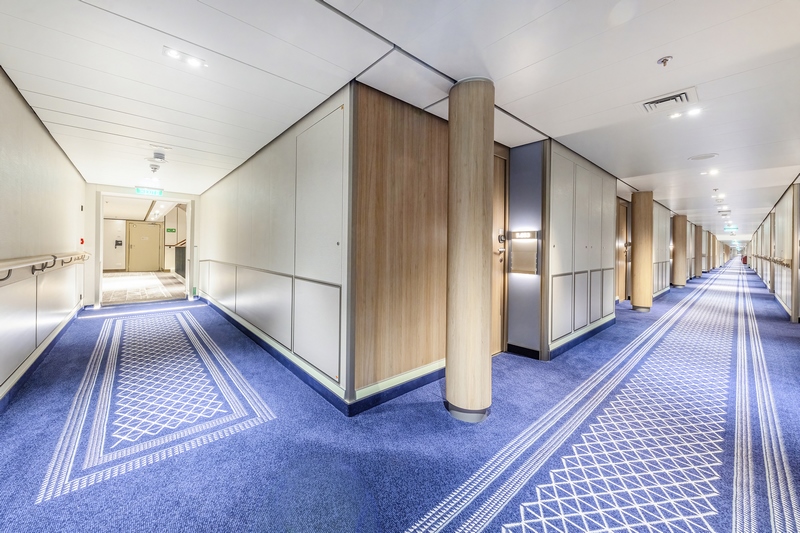 The newest and most important product the company has introduced, explained Forsberg, is Dobel Ocean Sky.
"This is a special film-laminated metal for cabin ceilings. It looks like a painted surface but is much more durable and have saved lots of costs for the cabin-producing market that over the years have experienced big problems with damaging a lot of ceiling panels during installation."
Given that its main focus is the marine industry, Metalcolour has collaborated with most major cruise lines including TUI Cruises, Carnival Cruise Line, Costa Cruises and Royal Caribbean Group. It has also worked on some of the largest cruise ships in the world.
The company has worked on the various Mein Schiff ships and is currently working on the Mein Schiff 7.
Among the Royal Caribbean Group's fleet, Metalcolour has supplied wall, ceiling and door cladding for the Quantum of the Seas, Anthem of the Seas, Ovation of the Seas, Spectrum of the Seas and Odyssey of the Seas as well as the upcoming Icon of the Seas.
Metalcolour also worked on all AIDA Cruises ships built in Papenburg including the AIDAcCosma, said Forsberg.
Other cruise lines Metalcolour has collaborated with include Costa Cruises (including the Costa Toscana); Disney Cruise Lines (including the Disney Dream, Disney Fantasy, Disney Wish and soon the Disney Treasure); Carnival Cruise Line (including the Carnival Celebration and Carnival Jubilee); and P&O Cruises (Including the Iona and the Arvia).
After 50 years of operation, Forsberg said the company's secret to success is simply staying committed to offering outstanding products with the highest quality, best flexibility, highest reliability, and outstanding service.
"This has been our common goal for 50 years now and that will be our plan also for the future. We are not the biggest and we will never be the cheapest, but we should always be the best!"