Working behind the scenes on multiple cruise lines, Traka provides a way for cruise lines to securely store keys, allowing crew to access keys they need to and providing an audit trail for it all.
"Customers can intelligently track and monitor their keys and access," said Heather Fraser, marketing manager for Traka. "It's a safer environment for not just employees and staff but also for the visitors and guests that stay with them."
A modern ship could have upwards of 30 key cabinets, said Christian Guzman, an engineer with the company that tailors the systems to each ship; the cabinets are made of sustainable materials.
"We have eliminated the paper system. Cruise ships could have hundreds if not thousands of keys, and this used to be managed by someone in one office handing them out. You can now deploy a key management system in multiple areas," he said.
Fraser added that cruise lines can easily manage who has access to what keys, when, and for how long, and then track it all.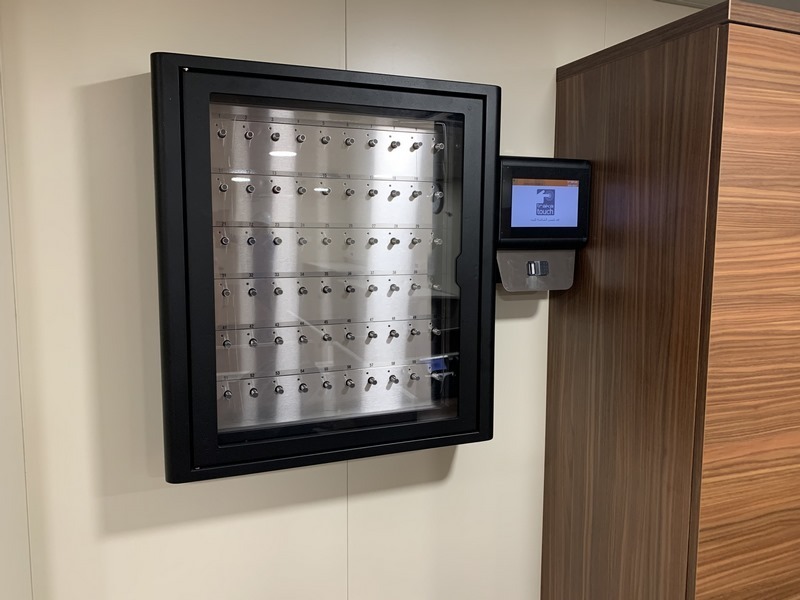 "It helps the ship protect the crew, the company and their customers," she said.
Some systems even require dual authentication, meaning an access code and fingerprint, for example.
Beyond key cabinets, cruise lines also have used Traka systems for shared assets such as radio, tablets and more, which are also stored in similar Traka lockers with an access system.
Most departments, ranging from deck and engine to entertainment, have at least one key access system, while the housekeeping department is the biggest user of these systems, often with them deployed on each deck.
"Through both the software and hardware, we control the permissions of what users get the keys," added Guzman, noting the software can set curfews and have access control. If a crew member is gone with a key for too long, an alert is sent to a manager.
It's also helpful for compliance said Fraser.
A system can be readied in as little as eight to 12 weeks. Customers can license Traka's systems for years at a time and the company also provides ongoing maintenance plans to service their systems on set intervals.