From the use of new and greener fuels to the introduction of innovative and unique features, the next generation of cruise ships is ushering in a new era.
Cruise Industry News selected some of the most advanced next generation cruise ships entering service across the market.
MSC World America
Cruise Line: MSC Cruises
Debut Date: 2024
Capacity: 5,400 guests
Tonnage: 205,700 tons
Shipyard: Chantiers de l'Atlantique (France)
Cost: $1.2 Billion
Sister Ships: MSC World Europa, in addition to two unnamed vessels debuting.
Part of MSC's new World Class, the MSC World America will be the line's second World class ship and will sail in North America.
According to MSC Cruises, the vessels in this series represent "the future of cruising" and introduced several new features.
Among the largest cruise ships of the world, the 205,700-ton vessels are equipped with the latest green technology – including LNG-powered engines – and also "push the boundaries of what is possible at sea," the company said, with features that include a 104-meter-long external promenade, a 11-deck dry slide and infinity balconies.
Sun Princess
Cruise Line: Princess Cruises
Debut Date: February 2024
Capacity: 4,300 guests
Tonnage: 175,000 tons
Shipyard: Fincantieri (Italy)
Cost: $1 Billion
Sister Ships: Unnamed vessel scheduled for a 2025 delivery
The new Sun Princess is set to enter service in 2024. According to the company, the LNG-powered cruise ship was designed to offer innovative experiences, from service to food to entertainment.
Being built at the Fincantieri shipyard in Italy, the 175,000-ton vessel is also introducing the first-of-its-kind, glass-enclosed geodesic dome ever constructed on a cruise ship. The new Sun Princess is also highlighted by its environment-friendly technology, which includes shore power connections, a micro auto gasification system, biodigesters and more.
Icon of the Seas
Cruise Line: Royal Caribbean International
Debut Date: January 2024
Capacity: 5,610 guests
Tonnage: 250,800 tons
Shipyard: Meyer Turku (Finland)
Cost: $1.1 Billion
Sister Ships: Two unnamed vessels to follow
Introducing a new series of vessels to the Royal Caribbean International fleet, the Icon of the Seas is set to become the world's largest cruise ship. Currently under construction at the Meyer Turku shipyard Finland, the LNG-powered vessel is not only introducing a new prototype but also several innovative features.
Among them is a massive multi-deck pearl structure, one of the largest waterparks afloat and the AquaDome. Located at the top of the vessel, the area is described by Royal Caribbean as a transformational place unlike any other that includes a waterfall, a selection of restaurants, bars and more.
InTUItion Class
Cruise Line: TUI Cruises
Debut Date: 2024
Capacity: 4,000 guests
Tonnage: 161,000 tons
Shipyard: Fincantieri (Italy)
Cost: $850 Million
Sister Ships: Unnamed vessels scheduled for delivery in 2026
TUI Cruises is taking delivery of a prototype ship in 2024. Set to become the largest vessel in the company's fleet, the first vessel in the series is currently being built by the Fincantieri shipyard and will be able to carry up to 4,000 guests.
Currently known by its name project of InTUItion, the ship will be LNG powered and is expected to introduce new features and technology to the company's fleet.
Silver Nova
Cruise Line: Silversea Cruises
Debut Date: August 2023
Capacity: 728 guests
Tonnage: 54,700 tons
Shipyard: Meyer Werft (Germany)
Cost: $600 Million
Sister Ships: Silver Ray in 2024
With an innovative design, the Silver Nova is set to become one of the greenest vessels in the global cruise fleet. Currently under construction at the Meyer Werft shipyard in Germany, the 728-guest luxury vessel is scheduled to debut in August 2023.
In addition to sustainable technologies that include a fuel cell system, batteries and LNG-powered engines, the Silver Nova is debuting what Silversea calls an "asymmetrical design," which allows for unique public areas including a reimagined, outward-facing pool deck, an exclusive al fresco dining area and more.
Orient Express' Silenseas
Cruise Line: Orient Express
Debut Date: 2026
Capacity: 108 guests
Tonnage: 30,000 tons
Shipyard: Chantiers de l'Atlantique (France)
Cost: $300 Million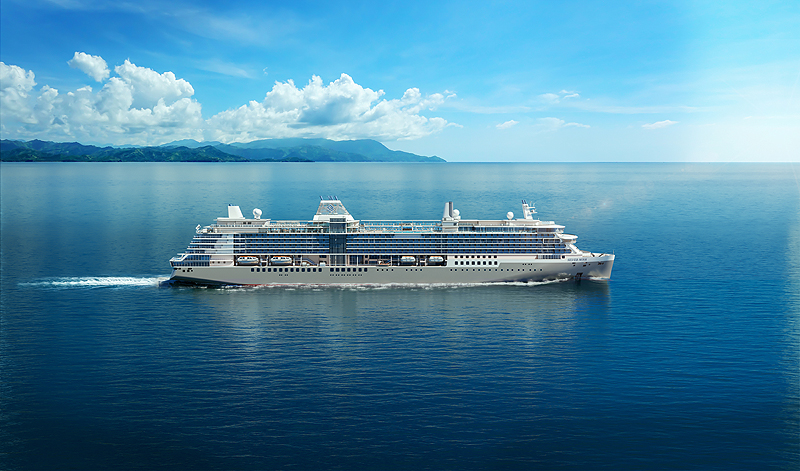 Unnamed vessel scheduled for delivery in 2027
Marking Accor Group's entrance into the cruise business, Orient Express' first cruise ships will be among the most technically advanced, according to the company.
Using the SolidSail design, the 22,300-ton vessels are set to become the world's largest sailing ships when they debut in 2026 and 2027.
Offering a luxury product, the vessels will also feature 54 suites, including a 1,415-square-meter Presidential Suite, two swimming pools, two restaurants and a speakeasy bar.