Windstar Cruises revealed two themed suites aboard the Star Legend inspired by Windstar's Forbes Five-Star sister companies The Broadmoor (pictured above) and Sea Island.
The two new specialty suites will be rolled out to Windstar's two other Star Plus Class yachts next: the Star Breeze in the spring of 2023 and the Star Pride in 2024, according to a press release. 
"Unlike hotel brands that have begun offering yacht-style cruises, this is a unique example of a cruise line bringing a separate land-based experience to sea," said Windstar President Christopher Prelog.
"It connects and cross-sells a diverse and seemingly unrelated set of travel experiences that have shared ownership." 
The Classic Suites on the Star Legend have been transformed and are now called The Broadmoor Suite and The Sea Island Suite. The Sea Island Suite features elegant touches that evoke the property's Addison Mizner design while The Broadmoor Suite is more traditional.
"The overall look is quite coastal and airy – colors like sea-glass green are used throughout," said Prelog.
"In The Broadmoor Suite, you'll find a traditional space with classic furniture, floral motifs, white trim with gold finishes, and wide crown molding."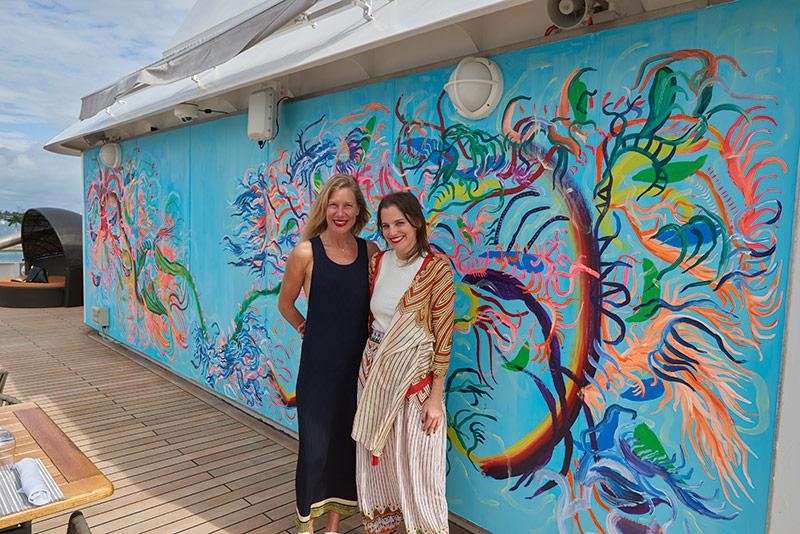 Additionally, the Star Legend also showed off a brand new mural by a Miami-based artist Alex Nuñez. This is the third and final mural to be added onboard Windstar's three Star Plus Class yachts as part of a collaboration with Fountainhead Arts to bring new works to sea. 
Nuñez traveled aboard the Star Legend from Lisbon to Miami in order to create a new mural titled "First Light".