Silversea Cruises has revealed full details on the public venues aboard its new ship Silver Nova, including what it said was the largest array of bars, lounges, and restaurants of any ultra-luxury cruise ship.
The 728-guest Silver Nova will host 10 bars and lounges, eight distinct restaurants, and an array of additional public venues when she launches in August 2023.
Silversea will enhance the Silver Nova with a new design approach in a first for the leading ultra-luxury cruise line: guests will benefit from an asymmetrical design, as well as a horizontal layout, which will heighten the ship's sense of spaciousness and provide a natural flow between venues on entire decks, the company said.
"In addition to her pioneering sustainability credentials, Silver Nova will unlock a new luxury experience for our guests, offering an industry-leading variety of bars, lounges, and restaurants with an entirely new design approach for Silversea," said Barbara Muckermann, President and CEO, Silversea Cruises. "Silver Nova represents a milestone in our strategy to build the perfect ship for every itinerary, with her array of venues enhancing the guest experience to a new level. Pushing boundaries in ultra-luxury travel, she will enrich the social aspect of cruising to unprecedented levels, fostering the strong sense of community that is core to life on board each Silversea ship. Her openness to the destinations she visits will offer guests a new way of connecting with the world."
The company said the ship's horizontal layout allows for a stronger connection between settings, with an enhanced guest experience that flows throughout the ship and evolves with each venue according to the time of day. Silver Nova's public spaces include:
The Dolce Vita Lounge
Silversea's signature pre- and post-dinner drinks venue, the Dolce Vita (pictured above) lounge will represent the heart of Silver Nova—located on deck five with capacity for up to 120 guests. Open from early in the morning until late in the evening, Dolce Vita will provide an elegant setting throughout the day, welcoming guests for leisurely drinks and enrichment activities, before transforming into a sophisticated piano bar by night. A feature bar will sit centrally within the 370.5m2 (3,988ft2) space, complemented by a performance area, and ample seating.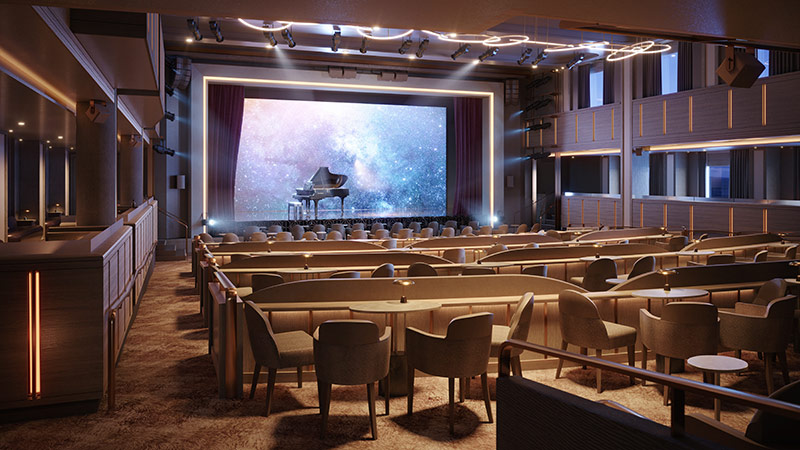 The Venetian Lounge
Silver Nova's two-storied Venetian Lounge will have capacity for 370 guests on decks four and five, with a 550m2 (5,920ft2) lower level and an the upper tier of 190m2 (2,045ft2). The home of Silver Nova's enrichment and entertainment offering, the Venetian Lounge will host live theatrical and musical performances, film screenings, and events of an evening, as well as informative lectures and seminars during the daytime. The venue will incorporate state-of-the-art audiovisual technology, including a large HD screen; cabaret-style seating with small tables; and balconies for an intimate viewing experience.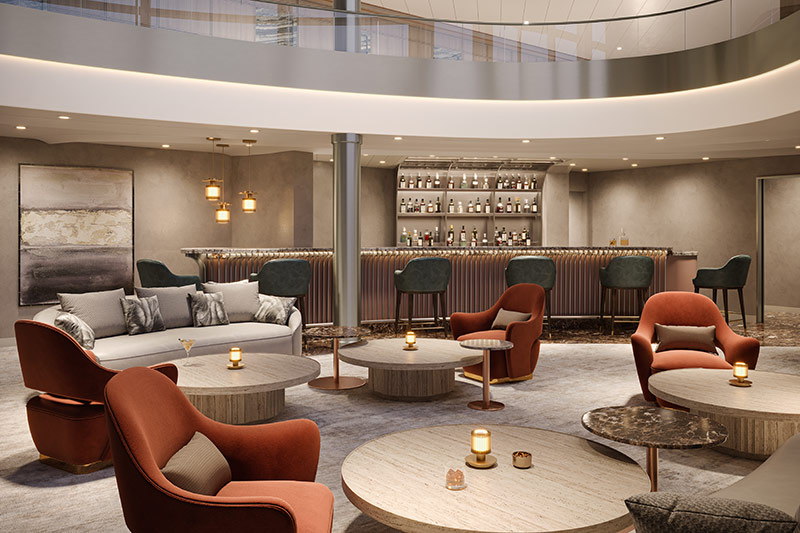 The Shelter
A brand new venue for Silversea, the Shelter will be a sophisticated evening-only bar, accommodating just 32 guests in a chic setting of 131m2 (1,410ft2). Set adjacent to Atlantide and S.A.L.T.® Kitchen on deck three, the Shelter will welcome guests for pre-dinner aperitifs and post-dinner cocktails. The venue's elegant interiors will employ a neutral color palette, illuminated by tasteful lighting. The Shelter's striking bar will include a wrap-around bottle display with integrated strips of lighting for a modern aesthetic. Forming a harmonious connection with Silver Nova's other nightlife venues, the Shelter will entertain guests with an open feel.
The Connoisseur's Corner
Offering guests a selection of premium cigars and liquors on deck five, Silver Nova's 61.5m2 (662ft2) Connoisseur's Corner will benefit from a new layout with a capacity of 35, featuring a larger, modern interior space with floor-to-ceiling windows and a spacious outdoor area. With comfortable Chesterfield armchairs, the Connoisseur's Corner will have the exclusive look and feel of a private member's club.
The Observation Lounge
Offering guests panoramic, 270-degree views over the destination from deck 10, the Observation Lounge will provide a vantage point from the top of Silver Nova, with floor-to-ceiling windows and a soothing color palette that is inspired by the sea. Enlarged to 256.5m2 (2,761ft2), the venue will accommodate up to 115 guests from early in the morning until late at night. The lounge will house Silver Nova's library, offering travelers an intimate space in which to relax with a book.
The Panorama Lounge
A peaceful lounge by day and a lively bar by night, Silver Nova's Panorama Lounge will accommodate up to 190 guests, sprawling over 547m2 (5,888ft2) on deck five. Large windows that surround the space's interiors give way to 221m2 (2,379ft2) of outdoor space, from which guests will enjoy 270-degree views over the destination from the ship's aft. Aboard Silver Nova, the Panorama Lounge will feature a new layout when compared to Silversea's Muse-class ships, as well as a new design and color palette.
S.A.L.T. Bar
The S.A.L.T. Bar will enjoy from a premium position aboard Silver Nova when compared to Silversea's previous class of ships, relocated to deck 10. More spacious than ever, with capacity for 42 guests and an area of 170.8m2 (1,838.5ft2), the evening venue will be enriched with a larger bar area, as well as far-reaching views through floor-to-ceiling windows and a new outdoor area. The S.A.L.T. Bar will serve regionally inspired drinks in warm, elegant interiors, with a dark color palette and comfortable armchairs for an intimate atmosphere.
S.A.L.T. Lab
Also relocated to deck 10 for a prime view on the destination and with a new outdoor area, the S.A.L.T. Lab will be greatly enhanced aboard Silver Nova with a fresh layout—enlarged to approximately 112.4m2 (1,209.9ft2) and accommodating 28 guests. The test kitchen will enable guests to travel deeper into each sailed region through the lens of food and drink, providing the opportunity to get hands on with regional ingredients under the guidance of local food experts and Silver Nova's S.A.L.T. Host. Enjoying the same bright, elegant interior design as on previous ships, the S.A.L.T. Lab will comprise cooking stations and a larger, redesigned central workstation aboard Silver Nova—at which participating guests will be able to sit to view demonstrations.
Otium Spa
The Otium Spa will be relocated when compared to Silver Dawn℠, positioned towards Silver Nova's bow on deck five with a more spacious interior. Open throughout the day as the home of Silversea's Roman-inspired Otium wellness program, the 338m2 (3,638.2ft2) space will incorporate an indoor swimming pool; spa, with eight treatment rooms and a tranquil relaxation area; fitness center; and beauty salon. Inspired by the design of Ancient Roman baths, the Otium Spa will have an open, welcoming feel, in which guests' wellness journeys will flow seamlessly between interconnecting areas. The thermal area will be larger than ever, with a steam room; sauna; and pool, complete with travertine water fountain and floor-to-ceiling windows. Soft lighting and natural stones, including hints of red marble, will create an elegant, relaxing setting.