In a ceremony held on Friday at the Port of Los Angeles, television stars and show hosts united as godparents and officially named Discovery Princess. The godparents included fashion designer Randy Fenoli, chef Alex Guarnaschelli, special effects designer and fabricator Adam Savage, and real estate broker and flipper extraordinaire Page Turner.
Standing together at the Retreat Pool on the open deck of Discovery Princess with the ship's Captain Gennaro Arma, they pronounced: "We name this ship Discovery Princess. May God bless her and all who sail on her."
They then sent a giant Nebuchadnezzar-size bottle of champagne against the ship for the celebratory smash, officially welcoming Discovery Princess into the fleet of Princess Cruises, the world's leading international cruise line and leader on the west coast.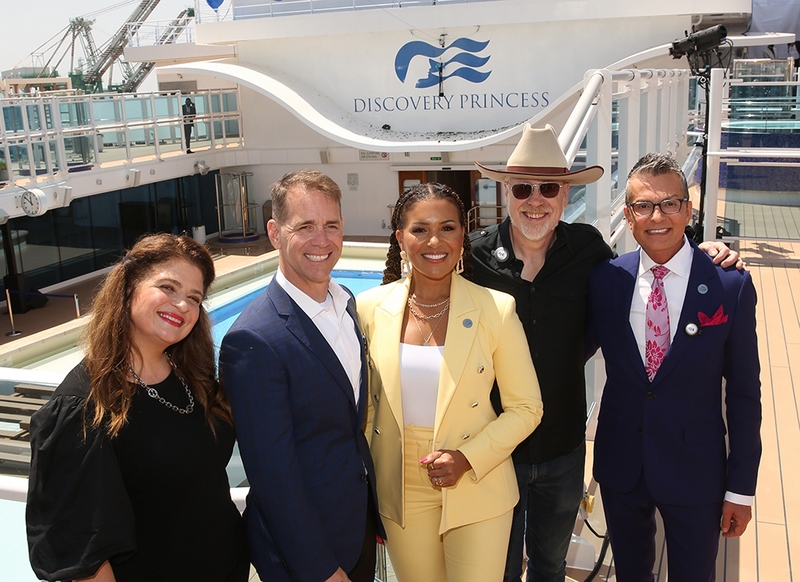 The "Discover Our World" themed ceremony blended maritime tradition with contemporary elements, celebrating the cruise line's exclusive, seven-year Discovery at SEA™ program – bringing the spirit of curiosity and exploration to every cruise through branded experiences like Shark Week at Sea, exclusive shore excursions and onboard activities such as the Camp Discovery youth centers and Stargazing at SEA.
"Today is a celebration to remember as our newest ship, Discovery Princess, is officially named by this talented group of experts and personalities – Randy, Alex, Adam, and Page," said John Padgett, Princess Cruises president. "We can think of no more fitting godparents to mark this significant milestone."