Viking officially revealed its expedition program, releasing renderings of the Viking Octantis, embarking on voyages to Antarctica and North America's Great Lakes. A second expedition vessel, Viking Polaris, will debut in August 2022, sailing to Antarctica and the Arctic.
Expedition Features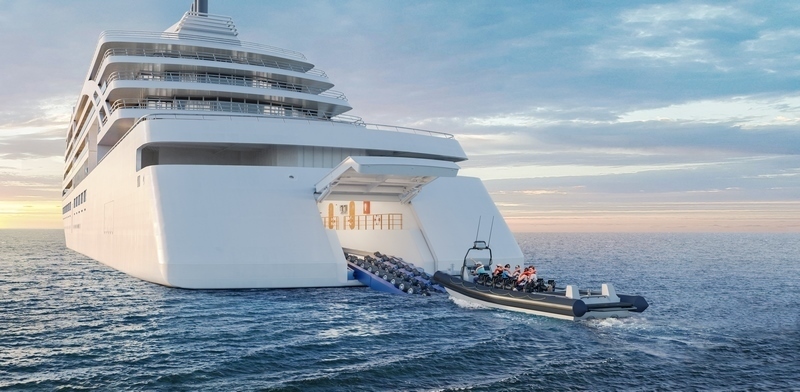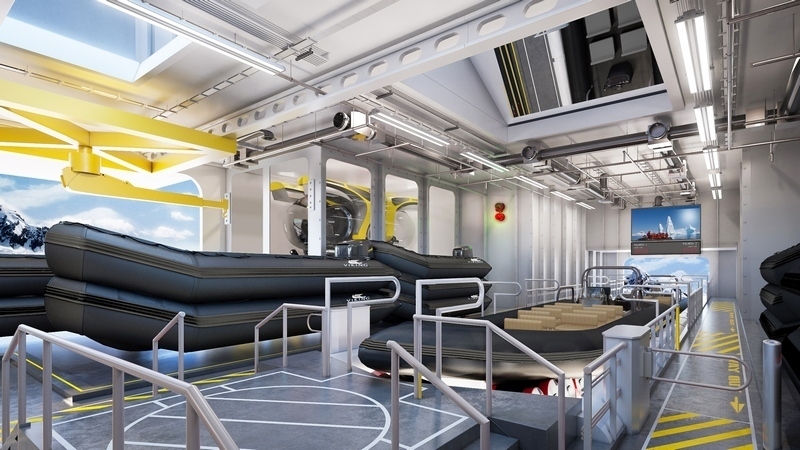 The Hangar: An industry first, The Hangar brings true comfort to expedition cruising. This enclosed, in-ship marina permits the launch of small excursion craft through the ship's multiple shell doors. The Hangar's most innovative feature is an 85 ft. slipway that allows guests to embark on RIBs from a flat, stable surface inside the ship, shielded from wind and waves. There is also a FerryBox, a set of instruments continuously collecting and displaying data on water quality, oxygen content, plankton composition and more.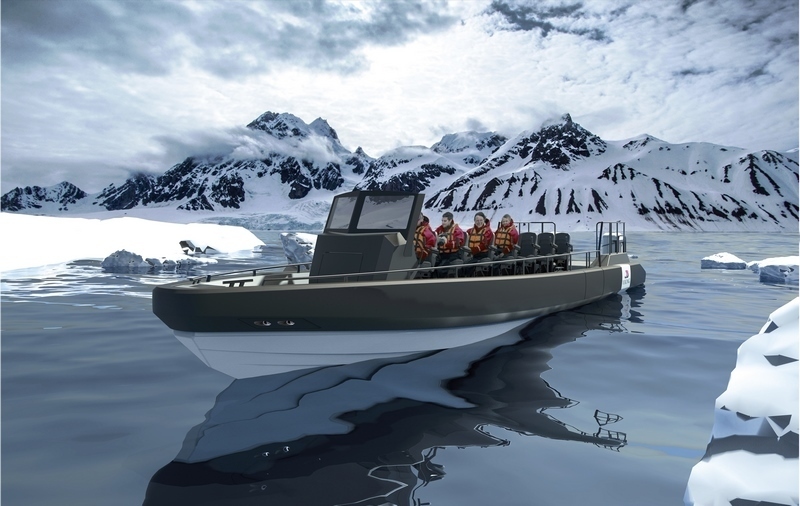 Expedition Equipment: Viking will offer a variety of ways for guests to experience their destination, according to their interests and activity level, at no extra charge, according to a press release. With a program of complimentary experiences, expedition equipment available for guests on the Viking Octantis and Viking Polaris will include a fleet of military pro zodiacs designed for professional use in the harshest of environments; a fleet of two-seater Arctic-tested kayaks; and two 12-seater convertible RIBs. Each ship will also feature two six-guest submarines that feature revolving seats and 270-degree spherical windows for an incomparable undersea experience. Everything guests need will be provided: a Viking Expedition Kit will contain items like boots, binoculars and waterproof pants; each excursion will carry a full range of Safety Equipment, such as satellite phones, VHF radios, ropes, life jackets and a comprehensive shore survival kit; and all guests will receive complimentary use of Viking Excursion Gear, which includes specialty items like trekking poles, snowshoes and skis.
Venues: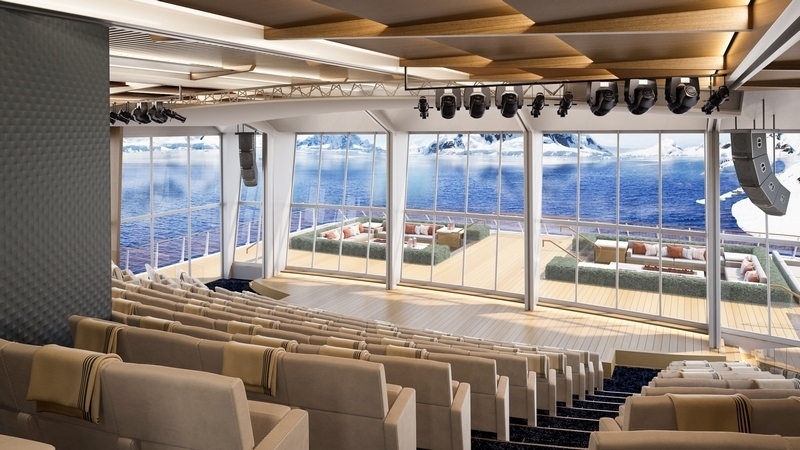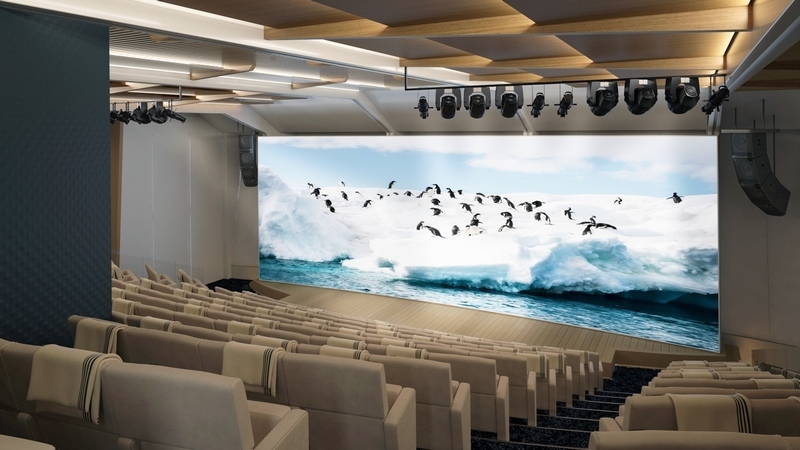 The Aula & Finse Terrace: Viking said it has created the world's most advanced venue for learning at sea with The Aula, a panoramic auditorium at the stern. Inspired by the University of Oslo's famed ceremonial hall where the Nobel Peace Prize was historically awarded, The Aula will offer a dynamic venue for lectures and entertainment, with floor-to-ceiling windows and 270-degree views. Adjacent to The Aula through sliding glass walls is the Finse Terrace, an outdoor lounge area with comfortable couches and warming lava rock "firepits" – perfect for panoramic views of the surroundings. Together the two spaces can be combined to create an unmatched indoor-outdoor al fresco experience for guests to be immersed in nature.
Staterooms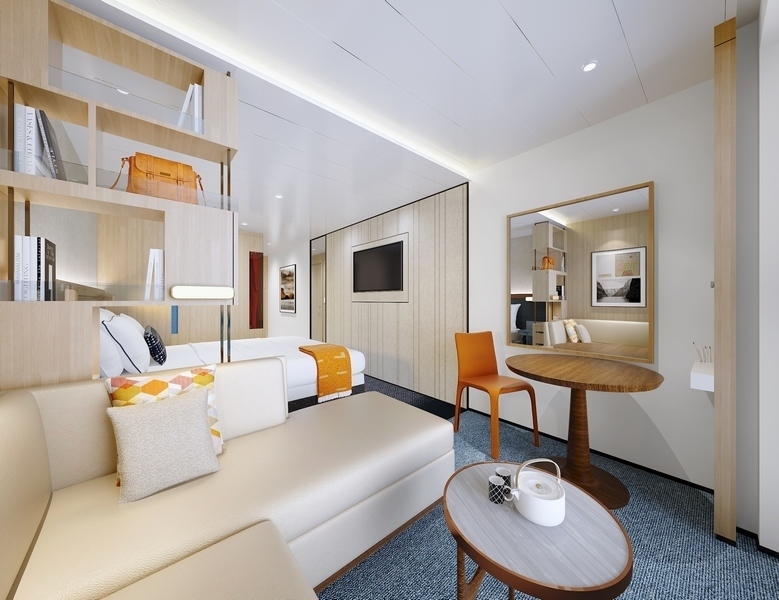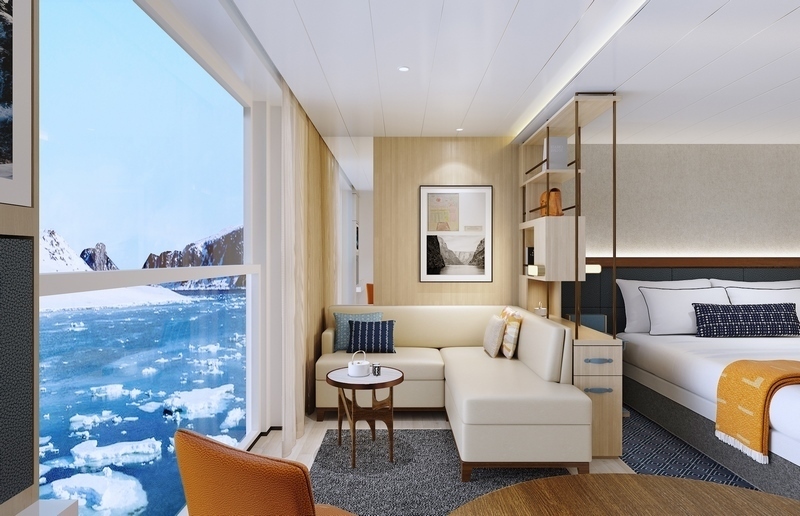 Nordic Balcony: A first for polar expedition cruise vessels, all staterooms onboard the Viking Octantis and Viking Polaris feature a Nordic Balcony, a sunroom that converts into an al fresco viewing platform. Harnessing the Norwegian reverence for light and to create the optimal wildlife observatory at sea, the Nordic Balcony's floor-to-ceiling, distortion-free glass at the very edge of the ship lets guests take the views in, while keeping the elements out. Should guests wish to feel even closer to nature, the top of the panoramic glass lowers to transform the stateroom into a sheltered lookout, with an observation shelf at elbow level to stabilize binoculars or a camera. Guests can choose from six stateroom categories that range from 222 sq. ft to 1,223 sq. ft: Nordic Balcony, Deluxe Nordic Balcony, Nordic Penthouse, Nordic Junior Suite, Explorer Suite and Owner's Suite. All staterooms feature a Nordic Balcony, as well as a king-size bed and large bathroom with spacious glass-enclosed shower, heated bathroom floor and anti-fog mirror. Every stateroom is also equipped with a unique floor-to-ceiling drying closet that circulates warm air to dry and store clothing and expedition gear.
Pools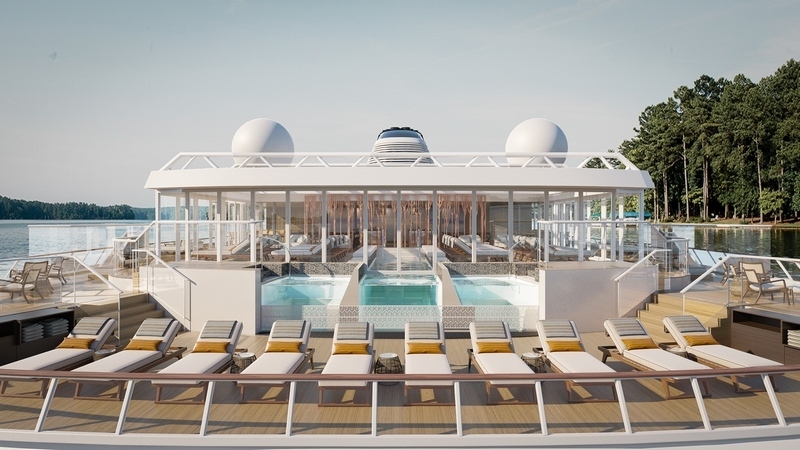 Located at the stern and featuring a retractable glass dome, this indoor-outdoor heated sanctuary will allow guests to be surrounded by their destination as they swim and lounge in three different temperature-controlled pools, including an "inside-out" swimming experience.
Explorers' Lounge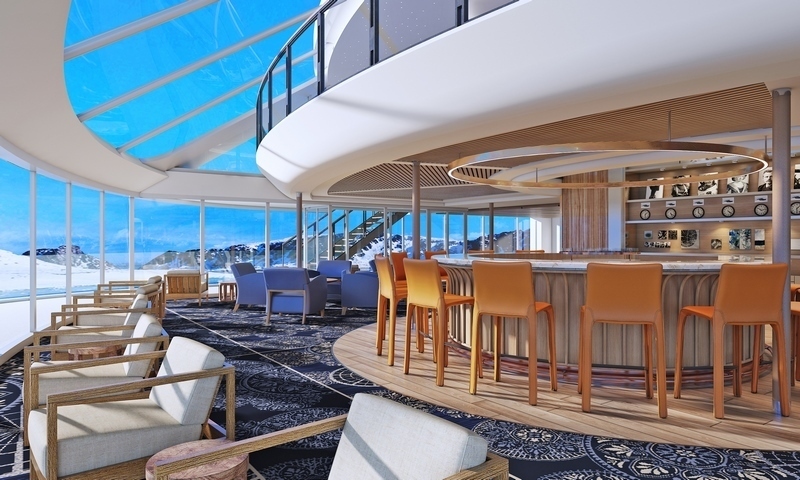 Similar to Viking's ocean ships, the Viking Octantis and Viking Polaris have a two-deck Explorers' Lounge at the bow of the ship.
Dining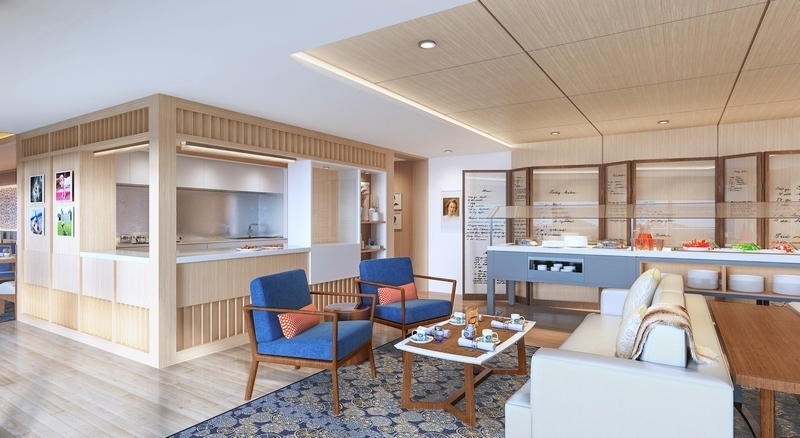 Viking's expedition ships will offer an array of dining options that are adapted from Viking's ocean ships, but which have been redesigned for expeditions. The Restaurant will offer fine dining featuring regional cuisine and always-available classics; the casual World Café will be a new "market" concept that offers live cooking, an open kitchen, bakery, grill and premium seafood and sushi choices, as well as a wide range of international flavors; Mamsen's, named for "Mamsen," the Hagen family matriarch, serves Scandinavian-inspired fare; Manfredi's offers the best of Italian cuisine; and 24-hour room service will be complimentary for all guests.