MSC Cruises has launched a new report, The Future of the Guest Experience, a forward-looking report that explores the trends that will impact the future of the travel industry.
Created in partnership with The Future Laboratory, one of the world's futures consultancies, the report identifies the ways in which travel and hospitality brands will have to deliver ultra-high definition (UHD) experiences to satisfy the needs of the guest of the future, the company said.
Impacted by hyper-connectivity, urbanization and demographic transformation, the report shows that the future for the cruise industry is full of challenges but more importantly opportunities.
Pierfrancesco Vago, MSC Cruises' Executive Chairman said: "One of the challenges of the cruise industry is that we need to design and build new ships that will still be cutting-edge for our guests 30 years from now. As such, innovation and consumer trends are at the very core of our DNA and we need to have a strong and clear vision for the future while combining this with timeless style. Through intelligent innovation and design, with strong commitment to sustainable travel, we will be able to facilitate all kinds of future experiences."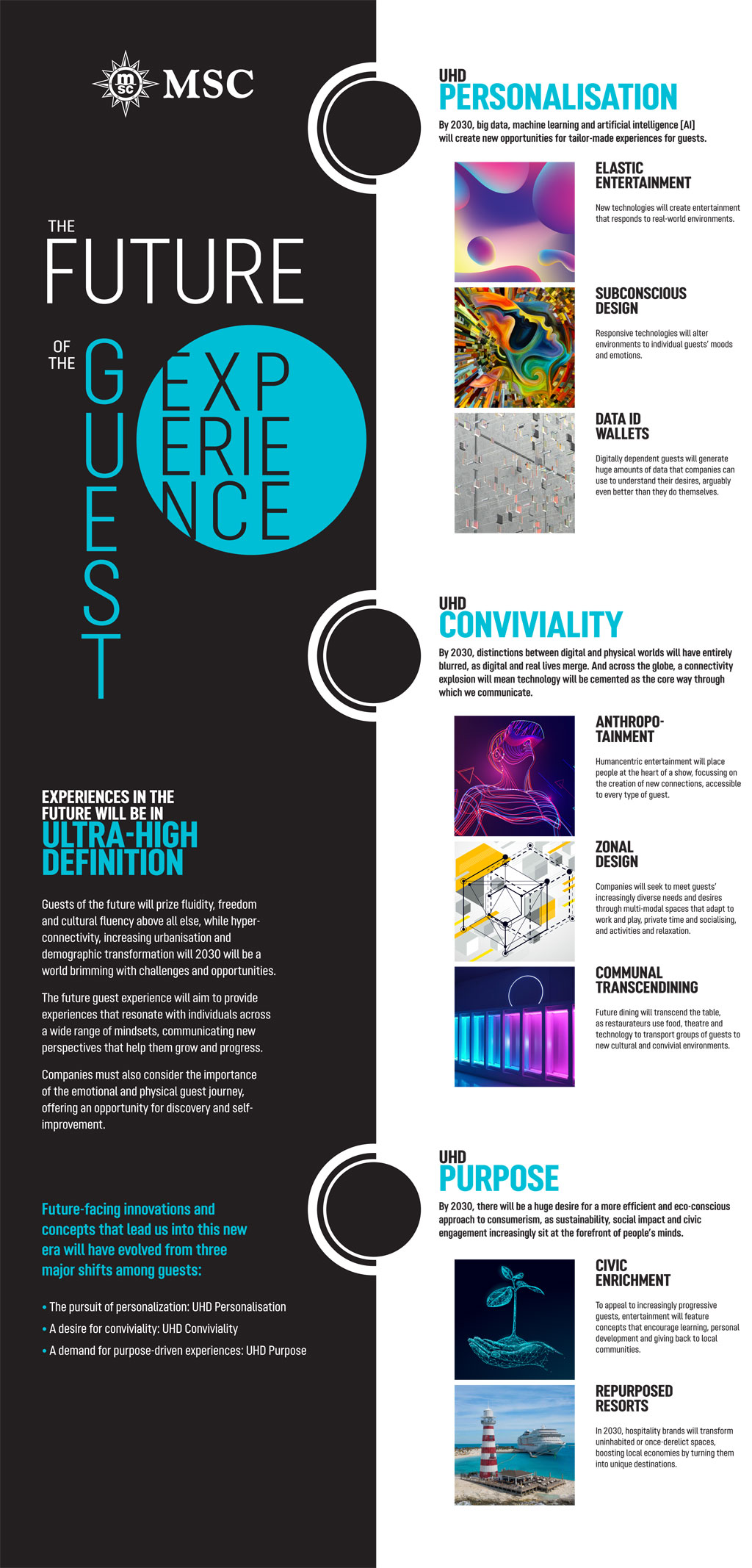 Future guests will be looking for a truly personalized vacation experience and as we become more connected than ever before, technology will provide brands with the information needed to tailor experiences to the individual, according to the report, which demonstrates that the trend of Data ID Wallets will enable brands to create a truly dynamic, seamless and hyper-personalized guest experience.
Hyper-connectivity will also drive people to seek out human connection to avoid dehumanization, and the trend of Anthropo-tainment will see human-centric entertainment that places people at the heart of the show, accessible to all ages, genders and nationalities.
Vago continued: "We're inherently linked to the sea, and from this perspective there exists a big opportunity to play a big role when it comes to giving back to the environment and to the planet as a whole. We are the first cruise line to go carbon neutral across our marine operations and the emphasis that we place on our commitment to the environment is driven by not only our personal passion to protect the oceans but also the need to provide our guests with a sustainable way to travel."