Two newbuilds for Nicko Cruises are driving capacity growth for the German brand, said Guido Laukamp, managing director. They're also challenging river cruising dining expectations, according to the 2020 European River Cruise Market Report by Cruise Industry News.
The 135-meter long nickoVision joined the fleet in 2018, and the 110-meter long nickoSpirit follows next year. Best of all, Nicko has worked closely with the shipyard and designers to fit three restaurants into both ships, something basically unheard of in the river world where space is at a premium.
The main restaurant offers guests a multi-course menu, while the Manhattan restaurant provides a specialty and theme-menu experience, focusing on select cuisines. Finally, Mario's Grill offers salads, steak, pizza and pasta offerings.
The new ships are built with ocean passengers in mind, featuring open space, larger public areas and balcony accommodations.
"The modern river traveler expects a spa, fitness and wellness area and also expects to have open space," said Laukamp. "That also means French or Juliette balconies with the window sliding vertically."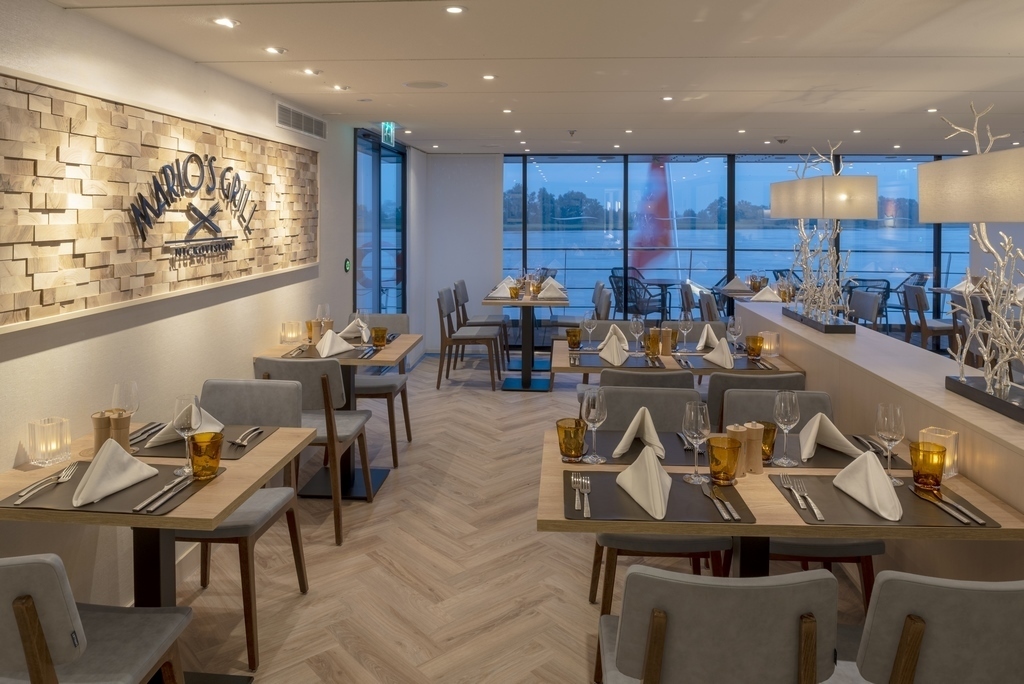 With each newbuild generation, the target is to acquire more first-time river cruisers.
"The most striking argument we can make is with new hardware," Laukamp said.
Operating around 30 ships, Nicko's fleet is split into boutique, modern and classic ships, which are all chartered.
The boutique ships are mainly made up of vessels from the old Nicko brand, pre bankruptcy, as well as from Peter Deilmann's fleet.
The classic fleet features ships with a so-called maritime style and ambiance.
Nicko's modern fleet comes courtesy of former Viking and Premicon vessels, as well as newbuilds.
"This is our bread and butter, modern tonnage," said Laukamp. "They have a higher volume of capacity and we can move a lot of passengers on the Rhine and Danube, which are our two biggest markets."
Nicko expects to carry around 80,000 guests this year, with a third of the capacity on the Danube, where demand is the greatest.
There is a trend, however, toward southern Europe and warmer destinations including France and the Douro in Portugal. Other trending areas include the Croatian coast, which is not a river product, but offers a similar experience.
About the 2020 European Cruise River Market Report
The new European Cruise Market Report provides a comprehensive look at the river cruise business with capacity metrics by river and brand, company profiles and much more. 100+ pages of insights. Learn more.