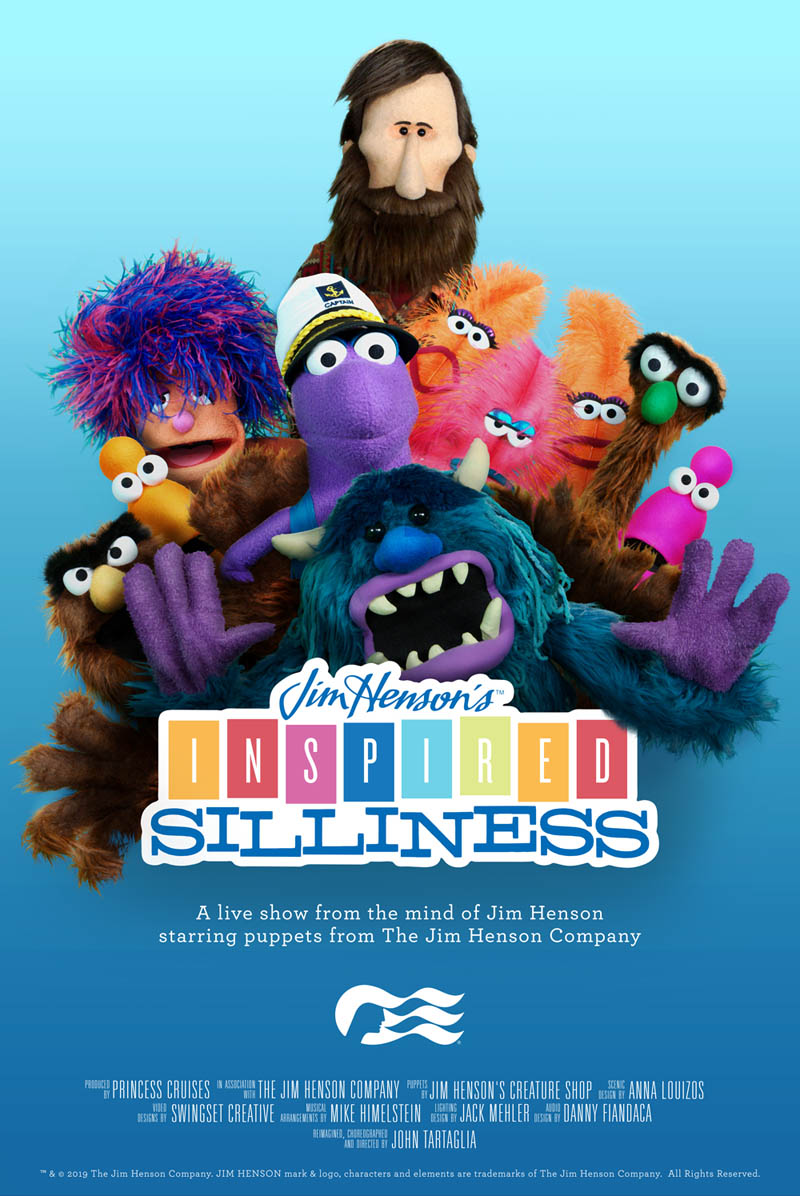 Princess Cruises is staging the innovative early work of legendary puppeteer Jim Henson in a new comedy, Jim Henson's Inspired Silliness. Brought to life by The Jim Henson Company and director John Tartaglia, the show targets adults and children alike on the new Sky Princess in 2019 and Enchanted Princess in 2020.
New and exclusive to Princess Cruises, the 30-minute performance features Princess show singers and dancers to bring to life the comedic Henson puppetry that redefined the artform. With a colorful cast of new puppets from Jim Henson's Creature Shop, including several newly designed characters, the show captures the spirit and legacy of Jim Henson and includes a lighthearted video introduction by his son Brian Henson.
"Audiences experience something special and mesmerizing while being entertained by puppetry, and Inspired Silliness will give our guests an incredibly unique and new entertainment offering," said Denise Saviss, Princess Cruises vice president of entertainment experience. "You can't help but smile, laugh out loud and sing along to this original Henson production and feel connected to the performers and the audience during this show."
Director John Tartgalia has previously directed The Wizard of Oz, Shrek the Musical, Tarzan, Claudio Quest, Elmo the Musical, Live!, and Avenue Q. He was a Tony nominee for his performance in the Broadway debut of Avenue Q, creating the roles of Princeton and Rod.
The Jim Henson's Creature Shop provides performed digital visual effects, animatronic creatures, animation and soft puppets to the international film, television, advertising, stage production, and theme park industries. The Shop's most recent work can be seen in the Netflix series The Dark Crystal: Age of Resistance. Based in Los Angeles and New York with satellite shop capabilities internationally, the Shop is known for designing and building some of the world's best-known characters including the Sesame Street puppets, the classic Muppets, the dinosaurs from Dinosaurs, the aliens from Farscape and the fantastical creatures from The Dark Crystal and Labyrinth. Other feature film credits include Where the Wild Things Are, Forgetting Sarah Marshall, and Hitchhiker's Guide to the Galaxy.
Set Designer Anna Louizos is a three-time Tony Award nominee who has designed sets for such Broadway musicals as School of Rock, Irving Berlin's Holiday Inn, The Mystery of Edwin Drood, In the Heights, High Fidelity, Dames at Sea, and more.