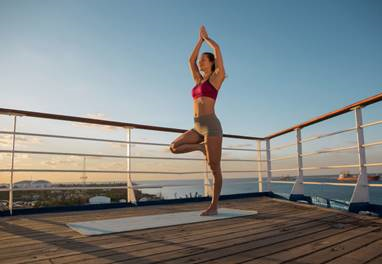 Bahamas Paradise Cruise Line today announced a new partnership with Fit Bodies to provide guests 16 and older with free exercise classes from certified fitness, Zumba and yoga professionals onboard the Grand Celebration starting in September.
Fit Bodies,is the largest teaching exchange program for fitness, yoga, tennis and wellness professionals in the world, will provide guests with exceptional workout experiences to unwind and recharge on their cruise to and from Grand Bahama Island, the company said.
"We are delighted to partner with these talented industry professionals to offer guests the best fitness experiences possible onboard," said Oneil Khosa, CEO of Bahamas Paradise Cruise Line. "In addition to exercising in our Ocean View Fitness Center, our guests can now enjoy the most popular workouts at sea led by certified trainers to ensure they feel rejuvenated during their getaway."
Beginning this September, fitness classes will be offered onboard the Grand Celebration and starting January 1, fitness classes will be offered every day onboard both ships.
Classes will be held both indoors and outdoors, if weather permits, and equipment will be provided. A schedule of fitness classes will be provided to all guests upon their arrival.
"Our new cruise partnership with Bahamas Paradise Cruise Line and their customers is an exciting expansion in the 28-year history of Fit Bodies, Inc.," added Fit Bodies President Suzelle Snowden. "We look forward to working with the Bahamas Paradise Cruise Line team and their customers."