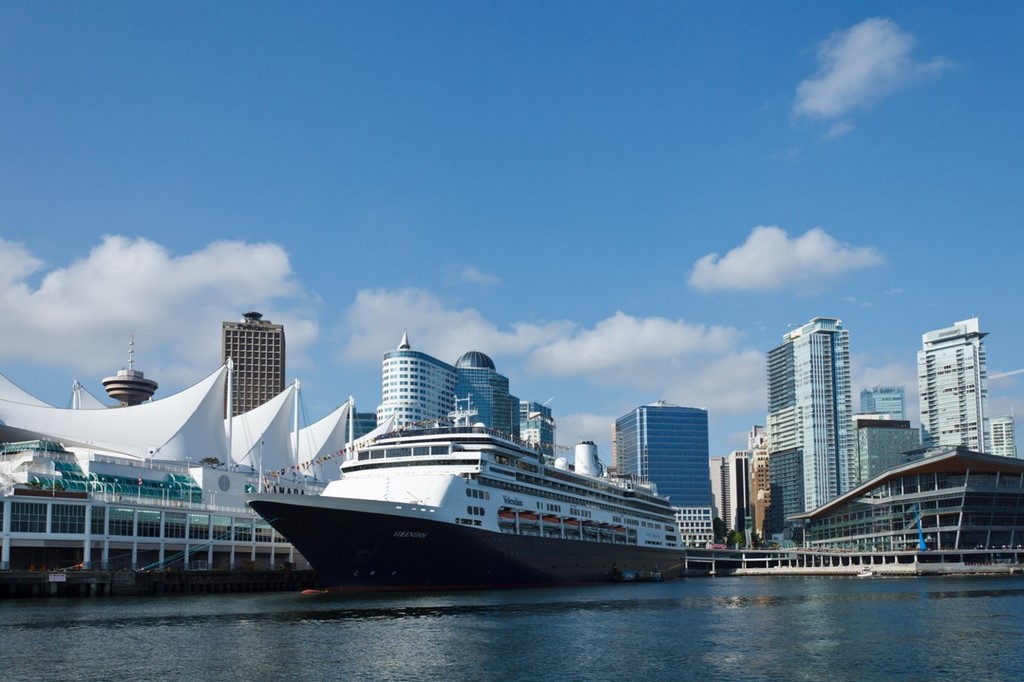 The Vancouver Fraser Port Authority celebrated a milestone with the arrival of the 25 millionth cruise passenger through the Port of Vancouver on May 23. To mark this significant occasion, the port authority hosted a celebration at Canada Place to honor the lucky passenger and to recognize the collaborative efforts by industry and tourism that make Vancouver's cruise business so successful.
"We are thrilled this year to welcome the 25 millionth cruise passenger through the Port of Vancouver and to celebrate this achievement with our destination, cruise line and industry partners," said Robin Silvester, president and chief executive officer at the Vancouver Fraser Port Authority. "For more than 40 years, we've been welcoming cruise passengers to Vancouver. This achievement is a testament to the joint efforts with our partners to promote Vancouver as a top cruise and tourism destination. We look forward to another successful year ahead."
This year, 32 different vessels from 14 cruise lines will be visiting the Canada Place cruise terminal, ranging from luxury smaller expedition style ships, to some of the largest vessels in the Alaska cruise market. More than 895,000 cruise passengers are expected in Vancouver this year, which is a 7 percent increase in passenger volume over 2017.
According to a statement from the port, the Vancouver cruise industry stimulates nearly three million dollars to the local economy for each cruise ship that visits and $1.6 billion in total economic impact, as passengers spend additional vacation time in Vancouver, Victoria and surrounding areas.
"It is wonderful to be celebrating Vancouver's 25 millionth cruise passenger just a few days before the start of Tourism Week," said Ty Speer, President & CEO of Tourism Vancouver. "Tourism is not only hugely beneficial to Vancouver's economy through direct spending and job creation, it also has a positive impact on local residents through infrastructure development, and by supporting the viability of festivals, events, museums and attractions. The cruise industry has been drawing visitors to Vancouver from around the world for the past 40 years and has become a central pillar of our city's visitor economy."
One of the first cruise lines to visit Vancouver was the Holland America Line, which has been cruising to Vancouver for more than 40 years and was the first cruise line to call the new Canada Place cruise terminal on April 28, 1986.
"For more than 40 years, Holland America Line has been a partner with the Port of Vancouver in building a robust gateway cruise port and as an important contributor to the economic impact of this region," commented Orlando Ashford, president, Holland America Line. "We congratulate the Vancouver Fraser Port Authority on celebrating its 25 millionth cruise passenger and are honored that one of our guests has been selected to represent such a monumental occasion."
Among the highlights of the 2018 season: Several new vessels will be calling, including Windstar Cruises' Star Legend luxury cruise ship and the Norwegian Jewel, which will be replacing the Norwegian Sun.
Vancouver will welcome the return of Holland America, Princess Cruises, Norwegian Cruise Line, Oceania Cruises, Regent, Disney Cruise Line, Celebrity Cruises, Royal Caribbean International, Crystal Cruises, and Silversea Cruises. These cruise lines all have vessels that use the Port of Vancouver as home port to begin and end each cruise.
The port will also welcome the Norwegian Bliss, the largest cruise ship to date to visit Vancouver, accommodating more than 4,000 passengers.
In 2009, the Canada Place cruise ship terminal became the first in Canada and third in the world to offer shore power to cruise ships. Since then, there have been 493 successful shore power connections out of 624 calls that are able to connect at the Canada Place cruise terminal. This equates to a total of 58,000 tons of fuel savings, more than 18,000 tons of greenhouse gas (GHG) emission reductions and 524 tons of air pollutant reductions.