Genting Hong Kong named the World Dream on Friday at the Kai Tak Cruise Terminal in Hong Kong.
Puan Sri Cecilia Lim, World Dream's official Godmother and the wife of Tan Sri Lim Kok Thay, Chairman and Chief Executive Officer of Genting Hong Kong, delivered an inspirational message and activated the traditional breaking of the champagne on the hull of the new ship in the presence of more than 1,000 guests including government dignitaries, business and trade partners and media.
Notable attendees at the debut and christening included Guest of Honour The Chief Executive of the Hong Kong Special Administrative Region, the Honourable Mrs Carrie Lam Cheng Yuet-ngor and Mr Edward Yau, Secretary for Commerce and Economic Development, Ms Cathy Chu, JP, Commissioner for Tourism and Dr Peter Lam, GBS, Chairman of Hong Kong Tourism Board.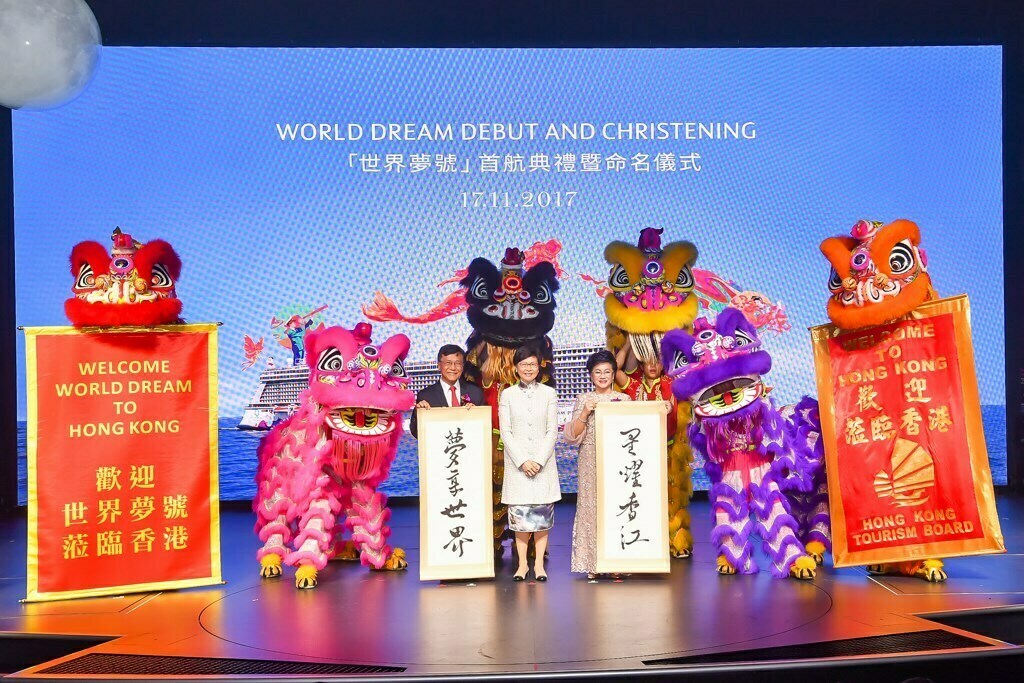 "We are truly excited to christen World Dream in Hong Kong – and to be the first-ever cruise ship to have this honour in a city that holds such significance to Genting Hong Kong and Dream Cruises. As the pioneer of the Asian cruise industry 24 years ago, Genting Hong Kong developed the Asian cruise industry with the founding of Star Cruises, with its headquarters in Hong Kong," said Tan Sri Lim Kok Thay, Chairman and Chief Executive Officer of Genting Hong Kong.
"Now, with Genting Dreams' arrival in the Pearl River Delta a year ago, she has delivered over 300,000 international passenger trips from across the region. Hundreds of jobs have been created and tourism receipts in hotels, airlines and destination management industries for the Pearl River Delta have grown significantly."
Tan Sri Lim also expressed the importance of Hong Kong to both Genting Hong Kong and the overall cruise industry in the Asia Pacific and reiterated the company's commitment to showcase the city and grow the Pearl River Delta region into a world-class, cruise destination hub.