When the MSC Splendida arrives in China next May, it will bring with it a number of fresh, new features for the Chinese cruise market following a November refurbishment. The Lirica, which is currently based in China, will move back to Europe next April as MSC, like many other lines, makes capacity adjustments in China.
Gianni Onorato, CEO, MSC Cruises, said: "We have always considered China as a key part of our global strategy. We are excited to see that after 10 years of growth, the Chinese cruise market has entered an era in which cruisers seek nothing but high-quality holiday time, a brand new era that requires a brand new style. MSC Splendida's deployment to China represents the second step we take to better serve this market. It is also a further testimony of our long-term commitment to establishing a strong presence in this key market. In fact, since she came into service, she has been the most popular ship for our Chinese guests cruising the Mediterranean area. This is the reason why we decided to deploy her here in China: we know that Chinese guests love her, so we bring her to their home."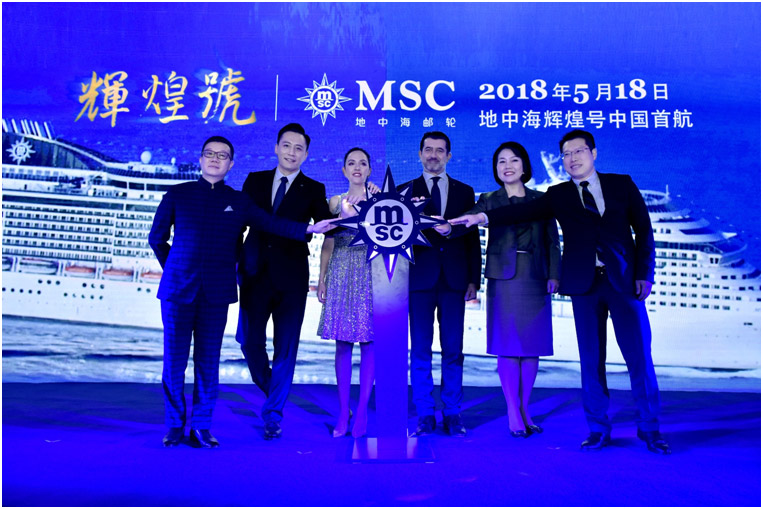 Aboard the Splendida, MSC will add a new signature restaurant curated by famous chef Jereme Leung. The company announced the news on Wednesday at an event in Shanghai.
"It has been my long-held dream to open a restaurant on a cruise ship. MSC Cruises' passion for the sea, pursuit of craftsmanship, attention to detail and quality and innovative spirit are well matched with my passion for cuisine. It's a privilege to renew my partnership with MSC Cruises on the MSC Splendida. With our joint efforts, I'm confident that this restaurant will offer a culinary experience comparable to that of any high-end restaurant I have opened onshore," said Leung.
MSC is also developing a customized "MSC for Me" program for the Chinese market in collaboration with Deloitte, to suit the likes of the new age Chinese customers.
MSC also announced a new China ambassador as well: Liu Ye, a Chinese actor, and his wife Anais Martane.
Among the big news is a new artificial intelligence translation installation across the ship, which will utlize the WiFi network to help guests and crew communicate. The system has been developed in conjunction with Baidu, a leading Chinese search engine, and Tuge, a technology outfit.
"Traditional translation devices require the user to input their choice of language, but this new system will automatically identify the languages spoken and to be translated. We hope it will allow guests to interact seamlessly with the multi-national crew onboard," said Heng Zhang, founder and CEO of Tuge
"MSC is the first cruise in the world to have an artificial intelligence translation system aboard. And we are still researching how to use it optimally for our Chinese guests onboard MSC Splendida next year," said Helen Huang, president of Greater China for MSC.
MSC Splendida will depart from Dubai in March 2018 and travel along the silk road maritime route to arrive in Shanghai next May.