The RCGS Resolute will grow One Ocean Expeditions' capacity by some 40 to 50 percent come 2019 when she operates a full year of service alongside the Akademik Ioffe and Akademik Sergey Vavilo, a pair of Russian research vessels.
The Canadian brand is on a growth trek and is chartering the former Hanseatic, with options extending through 2028.
"We're planning to run the vessel at 146 passengers. Our Arctic program this year is sold out and our Antarctic program last year was sold out, and is heading that way again," said Andrew Prossin, managing director.
"We're feeling pretty good about it. There is a lot of interest from new and existing markets," Prossin told Cruise Industry News.
He said the new ship will offer a more comfortable product for passengers. That onboard experience won't differ much, however, with a pure expedition program including scientists working aboard combined with a high level of service that is not formal, Prossin said.
Path to the Ship
The charter deal negotiations started more than a year ago, according to Prossin.
He said the decision was based on the ship's profile.
"It's got a good ice rating and a high caliber of construction with a great rating under the new Polar Code. It has similar engineering to our existing ships, having been built in the same shipyard but being five years newer."
Prossin said the company looked at multiple vessels and even considered a newbuilding program.

"When (RCGS Resolute) became available, this is the one we decided to pursue," he noted.
The ship will debut in One Ocean Expeditions colors into the Antarctica market in November 2018. She sails her final voyage for Hapag-Lloyd Cruises in September 2018.
"We've got more forward sales than ever before and more contracted sales," an upbeat Prossin continued.
Source markets are expanding, with growth coming for One Ocean in Canada, Australia, England, the United States and Asia. There is also more interest in expedition voyages into Eastern Canada, which Prossin described as a "wild" area.
"It's not just Polar travel, but other types of expedition cruising, including remote areas. We're seeing a great deal of interest," Prossin said.
Hanseatic
The RCGS Resolute was ordered in 1989 for Society Expeditions for a June 1991 delivery as the Society Adventurer, with a second ship planned to follow a year later.
The company was owned by Germany-based Discover Reederei and had Abercrombie & Kent as its sales agent in the United States.
But news unfolded a week before delivery as Society announced it would not take delivery of the ship and blamed the shipyard. The title of the vessel was then transferred back to a subsidiary of the shipyard. Previous to this, the second ship's contract was cancelled despite positive comments from the cruise line regarding the ship's construction in local press.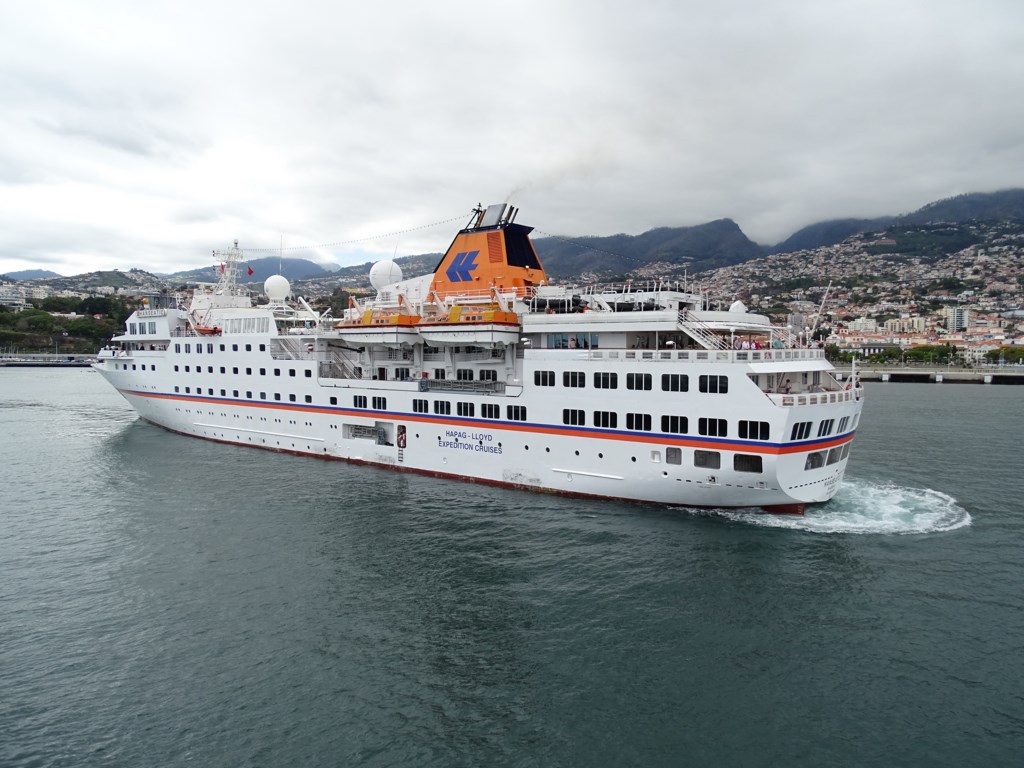 Rauma Yards then put the 8,200-ton expedition ship up for sale, noting it could cruise for two months without taking fuel or provisions with an operating range of 8,500 nautical miles.
1992 saw Society Expeditions file for bankruptcy while in September, Germany's Hanseatic Tours signed a two-year charter deal for the ship, with operations starting in March 1993. The ship was renamed Hanseatic and Hanseatic Tours was eventually purchased by Hapag-Lloyd in 1997.
*RSCG: Royal Canadian Geographical Society