Antarctica XXI plans to grow to 35 Antarctica departures per season with the delivery of the new Magellan Explorer, the brand's first-ever newbuild, which will join the company in time for the 2019-2020 cruise season.
Forecasted revenue growth is 30 percent annually, said Jaime Vásquez Sapunar, president and chairman, in an interview with Cruise Industry News.
"We're a boutique company that offers exclusive nature experiences in Antarctica. Our focus is not on providing opulence or grandeur. We focus on providing small groups of active travelers with the best expedition experience possible," Sapunar noted.
Based in Punta Arenas, the company has organically built up, now running two vessels. The long-term, 14-year growth strategy has also seen it cultivate local relationships. As such, it has a unique niche flying passengers to King George Island, eliminating 50 hours of high-risk Drake Passage sailing.
"There the clients transfer to the ship that is waiting for them. Comfort is one of our differentiating factors," said Sapunar.
This season, Antarctica XXI will sail the Ocean Nova for the duration of the winter, and also operate a handful of sailings on the Hebridean Sky on a subcharter agreement.
Sapunar said the company had a long-term agreement to operate the Ocean Nova, and was still considering a program with the Hebridean Sky. The new 100-passenger Magellan Explorer arrives in 2019.
The market today, he noted, is looking for comfort and modern features aboard, leading Antarctica XXI to control their own future with the newbuilding.
The small ship size will enable the company to land all passengers at once in line with local regulations.
"We take everyone ashore at once. That makes the operation very fast and efficient. We can focus on the destination as opposed to organizing groups taking turns," Sapunar said.
Other key features include two large meeting rooms, an accessible bow and a large forward facing glass observation area that will be the social hub of the 4,900-ton ship.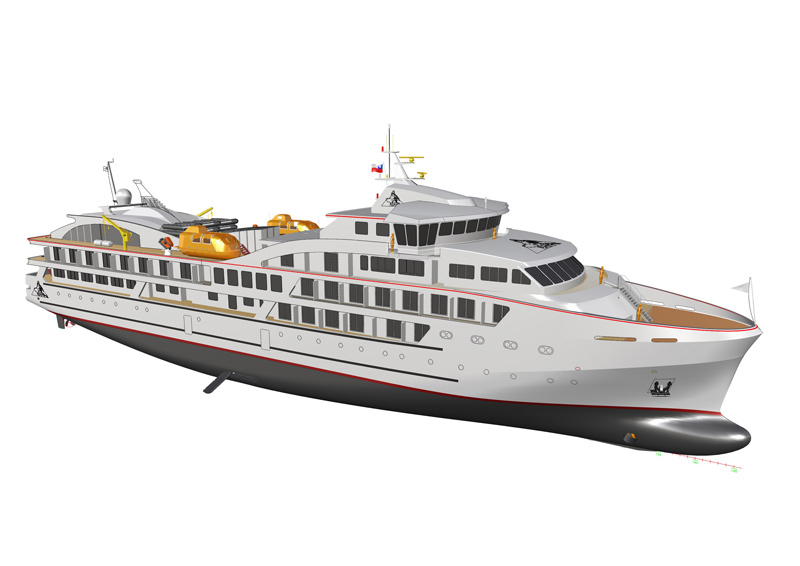 Most importantly, however, is a 60-day operational profile.
"We can spend more than 60 days away from port, with fuel and water capacity and storage for provisions," said Sapunar. "We are building a modern ship that fully complies with the new Polar Code and to the most stringent MARPOL emissions standards."
Careful attention has gone into crew areas, and guests staterooms are going to be large, Sapunar explained. Forty-two of passenger rooms will have balconies.
A bigger deal may be what happens in summer 2020. The company has a history of chartering vessels in Antarctica, but now with its own ship, is considering an Arctic program.
"We have not made a final decision. We are studying the possibility and the business model, whether it's our own program or finding a partner that has an existing Arctic program and working a deal with them," he said.
As for the growth coming across the expedition market, Sapunar pointed to the Baby Boomer generation, with savings to spend and wanting to see the world. There is also an emerging Asian market, he said, that is helping drive demand for polar cruises.
Not all the new ships will be additions, he said, as some older, more-expensive-to-operate ships are expected to leave the market at some point.
"It will be a fleet renewal process, not just growth," Sapunar noted.
With a newbuild in the pipeline, Antarctica XXI joins a host of companies betting on new polar tonnage. Sapunar has put together a stable growth trek.
"What people do in this business is to go from one ship to two, and that is 100 percent growth, it's difficult," he said. "We took a more gradual approach and found a partner for a portion of the season. We were able to go from one ship to two without doubling our capacity. We were going from 29 extra nights to 58 extra nights, and from there to a new ship."