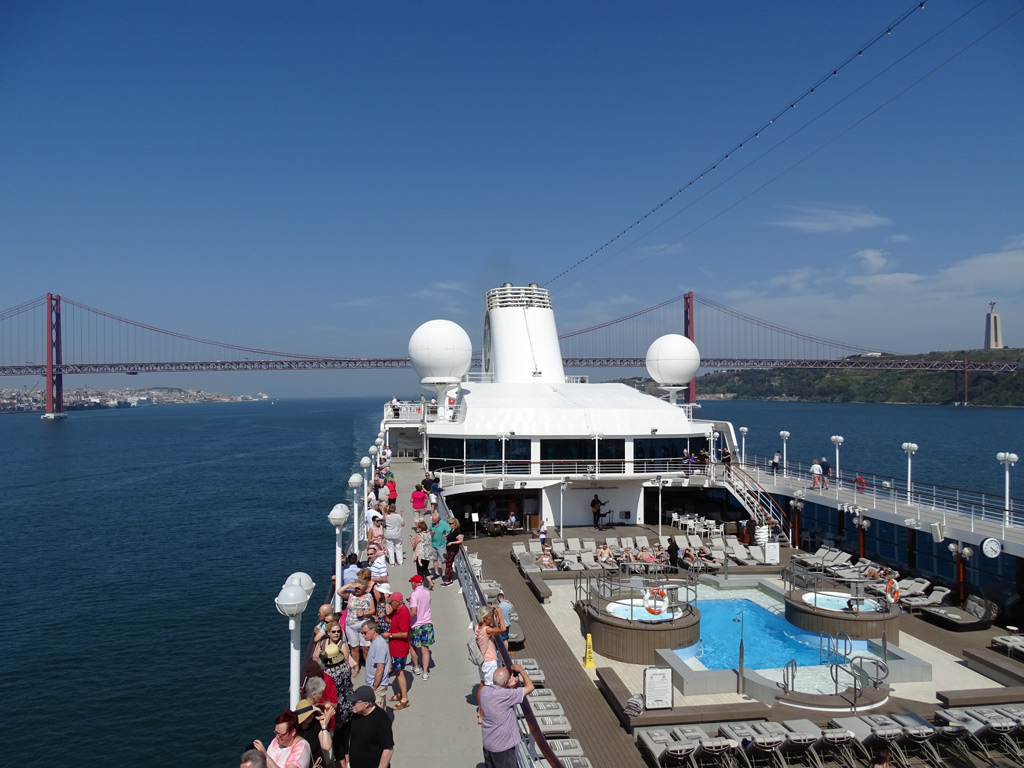 Delivering a quality guest experience for connectivity means pushing the limits of technology, delivering heaps of bandwidth and optimizing download and upload pipes down to the last byte of data.
What was minimally accepted technology just years ago, like Netflix streaming, is now expected to work regardless of where you are: at home, at work, on an airplane, at a resort, and at sea.
Global Eagle Entertainment announced earlier this year that it would bring enhanced internet and entertainment services across Norwegian Cruise Line's 14 ships, offering flexible, tiered plans for Wi-Fi, texting and video. The platform will be based on the firm's Airtime portal, which is on more than 850 commercial airplanes.
The company expects to be able to monitor usage and dynamically adjust bandwidth for each ship based on real-time demand, ensuring a consistent quality of experience (QoE) at all times.
"Guests will be able to use their own devices to access an integrated portal that includes TV, movies, games, and special event telecasts – anywhere on the ship," said Ole Kristian Sivertsen, president of Global Eagle's cruise, ferry and yacht services. "The flexible Airtime portal also enables the cruise line to implement branded campaigns across the user interface. Thus, the cruise operator can optimize revenue through tailored advertising and sponsored content."
Speedcast acquired Harris Caprock for $425 million in cash in late 2016, creating a large maritime satellite services provider with over 6,000 vessels under contract.
"Speedcast adds more capacity and coverage in other areas of the world, there are great synergies," said Cynthia Gills, vice president of cruise for Speedcast. She pointed out that bandwidth needs aboard cruise ships were growing astronomically.
While Harris had a large coverage area in the Americas, Speedcast adds more turf in the Asia-Pacific region in line with the cruise industry's push into China.

And, while bandwidth demand is growing exponentially, the company is balancing selling more capacity and optimizing it as best as it can.
"There is only so much bandwidth you can land on a ship," said Gills. "We are limited by the hardware that is available, so we use other means to condense and compress it."
O3b Networks, now under the SES Networks umbrella, is offering cruise lines a combined MEO/GEO satellite solution with 100 percent global coverage backed up by 65 satellites, according to Greg Martin, vice president of mobility solutions. That global coverage comes from one operator, and is not split between multiple vendors.
"This is unique to the market," he said. "No one else has the lower latency O3b system combined with a C and KU-band network. It brings a lot of value and a lot of power."
The lower-latency beams, still unique to O3b, are most powerful in the Caribbean where there is a glut in capacity.
Services are offered mostly on a per megabit basis, starting at 100 megabits/second.
At OmniAccess a successful background in megayachts means solid burst-able bandwidth and flexibility and a trend toward gigabit capacity for cruise ships, according to Commercial Director Carlos Carbajal.
The Spanish company is providing a connection with a whopping 300 megabits/second to a private yacht via high-throughput satellites.
"Some cruise ships have 50 to 100 megabits shared between passengers and crew," said Carbajal, who noted they supply connectivity to one major cruise line.
"Five years ago, it was a couple of megabits to a cruise ship, now you are seeing 50 to 100 and it's not enough. "We really should be talking about gigabits of capacity per ship; that is years away but we are heading there," Carbajal added.
Excerpt from Cruise Industry News Quarterly Magazine: Summer 2017