The Grand Bahama Shipyard (GBS) is seeing business surge, with 23 vessels scheduled for routine drydocking work in 2017.
"Generally, the scope of work includes significant propulsion and technical systems overhauls, hull treatment, accommodations and public spaces upgrades and the addition of onboard attraction facilities," the yard said, in a prepared statement.
Carnival Cruise Line drydocked five ships for the 2016-2017 season. Similar on each drydock project were full hull blasting and application of silicone coatings; major technical projects including major steel replacement in underwater areas and pipe replacements on multiple systems throughout the vessels.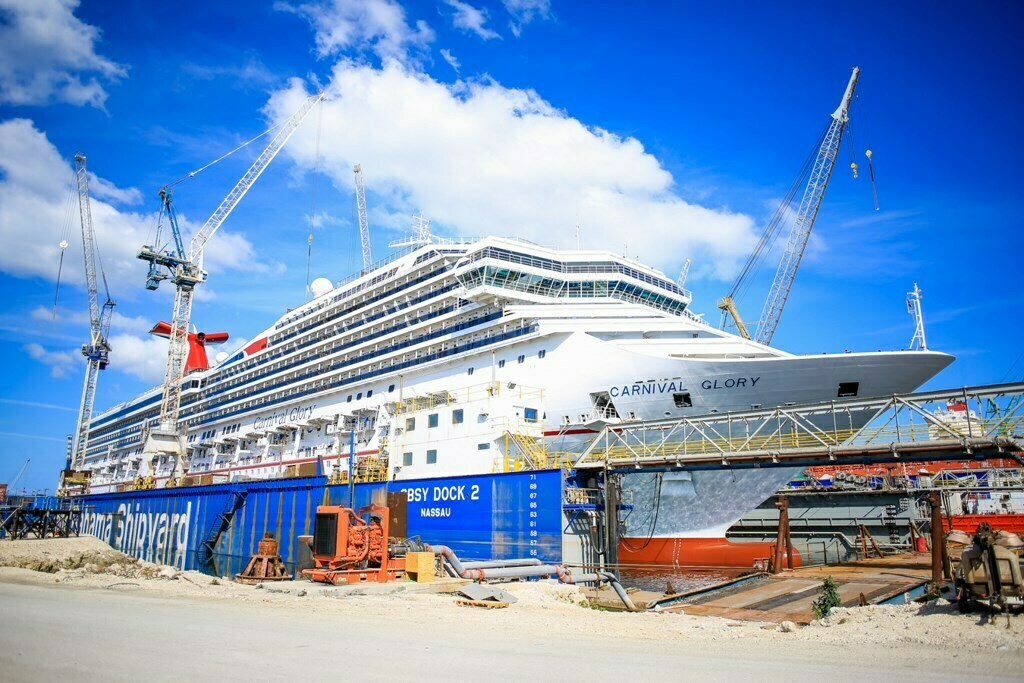 GBS supported the overhaul of thrusters and stabilizers, as well as, fabrication and installation of sea chests that were fitted into hulls to support the requirements of newly installed scrubber systems. Other major technical projects were the positioning of additional diesel generator modules (ADG) on four vessels and the installation of cyclo-convertor, the latter being a major co-op project with GBS/ABB/Carnival. On the hotel side, GBS supported the Carnival Hotel Refurbishment Team with interior structural modification work on several vessels and the construction and installation of Water Works.
For Royal Caribbean International, the Grandeur of the Sea received a scrubber system, enhancements to aluminum and steel structures of the upper deck, and complete hull blasting and application of silicone coating.
Princess drydocked both the Caribbean and Pacific Princess ships. Both replaced approx. 11 tons of steel in structural projects on the hull and upper decks. Other projects of note included the application of the new Princess livery on the bow of each vessel by a highly skilled team from the GBS Hull Treatment Department.
The Celebrity Summit visited in April for a major pod overhaul on short notice.
Norwegian Cruise Line also had five ships drydock in the first half of 2017, while Disney drydocked the Fantasy and Oceania and Regent also had ships visit for quick refits.