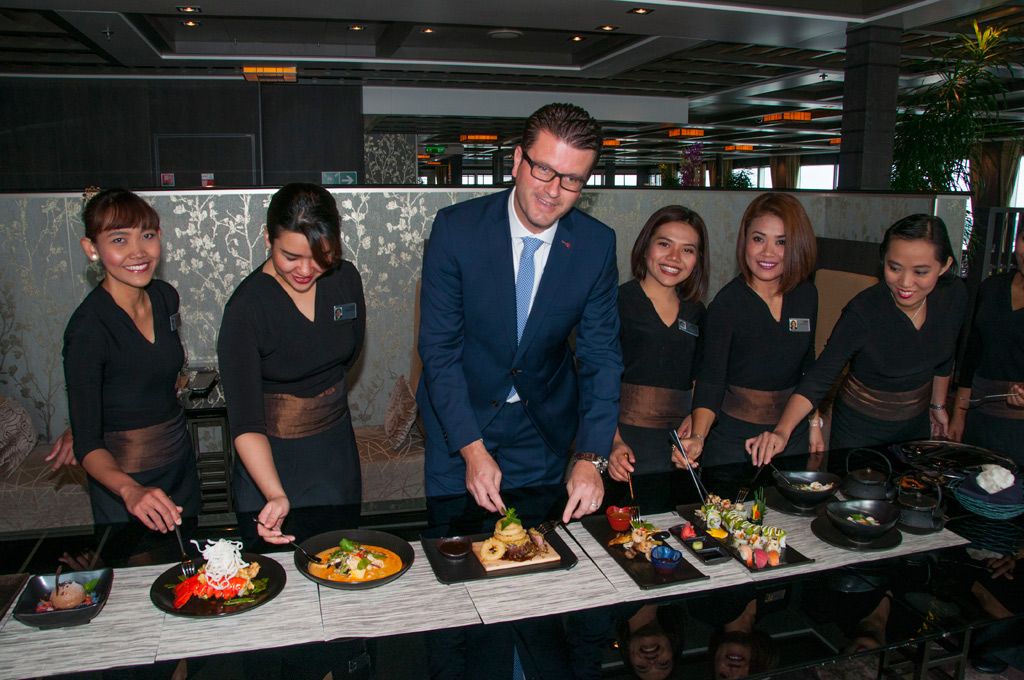 At Holland America Line, there is a true passion to delivering the wow behind the food experience aboard, according to Frits van der Werff, vice president, food and beverage.
Case in point, world famous sushi chef Andy Matsuda was set to board the Koningsdam to train chefs working at Tamarind, the line's Asian-fusion restaurant.
"I have expanded that partnership," said van der Werff, who joined the company in April. "Rather than just training, he is now going to host cooking classes and two intimate dinners. These are four-course meals paired with wines, and he will explain the dinner in person. It's all about the wow moment for 20 or 30 guests, they are going to have dinner with Andy Matsuda, their personal chef (for the evening)."
The new hire reports to Michael Smith, senior vice president, guest experience and product development, as well as to Paul Goodwin, executive vice president, onboard revenue and port/shore operations.
Van der Werff has been extremely hands on since coming to Holland America. He was previously at MSC, and also spent time with Norwegian.
"I visit the ships quite a bit," he said. "Being in Seattle we have three ships homeporting here, and I am onboard every weekend. It is key to have a strong connection with shipboard leadership, staying in touch with what's really happening."
In early June, he visited all the fleet's vessels in Europe.
"It's hard to tweak from a distance, you have to be in the operation to see it," he told Cruise Industry News.
Onboard, he visits with all key managers, from food and beverage up to the hotel director, executive chef and more. Other key areas include reviewing provisions against what was ordered.
"I make it a point to meet with everyone, and will even be part of the food tastings," van der Werff said.
"We are definitely focused on optimizing our revenue outlets and making sure we are delivering the experience," he said. "At the same time, we need to capitalize on the available space."
Pinnacle Grille, the company's iconic steak house, has been turned into a pop venue on select nights, Rudi's Sel de Mer French Brasserie. Sel de Mer is an alternative restaurant found only on the Konginsdam.
"You can dine twice in the same venue, but have a completely different experience."
That means an entirely new experience from tableware, to uniforms and ambiance,
Van der Werff described a top-level premium product that appeals to globe-trotting learners.
One movement is making the dinner experience slightly more casual, less table clothes and candles, while still offering a premium product in a 90-minute dining experience.
Excerpt from Cruise Industry News Quarterly Magazine: Summer 2017