Viking Cruises christened its third ocean-going ship, the Viking Sky during a public celebration in Tromsø, Norway on Thursdya.
"This is a special time of year in Norway – these are the days of the midnight sun and the perfect backdrop for a celebration. All of our ships proudly carry the Norwegian flag, and it is an especially proud day to officially welcome our new ship in Tromsø, the arctic capital of the world," said Torstein Hagen, Chairman of Viking Cruises. "Vikings were explorers, and our ships are built with their spirit of exploration in mind. We design every aspect of our ships and cruises so that our guests can spend more time immersed in their destination. Scandinavia is Viking territory, but as we continue to expand our fleet, we also look forward to introducing new travelers to the Viking way of travel around the world."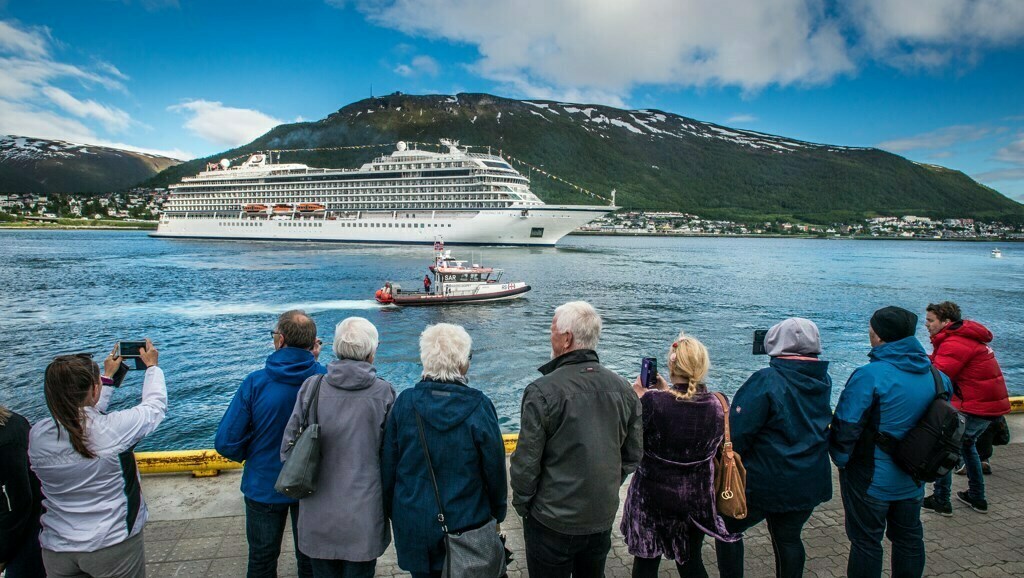 The Viking Sky was positioned in the harbor adjacent to a concert stage constructed specifically for the celebration, according to a statement.
Viking guests and residents of Tromsø were treated to a public concert, with performances from a variety of Norwegian musicians – including Arctic Philharmonic, Lisa Stokke, Violet Road, Sara Marielle Gaup Beaska and Jørn Hoel. During Viking Sky's christening ceremony, Marit Barstad, sister of Viking Chairman Torstein Hagen, served as ceremonial godmother and offered a blessing of good fortune and safe sailing for Viking Sky – a naval tradition that dates back thousands of years.
Several elements of the christening ceremony paid homage to the Norwegian heritage of both the company and godmother. Instead of champagne for the traditional bottle-breaking, Viking Sky was christened with a bottle of Gammel Opland aquavit, which hails from the same county in Norway where Torstein and Marit's mother, Ragnhild – also lovingly known as "Mamsen" – was born.Mamsen's," the Norwegian deli onboard Viking Sky, was also named after Ragnhild, and Gammel Opland was her favorite brand of aquavit.
Additionally, in honor of the original Viking explorers, a gilded Viking axe was used to cut the cord for the aquavit christening.