The Montreal Port Authority saw the first cruise call to its brand new terminal last weekend, coinciding with the 50th Montreal Formula 1 Grand Prix as the Maasdam tied up.
Alongside Verdun MNA Isabelle Melançon, representing the Government of Quebec, and Mayor of Montreal Denis Coderre, MPA President and CEO Sylvie Vachon and VIP guests welcomed the cruise ship's captain and passengers.
"We are very proud to have successfully completed this important project that represents a milestone in the Port of Montreal's modern history. Now fully up and running, this new terminal bolsters the city's international positioning by offering an efficient, friendly and prestigious welcome to cruise passengers from all over the world, and all just in time to celebrate its 375th anniversary," said Sylvie Vachon, President and CEO of the Montreal Port Authority.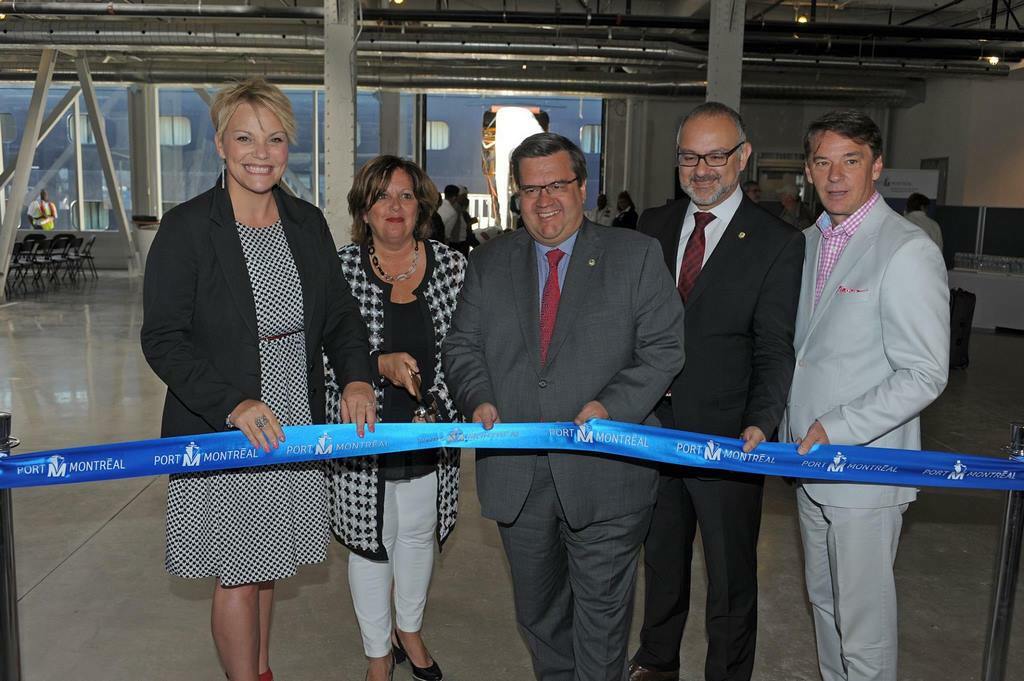 The complete project, upgrading the Alexandra Pier, will be completed by September. The projected start at the end of 2015 and was made possible through the financial contribution of the Government of Quebec ($20 million) and the City of Montreal ($15 million). For its part, the Montreal Port Authority invested $43 million, bringing the total investment to $78 million.
"I am simply delighted to welcome this first ship to the Port of Montreal's new cruise terminal. The Alexandra Pier revitalization project enables us to heighten Montreal's appeal and welcoming capacity, which will help make the city and the province even more attractive as world-class destinations," said Isabelle Melançon, MNA for Verdun, behalf of Quebec Tourism Minister Julie Boulet.
"This major legacy for Montreal's 375th anniversary is an added attraction promoting the development of tourism in our great city. A bearer of economic benefits, this investment will also give Montrealers better access to the river," said Martin Coiteux, Minister of Municipal Affairs and Land Occupancy, Minister of Public Security, and Minister responsible for the Montreal region.
"The City of Montreal is very pleased to be a partner in this major undertaking. The Port of Montreal is a founding component in the city's history. Over the years, it has remained a vital economic engine of our economy. The opening of this terminal is a perfect fit with Montreal's 375th festivities. All our visitors will enjoy an even more impressive welcome. The arrival of the first cruise ship to the Alexandra Pier Cruise Terminal launches the Montreal cruise season, a booming tourist industry," said Denis Coderre, Mayor of Montreal.
Alexandra Pier is infrastructure that dates back more than a century, according to port officials.
A full overhaul of the cruise terminal was necessary to upgrade operations. This new terminal makes it possible to better meet the needs of cruise ships and passengers when they arrive in Montreal.
Other updates include the Port Interpretation Centre, the green roof, the parking area and a large public square designed to give Montrealers and visitors better access to the river.