When the new Celebrity Edge launches into service in the Caribbean in December 2018, she will feature Eden, a multi-level culinary and entertainment space.
Celebrity described it as a space with "nature present" and a "room that lives," adding that no two visits to the venue will be the same.
"The new ship re-imagines what it is to be outdoors," said Lisa Lutoff-Perlo, president and CEO of Celebrity Cruises, of the 117,000-ton, 2,900-passenger ship that is currently under cosntruction at STX France. "The entire space is magical throughout morning, afternoon, and evening when our guests will experience Eve at Eden, an experience produced by the visionary Variety Worldwide and our very own Cornelius Gallagher. They have all created something magical and magnificent."
The Celebrity Edge is the first of a four-ship order for the brand, with the Beyond following in 2020 and additional ships in 2021 and 2022, respectively.
Cuisine in the Eden venue will be served across three-decks by "Edenists," as the space also includes 7,000-square-feet of glass.
Three designers partnered with Celebrity to help create the venue, including Scott Butler of Wilson Butler Architects and designer Patricia Urquiola – who has never designed a venue at sea before.
Celebrity also engaged Queen of the Night creators Variety Worldwide.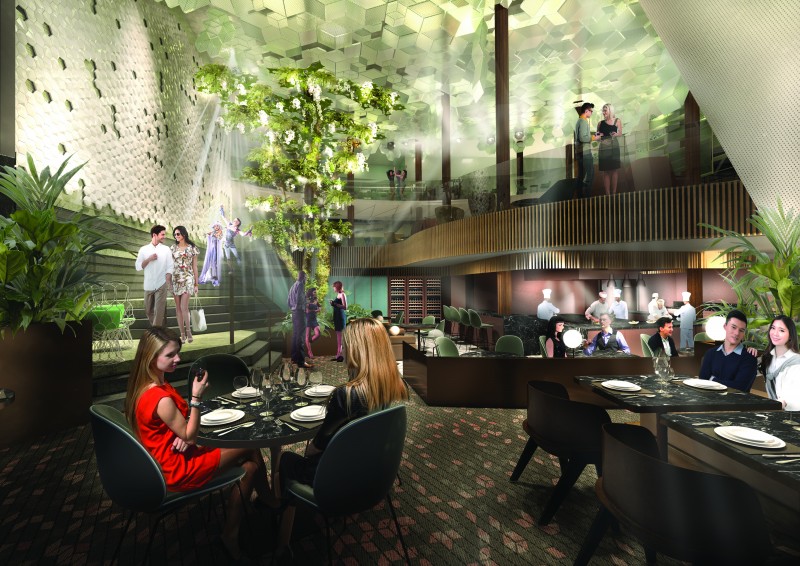 "The result is an individualized, ever-evolving theatrical journey that puts guests at the epicenter of the performance," the company said.
"Eden, like so many aspects of Celebrity Edge, represents a unique advance in cruise ship design," said Richard D. Fain, Chairman and CEO, Royal Caribbean Cruises Ltd. "It's an experience that's multi-faceted and innovative. Connectivity to the ocean is one of the most exciting hallmarks of Edge Class, and with more glass than any other room at sea, Eden embodies that outward-facing concept beautifully."
When guests enter Eden in the morning, they will find what the company called a "chillful escape where yoga, a good book, or coffee and a croissant can be enjoyed with expansive views of the world."
In the afternoon, Eden becomes more playful, with hands-on enrichment seminars and tastings to strengthen guests' culinary prowess, cocktail-making skills and wine knowledge, according to the company. The afternoon also features performances from sitar players to aerialists.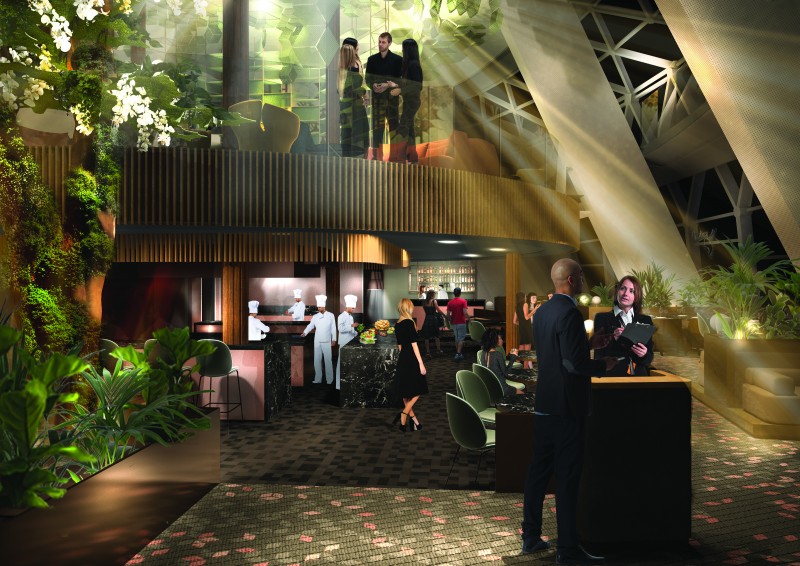 "As the sun sets on Eden, the evening ushers in Eve at Eden, a sinfulfusion of performance art, culinary exploration and nightlife – like nothing else at sea – that promises to indulge guests' every sense in the Eden Restaurant. Here, Edenists will serve a choreographed series of experiential culinary temptations sure to surprise and delight," Celebrity said.
Following dinner, guests will head back upstairs, past the "Tree of Life."
Here, the Library of Plants towers 18-feet above Eden Bar, offering "its bounty of fresh ingredients and garnishes for hand-crafted, artisanal cocktails."
"When creating Eden, my goal was to create a connection to the sea in a space that will stir imaginations and leave lasting memories of the travel experience," said Scott Butler, AIA, Founding Partner, Wilson Butler Architects.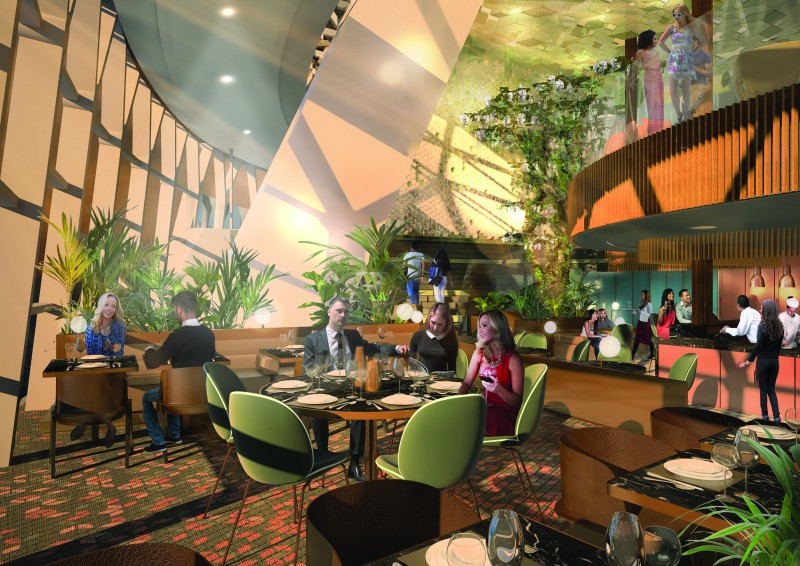 Patricia Urquiola designed some of the key features of Eden, including the towering Library of Plants and the hanging plant pillars. Her signature furniture is also used throughout the space.
"In working on Eden with Celebrity, I wanted to design a dynamic environment that changes from morning to night, so guests experience something new every time they visit," Patricia Urquiola, Designer, Architect, Founder of Studio Urquiola.