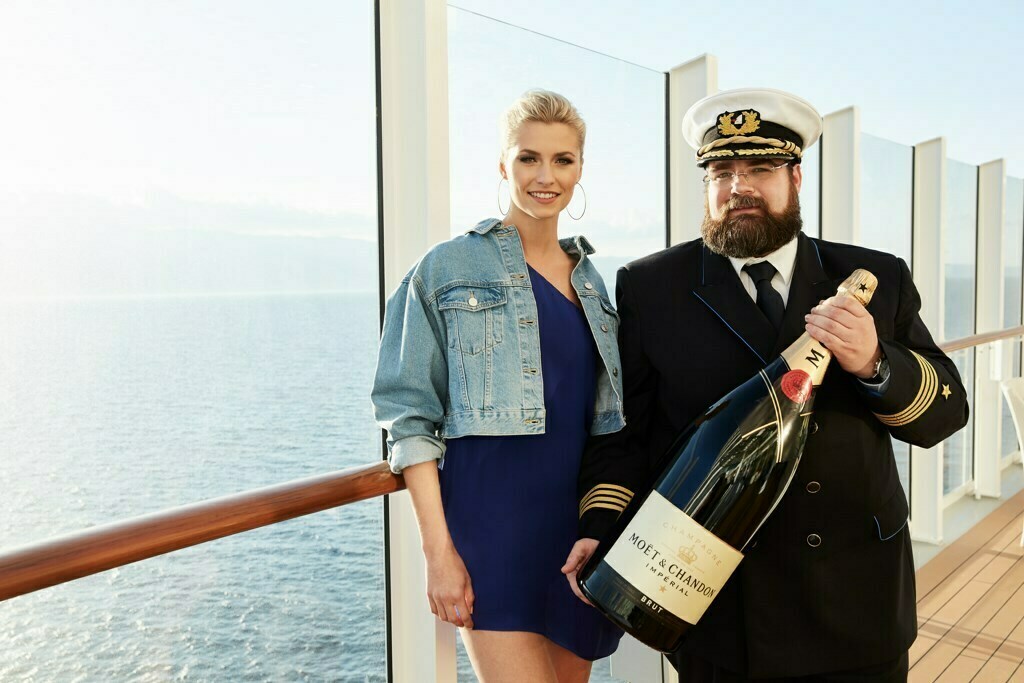 AIDA Cruises will christen the AIDAperla around 10:15 p.m. local time on June 30 in Palma de Mallorca (Spain). The new ship will be named by model and TV host Lena Gercke.
The German company will live stream its "Prime Time" show from the AIDAperla on Facebook (www.facebook.com/AIDA). The show will be hosted aboard the ship by Entertainment Manager Stephan Hartmann who will appear in the Theatrium.
The show will be streamed live online, on AIDA's Facebook and YouTube channel and onboard all AIDA ships starting at 9:00 p.m. on June 30.
The christening bottle, a Balthazar (12 liters) of Moët & Chandon champagne, is already onboard, in the secure care of Captain Boris Becker – as godmother Lena Gercke was able to see for herself when she visited the ship at the end of May (pictured).
Prominent stars from "The Voice of Germany" will be aboard to perform. Among them are Tay Schmedtmann, the Season 6 winner, and Jamie-Lee Kriewitz, who not only won Season 5 of "The Voice of Germany", but also represented Germany at the 2016 Eurovision Song Contest with her hit "Ghost."