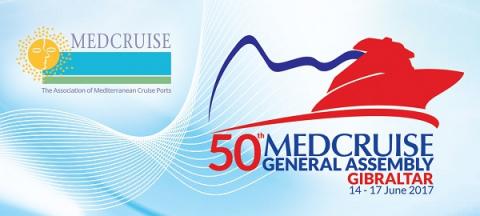 MedCruise will make history in June when it gathers in Gibraltar for a ground-breaking 50th General Assembly event.
The event will run from June 14-17 as MedCruise members, which are the majority of Mediterranean cruise ports, will gather with industry stakeholders and key cruise line representatives to discuss issues and challenges and working together. It is a key annual event for the cruise industry.
According to the 2017-2018 Cruise Industry News Annual Report, the Mediterranean is the third biggest cruise market by capacity, only trailing the Caribbean and Asia-Pacific.
The MedCruise General Assembly in Gibraltar will be held at The Caleta Hotel, opening with a cocktail hour on June 14.
June 15 includes a State of the Industry panel and business to business meetings, where cruise lines sit down with ports for what is essentially "speed dating."
The day concludes with the trademark gala dinner.
Gibraltar Tourist Board Cruise Film from Gibraltar Port Authority on Vimeo.
Friday June 16 includes another key business to business session, an interactive workshop with cruise lines and ports, and two panel discussions before lunch, recapping the morning workshop and discussing the way forward for the cruise industry in the Mediterranean.
Gibraltar hosts a technical inspection of its port for the group on Saturday.
Among key attendees: Kerry Anastassiadis, president and CEO of Celestyal Cruises; James Langley, director of marine operations for Saga Cruises; Spyros Almpertis, manager port operations, Silversea Cruises; Paul Britton, manager marine operations, Disney Cruise Line; Alessandro Carollo, head of port operations for Europe, Middle East, Africa and India, Royal Caribbean Cruises; Claudius Docekal, vice president of deployment for Crystal Cruises; Marios Polydorou, shore ex and port operations manager, Celestyal Cruises; Javiar Sanchez, port, ground, shore ex and cruise operations director, Pullmantur; and Doug Santoni vice president of deployment and revenue operations for Windstar.
Cruise Industry News is the official media partner to the event.