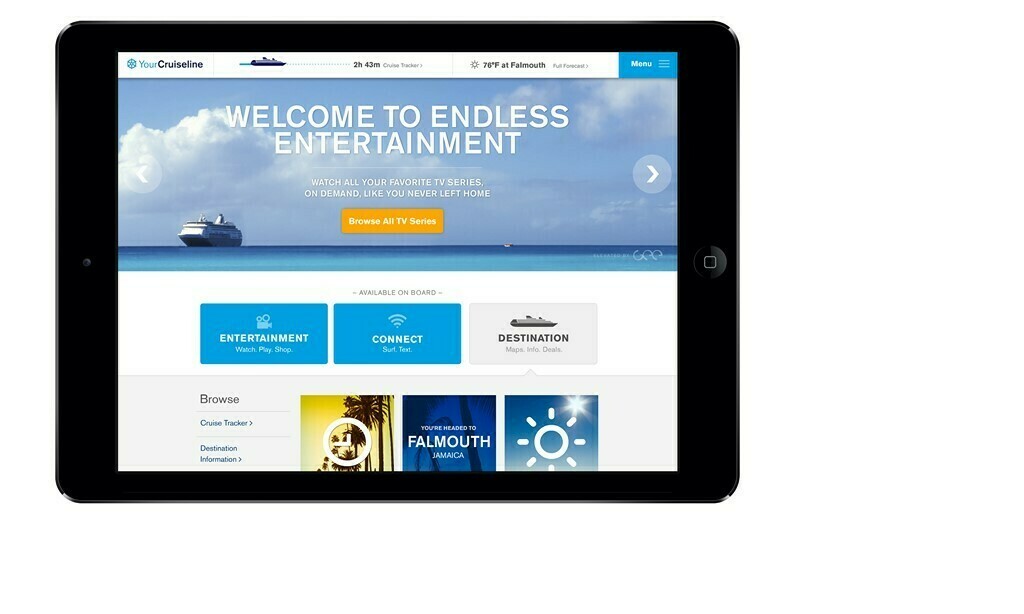 Global Eagle Entertainment announced its new Airtime Portal for cruise ships.
The Airtime Portal platform enables cruise ship operators to deliver Wi-Fi, instant messaging, social media, live TV, movies, games, news and more directly to passengers' own mobile devices anywhere on the ship, the company said in a press release.
When coupled with Global Eagle's patented SpeedNet™ web browsing technology, the new portal will give passengers a high-speed Wi-Fi experience similar to what they get on shore, said the company.
The Airtime web user interface provides an electronic program guide that mimics an in-home entertainment center allowing passengers to see what is up next on live TV through the comfort of their own device. It is fully customizable to maximize brand engagement and create special promotions.
Global Eagle's Airview reporting dashboard is a suite of data-rich back-office tools to monitor and analyze portal performance. Payments, performance data and logs are offloaded, and fresh content is uploaded, via a Wi-Fi connection when the ship is in port.
The flexible Airtime Portal also provides a host of opportunities for cruise operators to generate incremental revenue by monetizing passenger interactions with engaging content, enabling real-time transactions with built-in security and exploiting digital ads and sponsorships.
"With the launch of the Airtime Portal, we can now offer our customers a fully integrated package of connectivity services, live TV programming and content browsing, all merged together with a highly flexible front-end that supports the optimal onboard guest experience aligned with the cruise line's profitability," said Ole Kristian Sivertsen, president of Global Eagle's cruise, ferry and yacht services.