Today Meyer Turku laid the keel for the new Mein Schiff 1, which will be an evolution on the recent series of Mein Schiff ships, going bigger to 111,500 tons, according to a press release.
The Mein Schiff 1 will be delivered in 2018 followed by the Mein Schiff 2 in 2019. They will be 315 meters long, 20 more meters than the previous Mein Schiff ships.
"With the new Mein Schiff 1 and new Mein Schiff 2 the ratio of space per passenger will stay the same as the previous ships at a generous 40 square meters," said Wybcke Meier, CEO from TUI Cruises.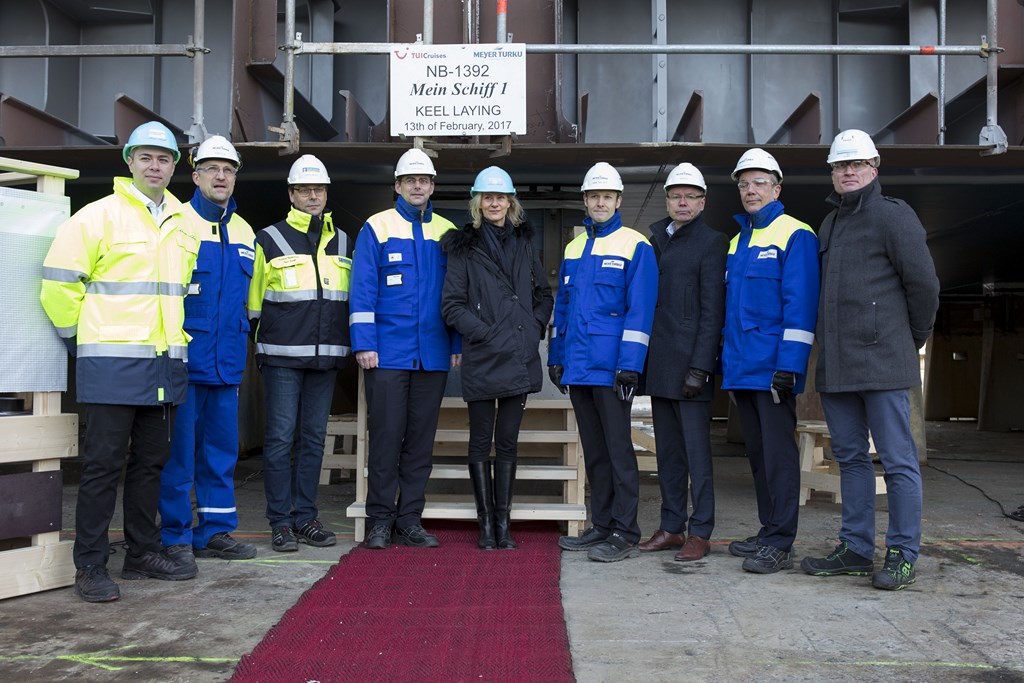 "When the new Mein Schiff 1 and Mein Schiff 2 go into service, we will be operating one of the most modern fleets in the world. Both ships are characterized by innovative and environmentally-friendly construction methods, as well as state-of-the-art technology standards," Meier added.
Meier started the steel production of New Mein Schiff 2 by starting Meyer Turku's plasma cutter. In the following keel laying ceremony, the traditional lucky coins were placed on top of the keel block. After the float out of the ship the coins will be gathered and then eventually placed into to the ship for good luck.
"The Mein Schiff series is very popular with its passengers. Still the already good ship design inspired our customer TUI Cruises and us to develop the Mein Schiff series further. New Mein Schiff 1 & 2 will be longer than the earlier ships and that allowed us together to reinvent the spaces inside the ship. Today is an important day as we are now starting to assemble the hull of Mein Schiff 1 – and our ideas and designs are taking physical shape. The fact that both New Mein Schiffs are in production is also a sign that we are increasing our production output according to our ramp-up plan", CEO Jan Meyer commented.