Various news, notes, rumors and more as heard by the Cruise Industry News editorial team at the 11th edition of the China Cruise Shipping conference and trade show being held in Tianjin, Sept. 23-25 and hosted by the China Cruise and Yacht Industry Association.
100 Percent Local: "Procurement means a great economic impact in the local economy," said Giorgio Zagami, head of corporate procurement and logistics, MSC Cruises.
The MSC Lirica, which is based in China, is 100 percent locally sourced for hotel and food and beverage products, Zagami explained.
"We put in a lot of effort to buy locally," Zagami noted, adding the formula was as simple as the right product and the right price.
China Built: Ji Chen, general manager of Guangzhou Shipyard International Company, pointed to surging demand in China and said the government was "quite supportive" of building cruise ships in China.
"We were the first to export ro-ro ships and passenger ships to Europe," said Chen. The yard has built eight ferries and has three more under construction.
"We hope soon to be part of the international cruise ship building industry," Chen added.
Shanghai Green Port: Younog Wang, chairman, Shanghai Wusongkou International Cruise Terminal, said his facility hopes to embrace the green port concept, starting with an energy saving management system being rolled out later this year. As the number one mainland homeport in China, Wang said continuing cooperation with travel agents, cruise companies, other ports of calls and government agencies would be key to continued growth.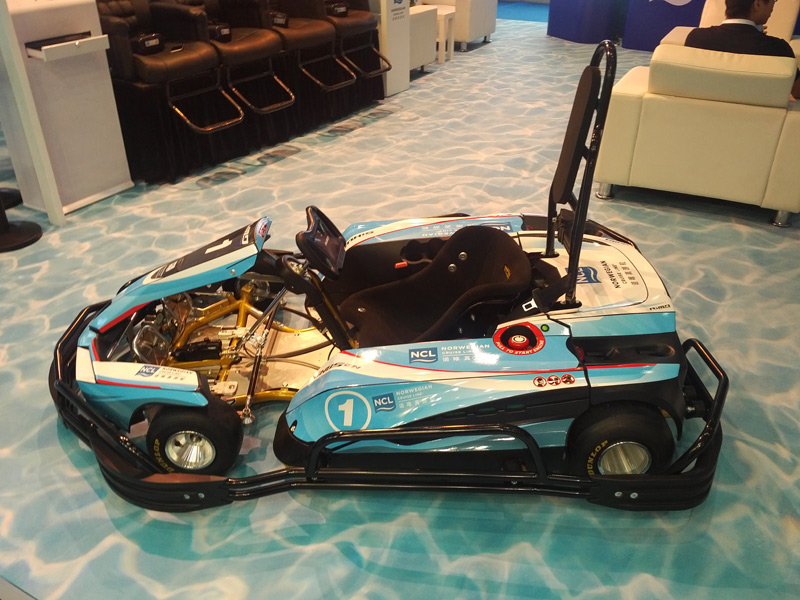 Norwegian Kart: Norwegian Cruise Line had a go kart, similar to the ones that will be featured on the Norwegian Joy, on the floor at China Cruise Shipping.
Source Market Development: Jeff Bent, managing director, Worldwide Cruise Terminals, which operates the Kai Tak complex in Hong Kong, said the development of additional source markets in Asia will provide a better balance of call types at different ports, benefit more parties and generate more local support for the industry.
Best Event: "In 27 years of attending cruise industry trade shows, I have never attended one as important," said Eugene Marino, vice president of supply chain, Holland America Group, referring to Friday's blockbuster conference program at China Cruise Shipping.