Various news, notes, rumors and more as heard by the Cruise Industry News editorial team at the 11th edition of the China Cruise Shipping conference and trade show being held in Tianjin, Sept. 23-25 and hosted by the China Cruise and Yacht Industry Association.
Genting World Ports: According to Genting Hong Kong Advisor and Founding President Colin Au, the Genting World will utilize four homeports: Tianjin, Hong Kong, Shenzhen and Shanghai. The 150,000-ton ship will be delivered to Dream Cruises in October 2017 and revenue service should start in November. Au is also now a director of Genting's shipyard consortium, MV Werften, and said he spends half his time in Germany at the yards.
CSSC: China State Shipbuilding Corporation will deliver what appears to be the first Chinese-built cruise ship in 2022, using the Carnival Vista platform in partnership with Fincantieri. Qiang Wu, general manager, China State Shipbuilding Corporation, said the firm had been looking into building a cruise ship for the last four years.
Banks and Investment Firms: Also present at China Cruise Shipping are banks and investment firms. While it is nothing new, there are more representatives from financial institutions than in past years, and all are preaching the importance of the Chinese market to the whole cruise industry.
First Time Booths and Europe: There are a number of first time trade show exhibitors at China Cruise Shipping. Bolidt is making its inaugural appearance in China, and there are many more, including a large contingent of Finnish maritime supply companies.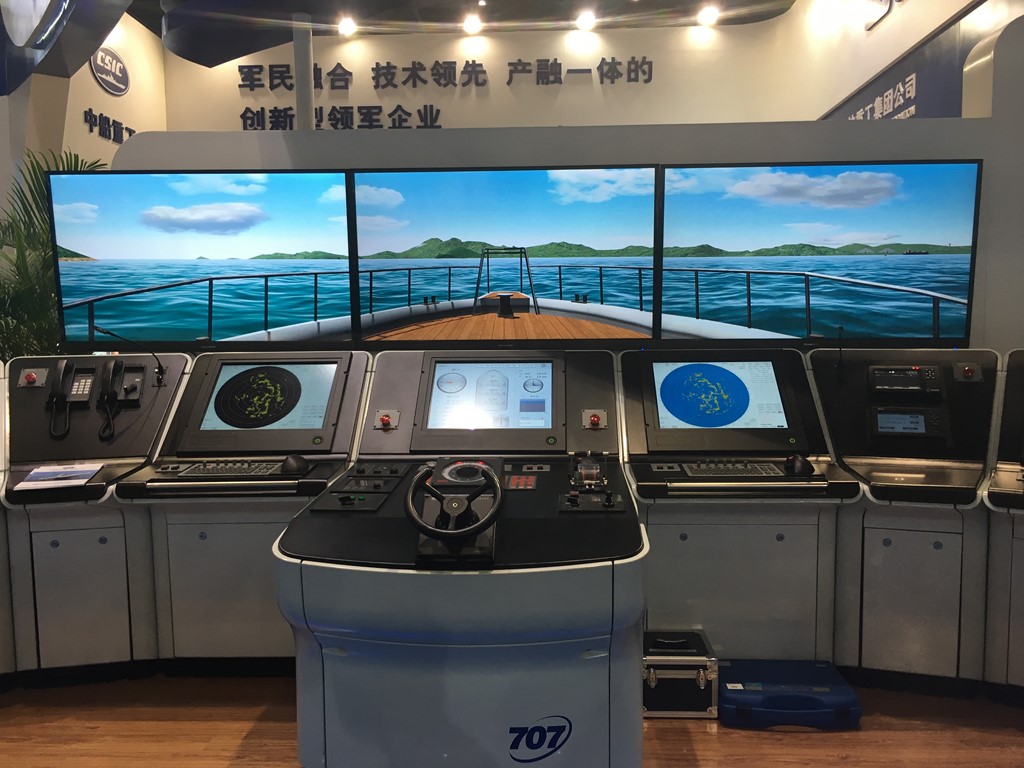 CSIC: The China Shipbuilding Industry Corporation is also eyeing the cruise market with a variety of strategies from newbuilds to retrofits and also from a supplier angle. The company's massive exhibit on the China Cruise Shipping trade show floor shows off a Chinese-made integrated bridge system.
Majestic Princess: Princess Cruises is promising to raise the game in China when the new Majestic Princess arrives to Shanghai next summer. "As the master of luxury cruising, Majestic Princess offers the ultimate luxury cruise for Chinese travelers," said Anthony Kaufman, executive vice president, Princess Cruises.
Carnival and AIDA Update: While Arnold Donald, president and CEO of Carnival Corporation, said AIDA and Carnival would come to China in the next few years, brand leadership from AIDA and Carnival Cruise Line were not present at China Cruise Shipping.
Standing Room: The opening ceremony at the China Cruise Shipping show was packed with attendees, with late comers having to stand off to the side or in the back of a gigantic hotel conference hall. Chinese press were out in force, with multiple TV crews and newspapers covering the event. Attendance for the conference is noticeably up.
Norwegian and MSC: Two years ago, the presence from Norwegian Cruise Line Holdings and MSC Cruises at China Cruise Shipping could be described as non-existent. Now, nothing could be further from the truth with CEOs and top management from both companies on hand in China, in addition to the building up of deployment and marketing efforts in the region.