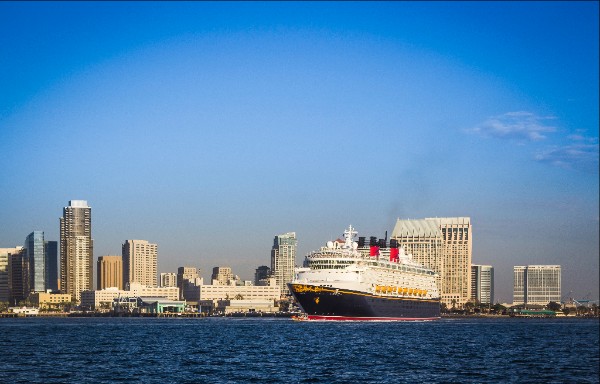 The Port of San Diego's 2016-2017 cruise season kicks off on Friday, August 26 with the arrival of the Disney Wonder. The vessel will berth at the Port's B Street Cruise Ship Terminal, where guests will board for a 14-night repositioning cruise through the Panama Canal to Port Canaveral, Florida with stops in Cabo San Lucas, Puerto Vallarta, Mexico, Cartagena, Colombia; and Cozumel, Mexico.
Currently 90 cruise calls are scheduled for this season, up 30 percent from last year.
"The Port of San Diego's cruise business is coming back in a big way," said Marshall Merrifield, Chairman of the Board of Port Commissioners. "We are making improvements to our B Street facility, including adding an escalator, to meet the growing demand. We've been working with our cruise partners over the last couple of years, making improvements to port security and enhancing itineraries. That, combined with an improved U.S. economy, has contributed to this resurgence."
The Port's homeported (cruises that begin and end in San Diego) lines are Disney Cruise Line, Norwegian Cruise Lines, Holland America Line and Celebrity Cruises.