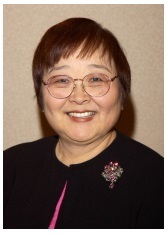 Julia Tomoko Nagano, former Director of Communications for the Port of Los Angeles, passed away on July 19 at the age of 68 following a battle with cancer.
Nagano began her career with the City of Los Angeles as a public relations rep. for the Los Angeles Police Department.
She joined the port in 1979 and served as director of public affairs from 1990 to 2004 and director of communications from 2004 until 2010 when she retired after a 39-year career.
Nagano was an active member and a past chair of the AAPA Public Relations Committee. She also served on the boards of the Torrance Area Chamber of Commerce, the Harbor Area YWCA and the Seamen's Church Institute in San Pedro.
A cum laude graduate of California State University, Long Beach Nagano also completed the Executive Program in Management at UCLA's Anderson Graduate School of Management and post-graduate courses in public relations at USC.
Nagano is survived by her husband of 45 years, Lance, sons Kevin and Robert, and two granddaughters. She was widely respected for her communications skills, leadership and expertise and for her contributions and dedication to the public seaport industry.
Photo:AAPA