A new cruise port is being proposed for Doha, Qatar. Part of a project dubbed The Falcon of Doha by Architects Riccio+Maciejowski, the originators of the vision and master plan, it would create a new tourist-oriented area in the heart of Doha.
The opportunity arose when the Qatar government decided to build a new state of the art cargo port, leaving the existing infrastructure by 2016 with no clear use. "Following the guidelines set by the ministry of tourism in its 2013 national strategy, we decided to create a 'destination within a destination,' a welcoming stage for tourists and a state of the art cruise port," Folco Riccio told Cruise Industry News.
"The cruise facilities have been designed to be able to serve as a port of call and a homeport and will undoubtedly get the attention of the major cruise lines, and could lay the foundation for a Qatar cruise line, making Doha a hub in the Persian Gulf," Riccio added.
The first stage of The Falcon of Doha will include the port of call capable of handling up to three megaships, the downtown Maidan quarter, the main mosque, souk marketplace, and the first phase of the homeport.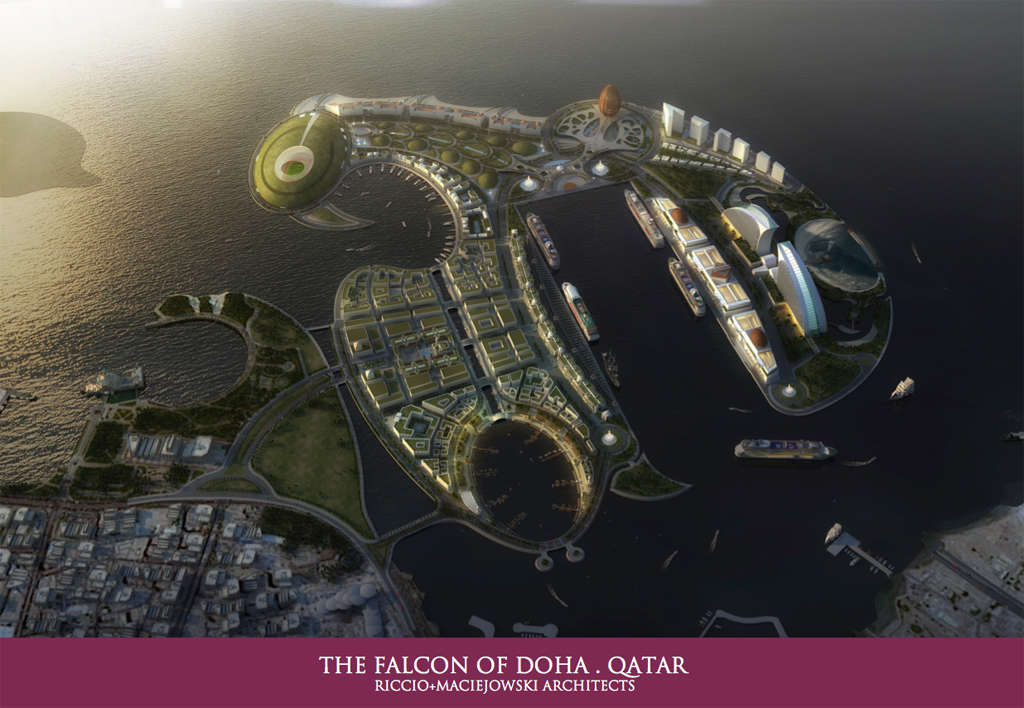 The second stage will encompass an underground soccer stadium (which could be used for the 2022 FIFA Cup and for future Olympic Games Qatar is bidding on, according to Riccio), parks, beaches, hotels, a yacht marina, residential housing, a museum and an aquarium and the second phase of the port.
And the third stage will see a convention center, beach club, waterpark, sports park, high rise waterfront residences, and more.
The total site area is 753,671 acres of which a third exists today and two thirds will be created from dredging and landfill. The total building area is estimated at 96 million square feet.
Riccio said that every component of The Falcon of Doha will be highly revenue generating, including approximately 200,000 cruise passengers expected to arrive during the first year of operation.
When completed, The Falcon of Doha will be able to handle up to six mega ships at the same time and six million passengers a year.
Qatar could also use the ships as temporary hotels during the 2022 FIFA Cup, instead of having to build 6,000 hotel rooms, according to Riccio.
The port will be directly linked to the new airport via an underwater tunnel that will go under the access channel.
Due to be presented to the Sheik of Qatar, if all comes to fruition, Riccio said that construction could start mid-2016 with a completion date of 2020.
Previous projects by Riccio include the master plan for Carnival Cruise Line's Amber Cove in the Dominican Republic, Puerta del Mar in Panama, Puerto La Cruz in Mexico, Puerto de la Mar in Margarita Island in Venezuela, and Puerto Nuevo in Venezuela.