A new booking engine from MSC Cruises launched today in the North American marketplace and significantly improves the booking process for travel agents, ahead of the company's continuing expansion and capacity increase in the U.S. market.
The new system was based on feedback and focus groups, according to the company, and plans call for 19 road-show visits around the country in the coming weeks to show off the new platform.
"We did different focus groups with travel agents, so it's designed by agents for agents to give a very intuitive user experience that is easy to make bookings on," said Jeff Herzfeld, project manager.
The engine, available through MSCCruisesAgent.com, breaks the cruise booking into four steps for travel agents, including pre-paid and attractive commissionable items for agents to upsell
"Travel agents asked us for a great tool to use online, they've asked and this is what we're delivering," Herzfeld added.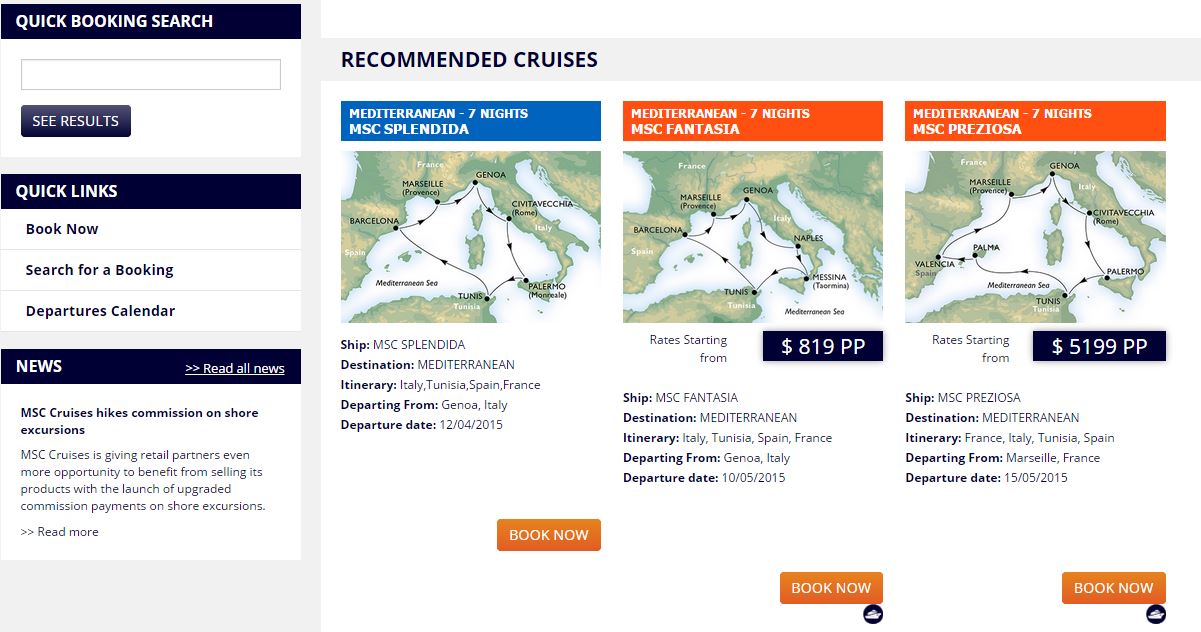 Among the unique features are interactive deck plans (cabin selection) with the ability to select whichever cabin is available in inventory, as opposed to other portals, which may only show a handful of rooms.
The platform breaks down cabin category and experience selections, adding selling tools for agents that may be new to MSC, offering mouse-over tips on what packages entail and what's included. Staterooms can be held for a few days, with the ability to book up to five per booking.
Potential itineraries can be tagged with customer names, so an agent can easily go back and find what a potential customer was interested in with one click.
"Saving a client's (potential) itinerary is huge, and that is something we think is a great tool," said Herzfeld.
Starting now, agents using the new platform will get a two percent bonus commission on bookings through the end of the year. There is also a contest for a free Yacht Club sailing through the end of September, for agents using the new system.
Other features include group management/pricing requests, multimedia, ship tours, ship inspection signups, the ability to order brochures and marketing collateral, as well as code to insert a consumer-facing version of the system into an agency website.