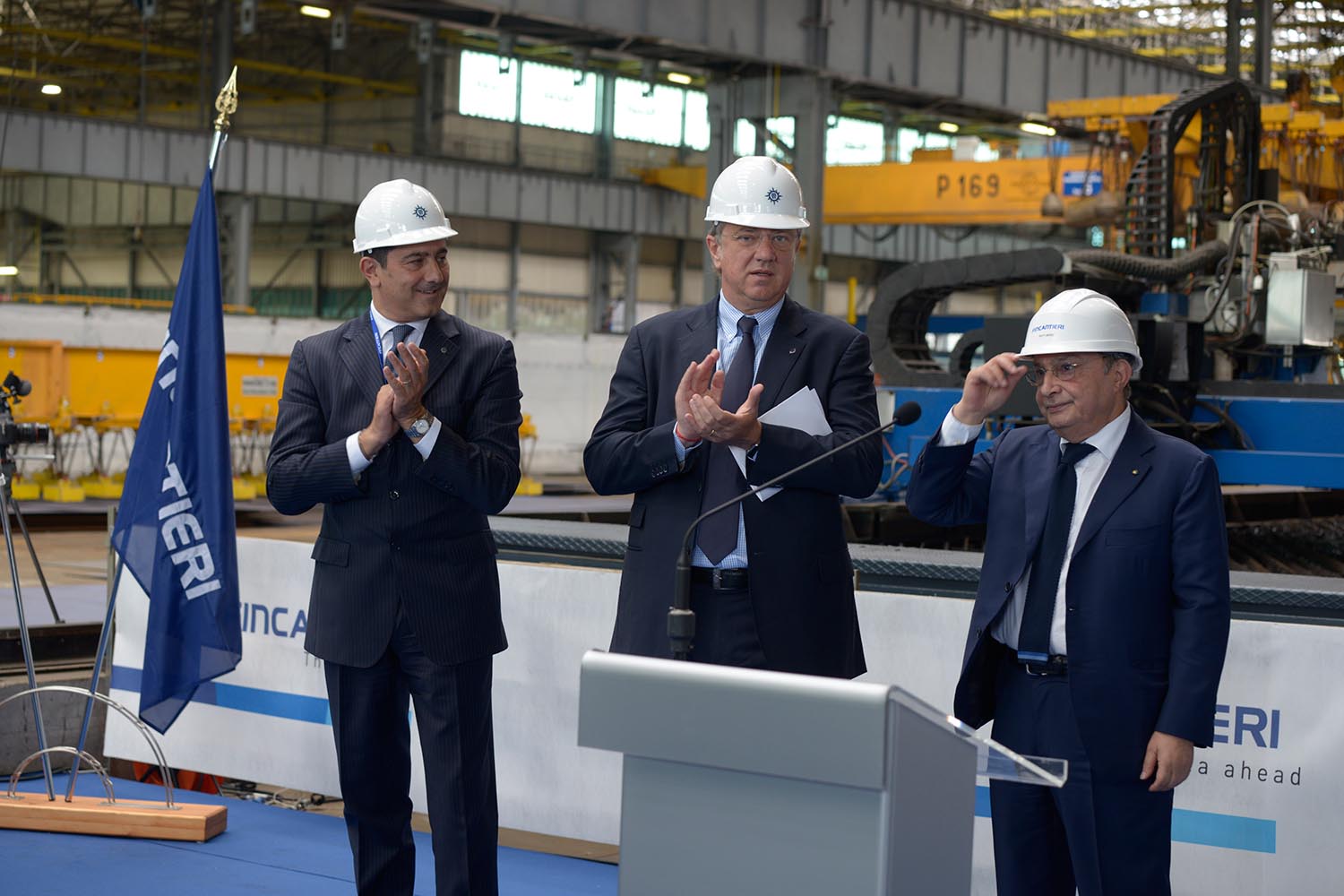 MSC Cruises today cut the first steel for its new generation of ship, MSC Seaside in a ceremony at Fincantieri.
In a ceremony held in Monfalcone, Italy, MSC Cruises' Executive Chairman Pierfrancesco Vago and Chief Executive Officer, Gianni Onorato, along with Fincantieri's Chief Executive Officer Giuseppe Bono launched the cutting of the first steel of MSC Seaside.
MSC Cruises' Executive Chairman Pierfrancesco Vago said: "Today, we have witnessed the beginning of the work on an extraordinary new ship, MSC Seaside. It is a ship that revolutionizes industry standards, with an audacious and innovative design that brings guests and sea closer. It is also testament to MSC Cruises' constant focus on innovation, as it is the fifth prototype ship we designed."
"Moreover, MSC Seaside represents a key pillar in a €5.1 billion euro, seven-ship investment plan that will double our capacity by 2022. It also steps up our investment in Italy and marks our return to partnership with Fincantieri, which is something that makes me particularly proud. In fact, the building of the new Seaside ships as well as our other current project with Fincantieri – the €200 million Renaissance Programme – are just one example of how a global organization like MSC, of which MSC Cruises is part, plays a key role in the Italian economy."
Giuseppe Bono, CEO of Fincantieri, said: "This ceremony is unique for our Group and the Monfalcone shipyard. MSC Seaside will be the biggest ship ever built in our shipyards, as well as the first we have ever constructed for MSC Cruises, whose strength – like ours – lies in being a truly global player in its industry. In MSC Seaside we have developed a brand new and highly ambitious project, and we look forward to building it. In two years we will celebrate with MSC Cruises a magnificent ship of which we will all be deeply proud."
Gianni Onorato, MSC Cruises CEO said: "For MSC Seaside, we chose a name that speaks of our vision for cruising in warm oceans and hot weathers, the proximity with the sea, the joy of travelling, discovering the wonders of sunny climates in a unique setting. We also call it "the ship that follows the sun" and it will offer a truly remarkable experience for families, sun worshippers and adventurers.
"Moreover, MSC Seaside will spearhead our campaign to expand our presence in North America. MSC Cruises has the unique opportunity to provide North American guests with an outstanding 'Mediterranean Style Cruise' experience, and guests from around the world a unique setting as it will sail to the most sought-after destinations in the Caribbean."