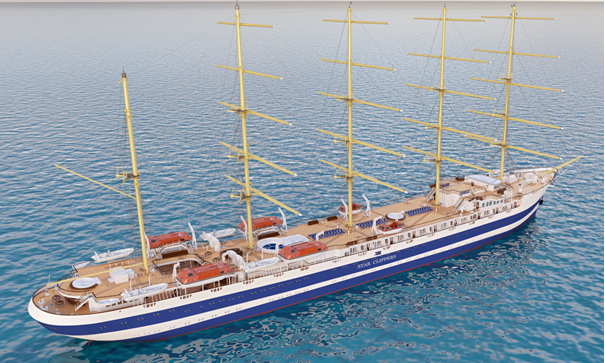 Star Clippers has announced that it has started building a fourth ship to add to its fleet of graceful square-riggers; its first new-build since the launch of Royal Clipper in July 2000.
The ship will be built at Brodosplit Shipyard in Croatia.
The new vessel, yet to be named, will be the biggest project to date and will be launched in the second half of 2017, carrying 300 passengers, measuring 8,770 tons and powered by more than 6,350 square meters of sails.
Mikael Krafft, founder and owner of Star Clippers, said: "We have already built the five-masted full ship Royal Clipper, which is very much influenced by the Preussen. This time, we intend to build a ship inspired by France II, an ambition I have had for a long time. The ship's rig will be identical to France II and dimensions will be very similar, although we have added various features that will make this the most magnificent passenger sailing ship afloat."
As well as the generous deck space only found on a sailing ship, the new vessel will have three pools, one that funnels sunlight through the ship's atrium into the elegantly appointed dining room.
There will be a watersports platform in the stern for use when the ship is at anchor and a variety of cabin grades, including 34 suites with balconies and four luxurious owner's suites. A restaurant in the light-filled atrium will accommodate all passengers for open-seating dining.
The new ship will be delivered in the second half of 2017 and will initially sail the company's most popular itineraries in the Mediterranean and the Caribbean. Sales are expected to open in 2016.