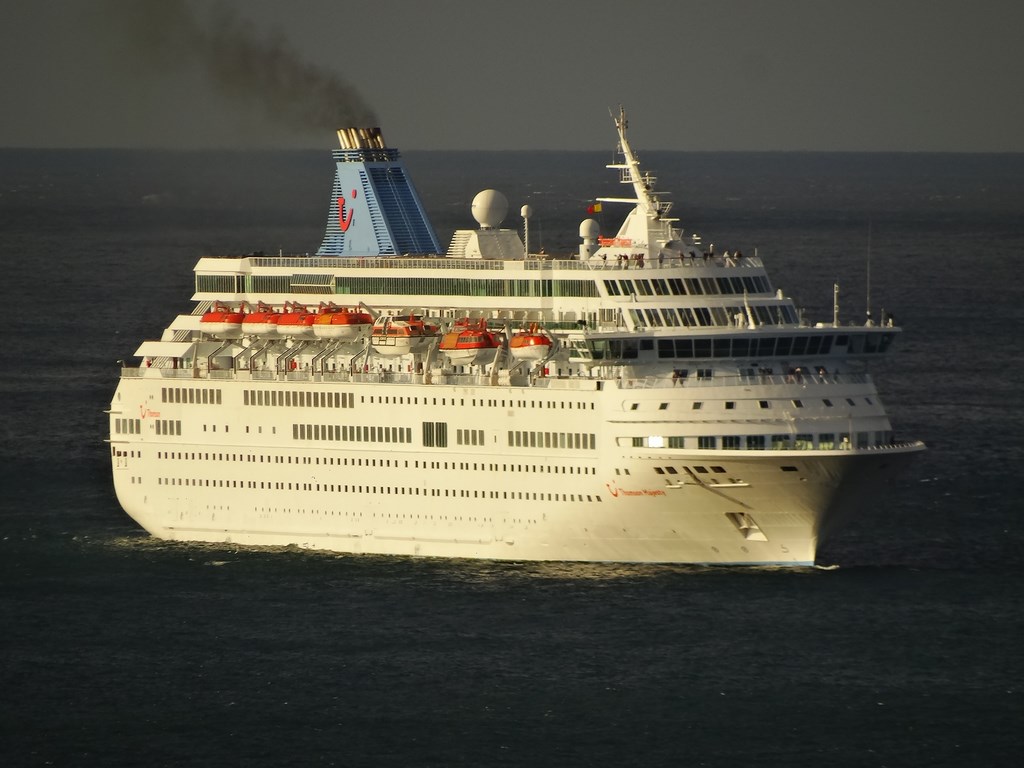 Thomson Cruises has today revealed its new program for summer 2016, leading with the announcement of itineraries for the latest addition to its fleet, to be named Thomson Discovery and sailing out of Palma (the former Splendour of the Seas).
The new program also includes eight new ports of call.
Currently sailing as Royal Caribbean International's Splendour of the Seas, the ship will be based in Palma for summer 2016 following a re-branding and refurbishment programme. The latest addition to the Thomson fleet will have a capacity of 1,830 (double occupancy) across 915 cabins, and, nearly 40 percent with balconies.
The new ship's itineraries will take in some of the most popular European spots. These include Livorno in Italy (for Florence and Pisa), Villefranche in France (for Monaco and Nice) and Barcelona and Cadiz (for Seville) in Spain. Customers, particularly families, will be able to make the most of the program with Saturday sailings and flights from 19 regional airports across the UK and Ireland.
Malaga will be the new homeport for Thomson Spirit for summer 2016. Thomson Spirit's four summer 2016 itineraries will feature new ports of call including Vigo (for Santiago de Compestella) and Marseille in France.
Thomson Celebration will continue to sail from Dubrovnik and offer adults-only cruising for summer 2016, following the successful introduction of the program this year. New for next summer will be an overnight stay in the ship's Croatian homeport.
Based in Palma for summer 2016, Thomson Majesty will be exploring the Western Mediterranean, with the introduction of evening stays in Ibiza and Barcelona on the Catalan Promise itinerary. This itinerary, with no sea days, builds on the promise of maximising customers' time ashore and with the late evening stays, according to Thomson.
Tapping into the ever-popular Greek island hopping trend, Thomson Dream will be based in Corfu and its four itineraries include sailing to the likes of Mykonos, Santorini and new port of Syros.
New for summer 2016, Thomson Cruises will be offering customers the chance to add a stay in central locations in Corfu Town, Palma and Malaga for those looking for a city break experience. The cruise and stay programme is perfect for those who want to spend more time exploring a port, or new to cruise customers who want a two week break without committing to two weeks on a ship.
Helen Caron, Managing Director for Thomson Cruises, said: "Thomson Discovery will be a fantastic addition to our fleet and we can't wait to welcome customers on board so that they can experience it for themselves. The introduction of the ship is part of our on-going modernisation and transformation strategy, which has included recent investment in our other ships. The newest addition is larger than the others in our fleet, however, it still fits with our strategy of operating smaller ships with must-do itineraries. From next summer, these itineraries on Thomson Discovery will be ticking off Western Med highlights including Rome, Florence and Barcelona."
Thomson Cruises will be handing over the planning for a cruise in its winter 2016/17 season to its Facebook community. One of the ships in the fleet will set sail from Barbados on 15th January 2017, but that is where the cruise line's control ends as the ports of call and the itinerary name itself will be crowd-sourced. Once the votes are in, the cruise will go on sale with the rest of the winter program in November 2015.