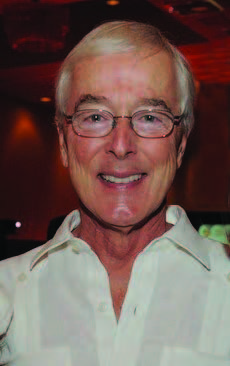 "When I first got involved in the industry in 1972, I perceived it as a small, relatively undeveloped cottage industry here in South Florida," said Bob Dickinson, who retired as president and CEO of Carnival Cruise Lines in 2007.
"At that time, the existing cruise lines were defining themselves as being in the cruise business. Our vision was that we were in the vacation business. Accordingly, rather than focus on increasing our share of the existing cruise business, we focused on increasing our share of the vastly larger vacation business."
Mass Market
Dickinson said by going after the larger mass vacation market, Carnival was able to drive the industry's growth, as opposed to fighting over a smaller percentage of the market with other niche lines.
"The company's willingness to invest in new tonnage (and profitably filling those new berths) allowed Carnival to become the largest, most profitable and most popular cruise line in the world," he said.
All that, of course, Dickinson explained was based on guest satisfaction.
"If a cruise line under-delivers in this area, its yields and profitability will inevitably suffer," he added.
"The dominant challenges for the cruise industry are to create aspirational vacations which exceed customer expectations while, at the same time, aggressively marketing these vacations to the larger hotel, resort and destination marketplace."
Aspirational Vacations
Since vacations are an aspirational experience to most, Dickison said the cruise industry must look at emerging trends to ensure that product design and execution have the maximum customer appeal.
"The global desirability of cruise vacations creates enticing market and product diversification," he continued. "The inherent transportability of our ships allows us to move fluidly with market and cyclical change.
"The cruise industry, both in North America and worldwide, has an extraordinarily bright future. For example, for every American man, woman or child that has ever taken a cruise, there are at least four more who have the time and money to do so, and have yet to experience this fabulous vacation. Worldwide the numbers get really silly, as the industry is barely scratching the surface."
—
This article ran as part of a special Legends and Leaders section of the 100th edition of Cruise Industry News Quarterly Magazine, Spring 2015. A PDF download is available here.
Related articles:
Ted Arison: Creating the Fun Ships
Micky Arison: Exceeding Expectations
Nicola Costa: Developing Europe
Arne Wilhelmsen: Next: Sensible Growth
John Chandris: Innovation is Key
Art Rodney: Launching New Brands
Helge Naarstad: The Ultimate Experience
Stanley McDonald: Full Ships from Day One
Barney Ebsworth: It's All About Marketing
Lord Sterling: Worldwide Outlook