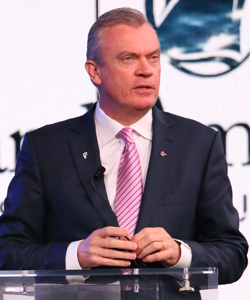 "We are on a growth trajectory both earnings- and capacity-wise," said Stein Kruse, CEO of the Holland America Group. "I see a well-managed and successful industry that will continue to grow."
He said the demand side is solid. For the next few years, the baby boomers will continue to dominate, but the industry also has to prepare for the new generation of millennials.
Since 1982
Kruse joined the industry in 1982 just out of college as a management trainee with Norwegian America Line.
He said that over the years he has learned never to underestimate the power of the cruise industry to innovate, offering more choices to guests and finding new destinations.
"Today the cruise industry is more mature; it is well managed and well funded. We also have a global presence and more global aspirations," he said.
"I have been fortunate to play a small part in this. The risk-taking was done by some of the real founders that put their personal capital and borrowed money at stake. They realized quickly that there were two ways to go: first to have economies of scale by having many ships or bigger ships, or both; or smaller ships that could command a high (ticket) price."
Larger Audience
"We have opened the industry up to a larger audience," Kruse continued. "Twenty million people are expected to take a cruise this year; when I started it was only a million."
Driving this growth, the industry has expanded to different markets and destinations. Not only did it develop new ships, but destinations too. "As some ports in the Caribbean, for instance, became repetitive, we invested and created our own shoreside locations or private islands. In Alaska, we invested ashore – in trains, coaches and hotels deep into the wilderness.
"Expansion on a global level has made the product more accessible, but also exposed us to world events. However, we have the advantage of being able to move our assets – we are not like hotels, once you build it, it is stuck forever."
Size has also generated more visibility, according to Kruse, who said with that the industry has been able to enter into the vacation paradigm for people who previously may not have considered a cruise.
People Are Key
In the end it all comes down to people, he added. "Great people, dedicated and committed people are behind our success. And we must make sure they are well looked after, well trained, well compensated and well motivated, and that we work in a transparent, legal and morally correct way.
"Even though people are our most valuable asset, we do not put them on the balance sheet, but they deliver our product."
Global Pie
As for future growth, Kruse said that North America will continue to be the most important market for some time to come, but its share of the pie will shrink as other markets grow at a faster pace, including China and Asia.
—
This article ran as part of a special Legends and Leaders section of the 100th edition of Cruise Industry News Quarterly Magazine, Spring 2015. A PDF download is available here.
Related articles:
Ted Arison: Creating the Fun Ships
Micky Arison: Exceeding Expectations
Nicola Costa: Developing Europe
Arne Wilhelmsen: Next: Sensible Growth
John Chandris: Innovation is Key
Art Rodney: Launching New Brands
Helge Naarstad: The Ultimate Experience
Stanley McDonald: Full Ships from Day One
Barney Ebsworth: It's All About Marketing
Lord Sterling: Worldwide Outlook