The new Koningsdam will debut Holland America Line's updated culinary vision with new dining and eatery concepts, along with reimagined venues and features.
"Koningsdam allows us to leverage our culinary creativity and debut new brand-exclusive venues and magnificent food concepts as well as enhance our current successful offerings," said Orlando Ashford, president of Holland America Line. "We know that guests are going to be excited with our many creative dining choices and appealing new experiences aboard Koningsdam."
Guests will have the opportunity to embark on a culinary adventure which includes an immersive dining experience in the reimagined Culinary Arts Center; a re-designed casual Lido Market with themed serving stations; relaxing cafes; and an exciting, interactive culinary-themed walkway – all in addition to the main dining room. All menus are developed by award-winning Holland America Line's Master Chef Rudi Sodamin, working closely with the line's team of highly regarded international chefs.
"With Koningsdam, we are building upon our outstanding culinary foundation," said Sodamin.
"Our guests will truly appreciate the many inventive menu choices and the visionary innovations that will be delivered with our first Pinnacle Class ship."
Deck 2 will showcase several of the ship's dining venues along one central promenade. In addition to the Main Dining Room, guests will find the Culinary Arts Center, alternative venues the Pinnacle Grill and Sel de Mer – the new French seafood brasserie – and interactive displays presenting icons of the food and wine world.
A central bar area overlooking the atrium enables guests to check in for their alternative-dining reservation at a hosted central podium.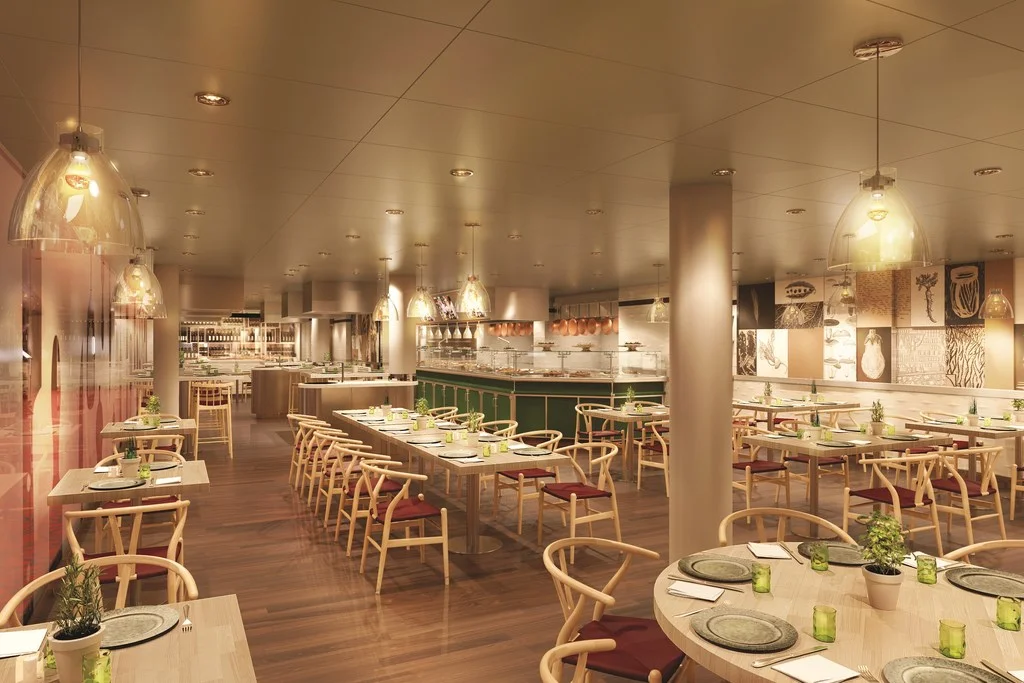 The Culinary Arts Center becomes a dedicated shipboard setting with a show kitchen and individual cooking stations that will be used exclusively for Culinary Arts Center activities such as cooking demonstrations and hands-on classes by visiting celebrity chefs and the ship's own experts.
In the evening, the room transforms into a new dining concept called Dinner at the Culinary Arts Center, an immersive farm-to-table experience where the chefs prepare simple, artisanal dishes in the show kitchen and guests enjoy each course as it's freshly prepared.
Lining the entry to the Culinary Arts Center are nine interactive displays that allow guests to explore the lives of food and wine luminaries, their culinary secrets, recipe tips, favorite dishes and more.
New to Koningsdam is an intimate French seafood brasserie called Sel de Mer. Located next to the Pinnacle Grill, Sel de Mer, or "salt of the sea" in French, will serve a selection of French seafood dishes with a contemporary twist – from fresh oysters, seafood chowder and fruits de mer to salt-crusted whole fish, scallops and bouillabaisse. Sel de Mer will re-create a setting reminiscent of the finest French brasseries where waiters are traditionally dressed and guests may choose their evening meal from a selection of fresh fish and shell fish displayed on ice in the center of the room. The Koningsdam's chefs also will go ashore whenever possible and bring back the catch of the day as a daily special for the evening's menu. Sel de Mer will be available for a modest charge.
The Pinnacle Grill is located beside Sel de Mer. The restaurant will continue to feature Pacific Northwest cuts of beef and other traditional steakhouse favorites. The centerpiece of the Pinnacle Grill is a dramatic glass-enclosed wine room situated between the two restaurants. Guests will be able to view all of the wines from both venues and chose their favorite vintage from among hundreds of selections. As on all the ships, a fee is charged for the Pinnacle Grill.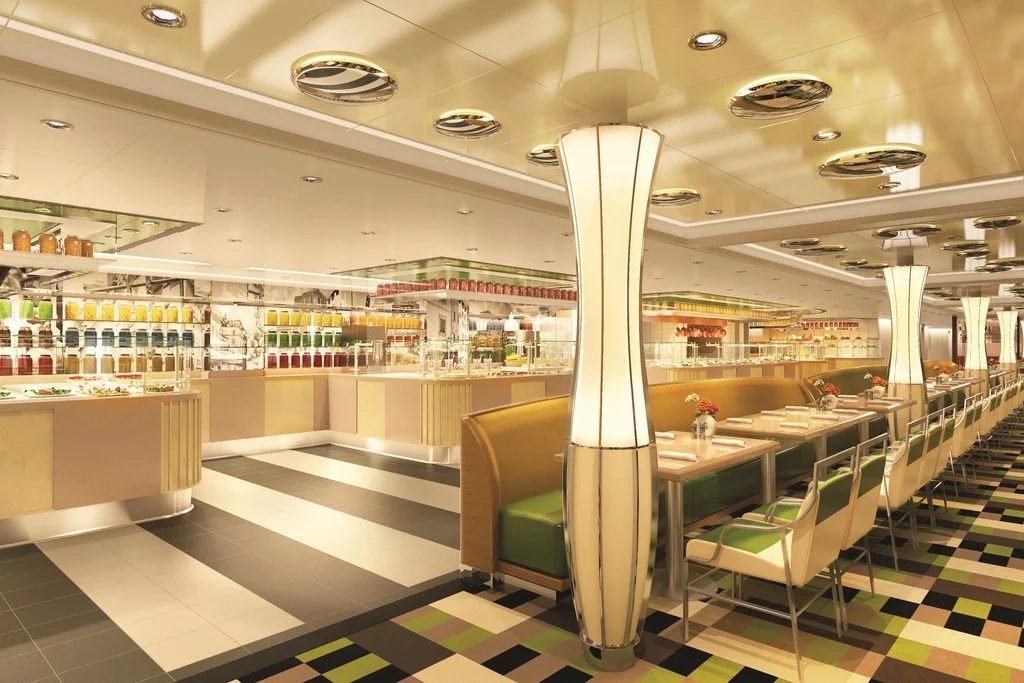 The Lido will also be transformed into a modern marketplace, offering a curated selection of options guests can grab either on-the-go or have quickly made to order. Different themed stations with walk-up service will showcase specific types of food, such as fresh-made innovative sandwiches, salads, international fare, comfort-style dishes, desserts and more. The area will have a market-like atmosphere with display shelves, daily specials highlighted on menu boards, servers in distinct uniforms and market-style signage.
Located on Deck 3 at the top of the Atrium, the new Grand Dutch Cafe is a nod to Holland America Line's heritage and a place to grab Dutch-themed snacks or beverages.
Asian-themed Tamarind will be located on the uppermost deck. New to Koningsdam will be an intimate sushi bar inside Tamarind with select seating for seven guests for lunch and dinner. Dining at Tamarind is available for a nominal fee.
Adjacent to the Lido dining area, every evening the festive Canaletto features an Italian "sharing" dinner experience that offers a variety of dishes to enjoy and share with family and friends. The small-plate menu was conceived out of the desire to slow down the meal and create a more authentic Italian experience. Dining at Canaletto carries a minimal fee.
Guests will find additional venues on Koningsdam, including the outdoor Dive-In at the Terrace Grill by the ship's Lido pool that features burgers, hot dogs and fries; and the Main Dining Room that will continue to offer two seatings and menus that highlight the dishes of Holland America Line's Culinary Council.