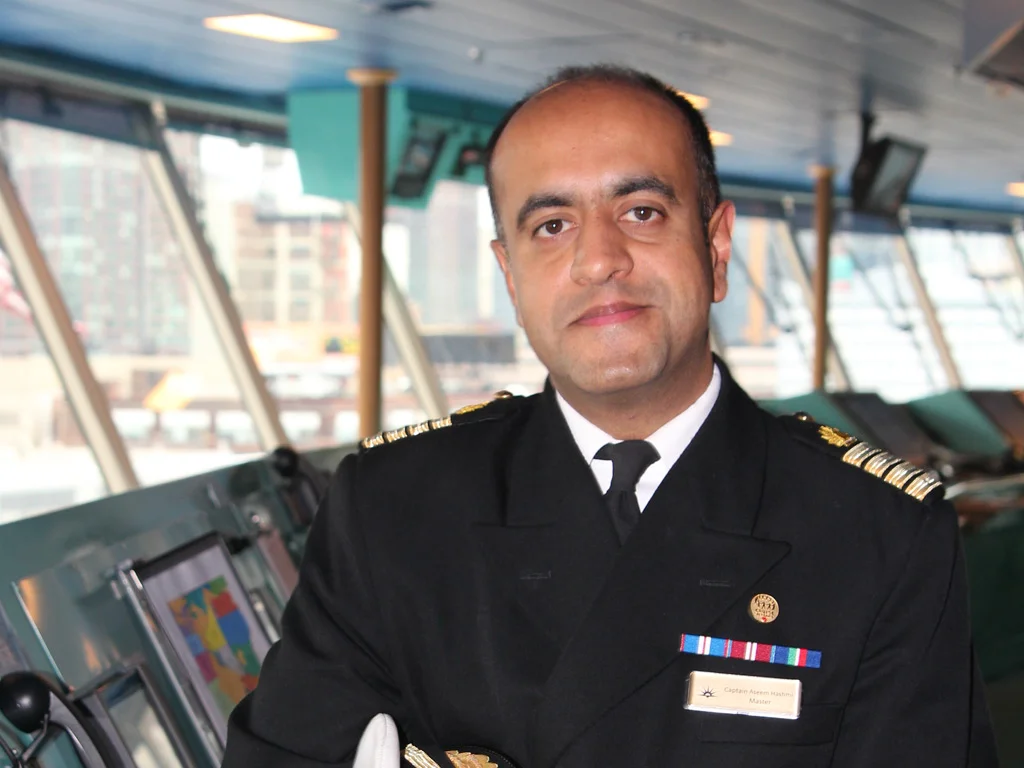 The first ship in his command, Captain Aseem Hashmi took over on the P&O Cruises Arcadia this past January after two decades of climbing the marine ladder at Cunard Line and then Carnival UK.
"This is the only P&O vessel with podded propulsion, which gives it extreme maneuvering capabilities," said Hashmi. "We can get into smaller ports with no tugs. It makes for a much more varied itinerary."
When Hashmi joined Cunard as a cadet in the early 1990s, he said the QE2 used to race across the Atlantic, and now the pace was reduced, sailing a leisurely seven days from Southampton to New York.
"We save fuel, and it leaves time to avoid bad weather," he said. "On the way to New York we were able to adjust to a southern route to avoid the weather."
Hashmi was a firm believer in Carnival's bridge management structure that sees an operations leader directing a team and managing the bridge.
"In the past, younger officers would only speak to the captain when spoken to," Hashmi added.
Hashmi's path to the captain's job on the Arcadia is a unique one, having come from the aviation business.
He qualified on a 737-200 and soon found himself flying for British Airways. That didn't last long, however, as the carrier transferred 200 of its younger pilots to cabin crew positions. So with Hashmi serving passengers, the airline told its pilots it would be another three years before they thought there would be sufficient demand to add more planes back. That's when he took a chance and looked into the maritime business, joining the British merchant navy and eventually accepting a cadet apprenticeship program at Cunard Line that lasted two and a half years.
He has brought some aviation tricks with him, as Hashmi was awarded the Merchant Navy Medal by the First Sea Lord for his work over several years in helping to improve safety onboard by introducing aviation-style checklists and procedures as well as enhancing crew welfare and safety.
Working 12 weeks on and 12 weeks off, Hashmi has two young daughters and said he spends as much time with them as possible when home in England.
Calling his crew the internal customers of the brand. Hashmi explained that as a captain, he tries to be approachable and accessible.
"I try not to be a manager with the crew," he noted. "I try to be a leader. If your team is competent, then let them manage. I like to have my finger on the pulse and not in the pie."
Excerpt from Cruise Industry News Quarterly Magazine: Winter 2014/2015