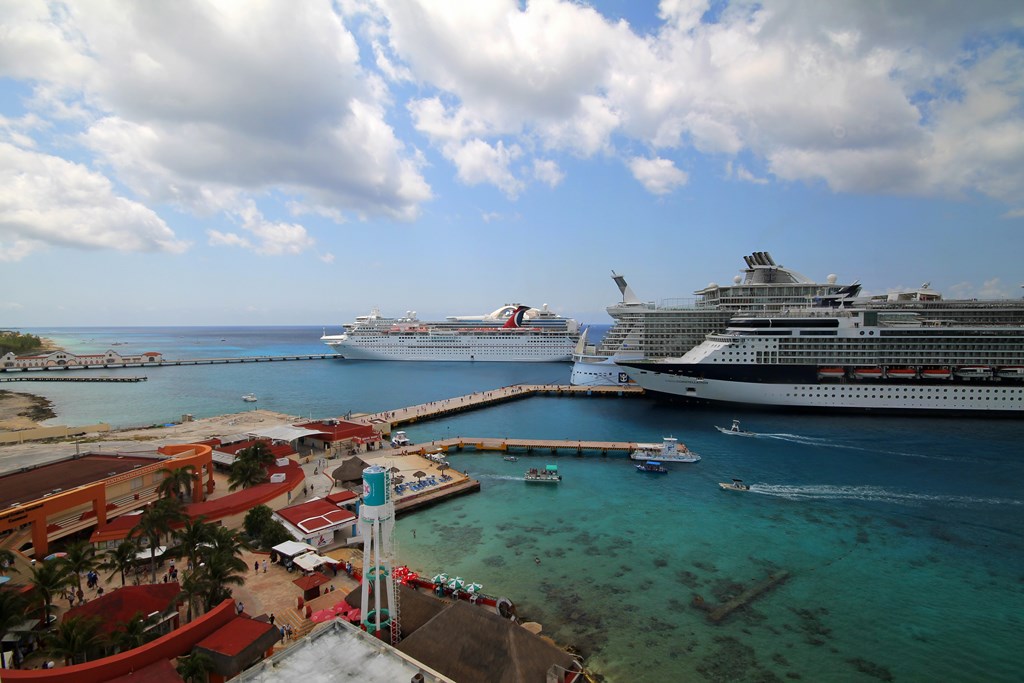 Mexican ports were on their way to a record year collectively at press time with total passenger numbers at 3.8 million, up 24 percent over the previous year by the end of the third quarter.
While more than 75 percent of the cruise traffic is on the Gulf Coast, Mexican Riviera ports are also on the rebound.
The only drawback is passenger spending, which federal government sources said was down 16 percent, compared to previous years.
While ports and municipal and state governments are taking a proactive role to develop the industry further, the federal government is strangely silent on its cruise policies. Repeated efforts to contact the ministry of tourism went unanswered this year.
That aside, port authorities have aligned themselves with support on state and municipal levels to ensure orderly growth, security, and economic benefits to hosting communities.
This year is promising to be a little better than last for Acapulco, said Bernardo Varela, director of ports and the agency division at TMM, the terminal operator. One of the largest logistics and transportation companies in Mexico, Grupo TMM is also the shipping agent for Norwegian Cruise Line and Royal Caribbean in all Mexican ports and for Carnival Cruise Lines in selected ports.
"We will have 11 calls in Acapulco up from seven last year," Varela said, "and five calls by Norwegian. I think that Norwegian calling is a good sign for the rest of the industry and will encourage more ships to come."
At press time, Cabo San Lucas and Huatulco were expecting 139 and 36 calls, respectively, and 240,000 passengers in Cabo and 46,000 in Huatulco, according to Fonatur Operadora Portuaria, which runs the ports and is an affiliate of Fonatur.
For this year, Robert A. Perez Diaz, under director, said that a total of 200 calls are expected and a 14 percent increase in passengers year-over-year.
Ensenada continues to have good years and reported nearly half a million passengers by the end of September for about 13 percent of all the cruises to Mexican ports.
On the Sea of Cortes, La Paz enjoys a cruise season from October to April with a mix of large and small ships. Said Sandra Felix, general director of the La Paz Tourism Board: "We will have 17 calls by large ships at the port of Pichilingue, bringing some 39,000 passengers, while small ships will make 28 calls in downtown La Paz, with an estimated 1,500 passengers."
According to Alfonso Gil Diaz, general director for the Port Authority of Mazatlan, the port is working with the state (Sinaloa) governor, local authorities and tour operators and meeting regularly with cruise lines in order to learn more about their needs and expectations and being able to meet them.
"We also have a cruise ship committee with participation by representatives of the state tourism office, the mayor and local businesses, as well as tour operators and cruise lines," he said. "To improve our facilities and services, the three port directors of Cabo San Lucas, Mazatlan and Puerto Vallarta have joined forces and are exchanging experiences and know-how. We were able to offer support to Cabo San Lucas following Hurricane Odile."
This year, 69 calls are scheduled in Mazatlan with an estimated 145,000 passengers.
The Port of Progreso is continuing its traffic expansion, expecting 118 calls and 330,400 passengers this year and 122 calls and 341,600 passengers next year, up from 110 calls and 305,174 passengers in 2014.
According to Gilda Morlet, business development manager, Carnival Cruise Lines is largely driving the growth. In addition, Pullmantur will be homeporting from May through August.
The Quintana Roo Port Administration reported that as of the third quarter of last year, traffic was up 24 percent in Cozumel over the previous year for approximately 2.7 million passengers. Roosevelt Erce Barron Barrera, general director of the port administration, attributed the increase to bigger ships and a better perception of the destination.
Puerto Vallarta is expecting 130 calls this year – up sharply from last year – and has 140 confirmed for next year, according to Salomon Pineda Guerrero, general director for the port. He said that projections are calling for continued growth to 178 ships in 2017 and 195 in 2018.
Carnival has announced the Mexican Riviera program for the Miracle through mid-2016 so far, and Guerrero said he is hopeful Norwegian will also step up to a year-round deployment.
"We are collaborating with the state and federal government as well as the ministry of tourism," Guerrero said. "We are aligning our goals with their goals and working as a team.
"As a tourism destination, we have been growing as a better and more complete destination that is more than sand and sun, with a wide range of attractions from adventure to history, culture and gastronomy – all in one visit."
Excerpt from Cruise Industry News Quarterly Magazine: Winter 2014/2015