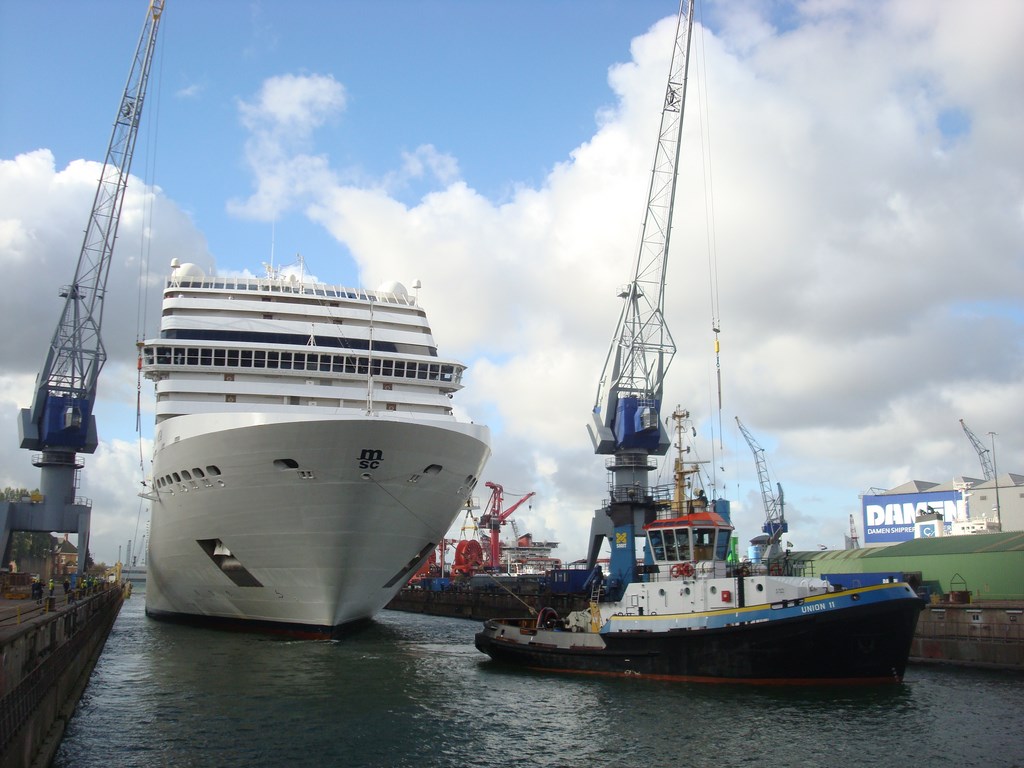 After a very fast and successful 17-day drydocking the cruise ship MSC Magnifica left Damen Shiprepair Rotterdam (part of Damen Shiprepair & Conversion) for Hamburg on schedule to start her next cruise.
Next week another cruise vessel will arrive at Damen Shiprepair Rotterdam – the Saga Sapphire. In the meantime, Damen Shiprepair Vlissingen recently handled two other ships as well, the Astor and Marco Polo.
Commenting on the MSC Magnifica project, Marc Derks, Shiprepair Rotterdam Project Manager, commented: "This was an excellent operation, I am very proud of the team. The advance planning and preparation paid off."
Khalil Benjelloul, Cruise Vessels Product Manager of Damen Shiprepair & Conversion, added: "Everything went very smoothly, we managed to do this demanding job safely and on schedule, which is vitally important in the cruise industry."
Built in 2010, the MSC Magnifica is 293 m long and has a capacity for more than 2,500 passengers. She arrived at Damen Shiprepair Rotterdam on October 20 and was berthed at the yard's largest drydock, which is 307 m in length.
Derks said that this project had the added challenge that the ship's 800-strong crew remained on board during the work.
"Every time the crew members wanted to go into the city, we had to make sure all the safety checks were in place when they were getting on and off but the crew and our team worked very well together," said Mr Benjelloul.
Damen Shiprepair replaced some 47 tons of steel, replaced the rudders, cleaned and painted the vessel.