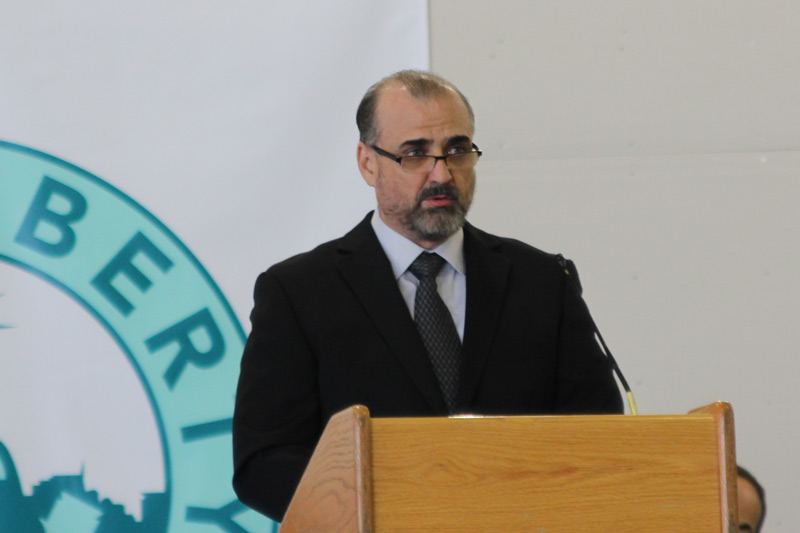 A new terminal in Bayonne, New Jersey at Royal Caribbean Cruises' Cape Liberty Cruise Port will be ready just in time for the Quantum of the Seas' arrival on November 10, and was showed off to local politicians and press on Friday at a small event at the construction site.
Cruise turn-around operations are worth nearly $400 million a year to the local economy in New Jersey, according to both Royal Caribbean and local politicians.
A make-shift but functional warehouse that included a bus ride to the ship in Bayonne is being phased out, and a new state-of-the art cruise facility was unveiled on Friday, with some of the largest boarding bridges in the world, and a 900-spot indoor parking lot to follow next year as the Quantum, Liberty and Anthem are all set to call New Jersey home over the next 12 months.
"This is the most important cruise region in the world," said Adam Goldstein, president and COO of Royal Caribbean Cruises, adding it was the second largest cruise port operation in the Northeast and Mid-Atlantic region (second to New York's Manhattan and Brooklyn operation). "It took some imagination to think of a cruise terminal here when we first came to visit in March of 2003," he added.
Cruise Industry News understands the new facility will be able to accommodate Oasis-class vessels in the future, and most importantly the new terminal offers a smaller footprint meaning Bayonne will be able to berth two ships at once.
Added Juan C. Trescastro, vice president, port operations, guest port services and Cape Liberty Cruise Port: "This is a dream come true, the new terminal, and now we have the possibility of two terminals and two berths."
Royal Caribbean Cruises has a new 35-year lease on operation, and could partner with another cruise line to bring a ship to Bayonne as the terminal operator. The cruise line already has a similar set-up going in Falmouth, Jamaica, where they developed the port, but let other cruise lines call. In New York City, Carnival Corporation and Norwegian Cruise Line are believed to have long-term agreements with the New York City Economic Development Corporation.