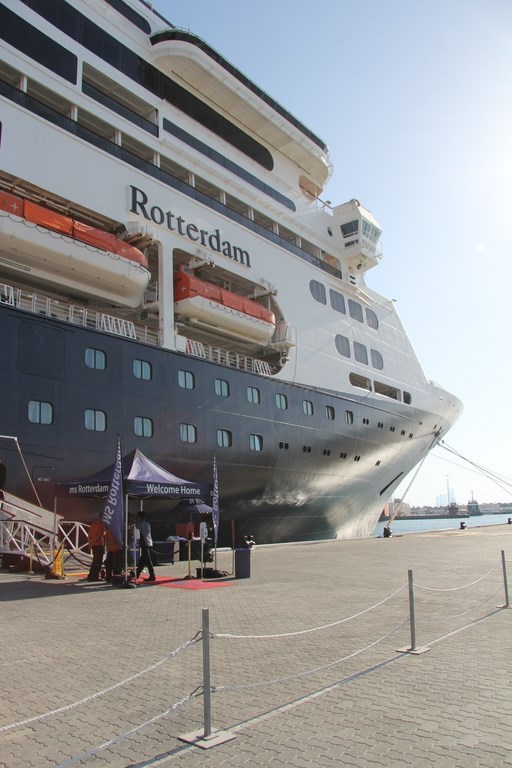 Abu Dhabi Ports Company's (ADPC) Zayed Port has welcomed the first cruise ship of the 2014/2015 season. The MS Rotterdam which called on Saturday kicks off the new season which will see 93 ships and 220,000 passengers visiting Abu Dhabi.
Gary Lemke, EVP Ports was on hand to greet the ship and its passengers, and to welcome 40 travel professionals enjoying the first ever dedicated travel trade tour organised on a cruise ship call to Abu Dhabi.
The travel trade professionals had been invited to the cruise terminal to see the facilities and were hosted onboard the MS Rotterdam where they were given an extensive tour of the ship. The group included travel agents, tour managers, leisure managers and tour consultants from Abu Dhabi, who all regularly advise customers on holiday and cruise options. The tour will help them to advise their customers and prospective cruise passengers from the region, and offered a first-hand opportunity to experience the luxury and excitement of a cruise holiday.
Gary Lemke, EVP Ports said: "We are delighted to welcome the MS Rotterdam and its passengers to Abu Dhabi and to show the travel trade representatives around the terminal. Zayed Port is a world class cruise line destination which increases and supports tourism in the emirate.
"This year we have more exciting cruise developments than ever before – work is underway on the developmentof the new cruise terminal and the Cruise Arabia initiative which brings together Abu Dhabi, Dubai and Oman to promote the Gulf region as an exciting destination is attracting serious attention from the industry and prospective cruise visitors".
This first arrival of the 2014/2015 season demonstrates a growing confidence in Abu Dhabi as a leading regional cruise destination according to Sultan Al Dhaheri, Acting Executive Director Tourism, Abu Dhabi Tourism & Culture Authority (TCA Abu Dhabi).
"The start of a new cruise season is always a highly anticipated event, especially for what is set to be our busiest to date, and one marked by the return of a luxury vessel from one of the world's most respected cruise lines.
"Our efforts are firmly set on growing interest in, and awareness of, Abu Dhabi's expanding and diverse range of opportunities. Our priority is to convince the local travel industry and hospitality providers of the merits of this expanding sector, and having recently completed a successful multi-city regional travel trade roadshow with our Cruise Arabia partners, welcome this interest from our local travel industry partners," he added.
Holland America Line's MS Rotterdam is a medium sized cruise ship, able to accommodate 1,400 passengers and 600 crew. The ship's current cruise route started in Rotterdam and will continue from Abu Dhabi toward Cape Town, South Africa. The ship offers a 'premium' product for a high-end international client base, with a high passenger to space ratio. Facilities include an extensive onboard fine art and antique collection, an internet centre, a spa and fitness centre, two swimming pools and a tennis court.
The 2014/2015 cruise season will be the busiest yet, with 93 ship calls scheduled and 220,000 passengers expected. This is an increase of 24% and 16% respectively. The 2013/2014 cruise season saw 189,709 passengers and 75 ships visit Abu Dhabi.
This success is projected to grow, with more than 300,000 passengers expected on 130 scheduled ship visits by 2019/2020.