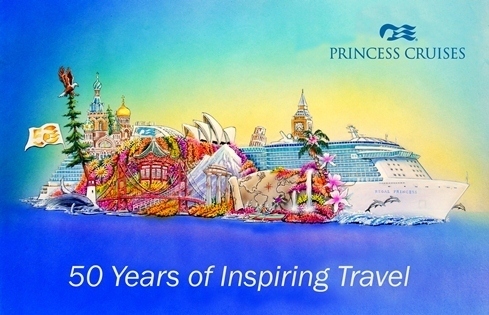 Princess Cruises will ring in the new year and its 50th anniversary with its first-ever float in the world-famous Rose Parade on January 1 in Pasadena, Calif. As a special feature the six original cast members of The Love Boat television show will ride on the ship's bow and "cruise" down the five-and-a-half mile parade route.
The Rose Parade float will depict the line's newest ship Regal Princess sailing through the world's fascinating destinations and iconic landmarks that guests have experienced with Princess for the past 50 years.
"Since the theme of this year's Rose Parade is 'Inspiring Stories,' we can think of no more perfect opportunity to launch our 50th anniversary year celebrations," said Jan Swartz, president of Princess Cruises. "For the last five decades of our guests sailing with us to amazing places, they've returned with inspiring memories that have lasted a lifetime, and we want to celebrate this on the very first day of 2015."
She added that because The Love Boat played such a distinctive part in the company's history, including the cast members on the Rose Parade float was fun opportunity to pay tribute to the television show that introduced Princess Cruises and modern-day cruising to millions of Americans for ten years from 1977 to 1986.
The Love Boat cast, including Gavin MacLeod (Captain Stubing), Fred Grandy (Chief Purser Gopher), Ted Lange (Bartender Isaac), Bernie Kopell (Doc), Lauren Tewes (Cruise Director Julie) and Jill Whelan (Captain's daughter Vicki), will have just officially named Regal Princess, having served as the ship's godparents prior to their appearance in the New Year's Day parade.
Famous for being held under sunny skies when much of the country is experiencing winter weather, the Rose Parade is viewed by some 700,000 spectators lining the parade route, and by approximately 80 million viewers on television around the globe. It is part of "America's New Year Celebration®" and includes numerous floral floats, spirited marching bands and high-stepping equestrian units.
The Princess Cruises float, being designed and built by Phoenix Decorating Company, will be 60 feet long and 24 feet high, and will be covered by more than 24,000 thousand flowers and natural materials.